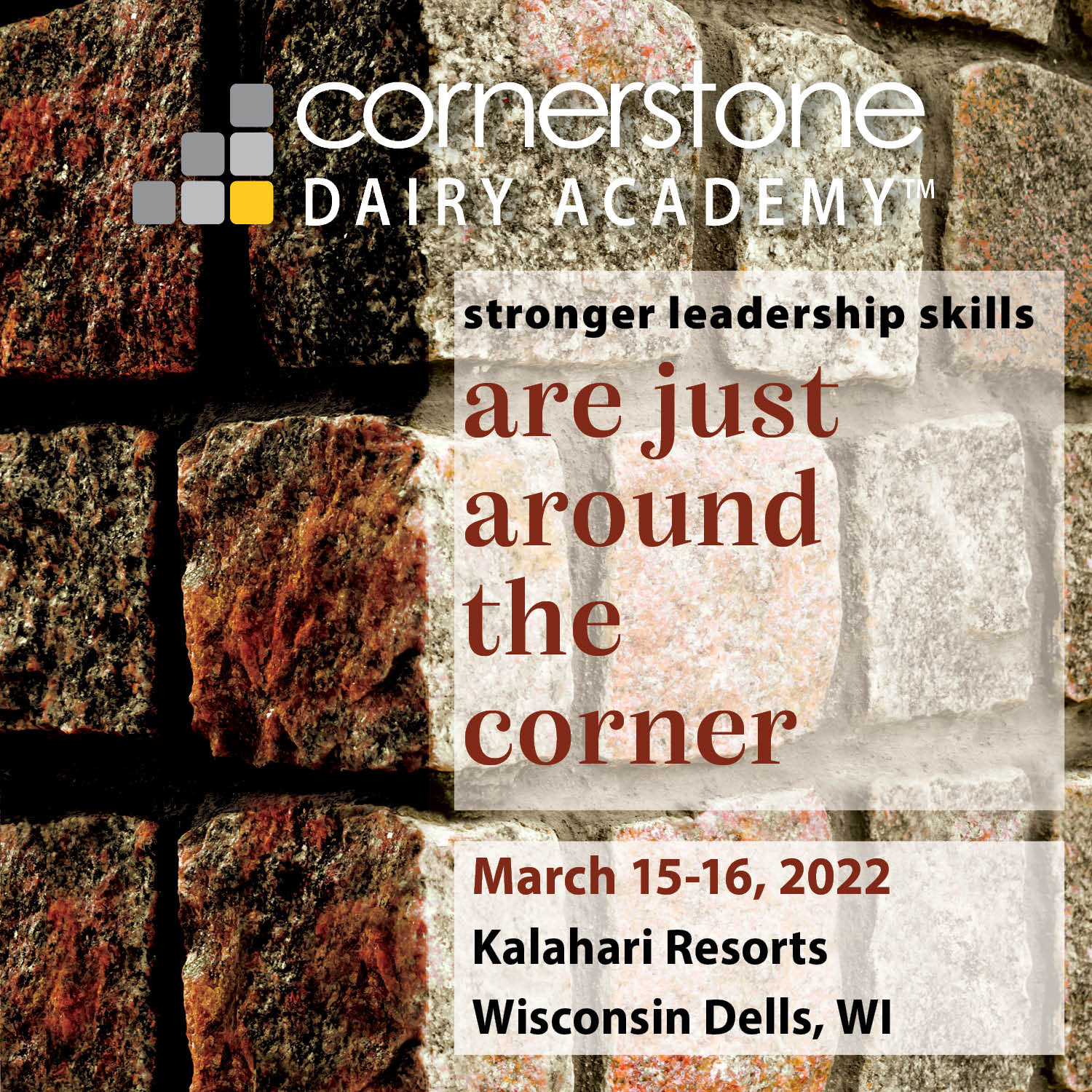 Applications for the 2022 Cornerstone Dairy Academy for Dairy Professionals Due on January 31
January 20, 2022
FOR IMMEDIATE RELEASE
Contact: Shelly Mayer
800-947-7379
mail@pdpw.org
Full media package available:
Program flier
PDPW logo (hi-res)
Applications for 2022 Cornerstone Dairy Academy for Dairy Professionals Due on January 31
Application-Based Leadership-Development Program Set for March 15-16, 2022
DAIRY NEWS
– The application deadline for
PDPW Cornerstone Dairy Academy
™ presented by the Professional Dairy Producers® (PDPW) is nearing. Dairy farmers and dairy industry professionals must apply for the three- pillar leadership-development program by Jan. 31, 2022. The program will be held Mar. 15-16, 2022, at Kalahari Resort and Convention Center, Wisconsin Dells, Wis.
Cornerstone participants will select one of three learning pillars facilitated by world-class experts on Mar. 15, then put their learnings to work while attending the 2022 PDPW Business Conference on Mar. 16.
Attendees in the
Influential Leadership pillar
will discover their behavior types, better understand generational differences and the correlating communication methods, master first impressions with courtesy and confidence, and more. Presenters include Holly Green, behavioral scientist and business leader; Rachel Wagner of Rachel Wagner Etiquette and Protocol; and Hank Wagner, dairy producer, author and founder of Wagner Leadership Training.
Those participating in the
Visionary Leadership pillar
will learn more about the attributes of integrity, ethical decision-making, observing global trends to discover opportunities early, planning strategically with the use of economic-indicator tools and more. Facilitators include Dr. Richard Kyte, endowed professor at Viterbo University, and Dr. David Kohl, professor emeritus at Virginia Tech.
Attendees in the
Servant Leadership pillar
will learn the value of organizational focus and working as a team, the power of hospitality and customer service, the blessings of a positive, productive work culture, and more. This pillar is facilitated by Tom Thibodeau, distinguished professor of Servant Leadership at Viterbo University.
"Cornerstone helped me enhance my leadership skills both within my community and the farm I work on," said Michelle Kundinger of Arpin, Wis. "I learned so many new leadership tools."
Hotel vouchers are also available for attendees; PDPW will reimburse participants $50 per night for hotel lodging up to a maximum of two nights or $100.
Applications are due by Jan. 31, 2022
and can be submitted online at
https://pdpw.org/programs/2022-Dairy-Academy/details
. Contact PDPW at 1-800-947-7379 with questions.
Cornerstone Dairy Academy is an accredited training and offers Dairy AdvanCE continuing education units (CEUs). To learn more or secure credits, visit
www.DairyAdvance.org
.
Professional Dairy Producers (PDPW) is the nation's largest dairy producer-led organization of its kind, focusing on producer professionalism, stakeholder engagement and unified outreach to share ideas, solutions, resources and experiences that help dairy producers succeed.
###
---