---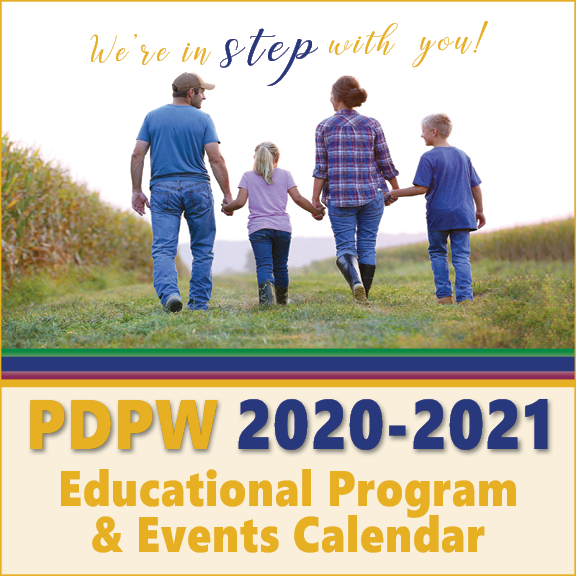 PDPW Announces 2020-21 Educational Programs & Events Calendar
October 5, 2020
FOR IMMEDIATE RELEASE
Contact: Shelly Mayer
800-947-7379
mail@pdpw.org
Full Media Package is available (i.e. flyer, photos, press release, etc.)
Review
full calendar
Review
Press Release
Photo/Logos:
Photos/Logos
PDPW Announces 2020-21 Educational Programs & Events Calendar
On-farm workshops, training programs designed to meet dairy farmer educational needs
while complying with CDC and health guidelines
DAIRY NEWS
– A combination of virtual and carefully planned in-person training opportunities will provide dairy farmers with the latest information they need to manage their businesses in a changing global environment. The Professional Dairy Producers® (PDPW) announces its
2020-21 PDPW Educational Program & Events Calendar
with programs for dairy farm owners, managers, employees and allied industry. Programs are designed based on the input and direction of producer-led committees, with the ultimate aim of building and strengthening the dairy industry through continuous education and professional development.
"While many things in our lives have changed over the past six months, the need for dairy farmers to stay updated on the latest research, management practices and news for their farms is more important than ever," said Shelly Mayer, executive director of PDPW and dairy farmer from Slinger, Wis. "We've adjusted format and focus areas of training programs to ensure that they are both relevant and valuable to today's farmers and will be held in locations where we can follow CDC health guidelines."
Highlights of the 2020-21 schedule include:
The Dairy Signal™ – Tuesdays, Wednesdays and Thursdays, online
Join leading-edge presenters who share resources and strategies for managing dairy's rapidly shifting industry during live discussions, three days a week, from 12:00-1:00 PM CT. Content aired on The Dairy Signal is summarized and available for free video or audio download. The free program has provided up-to-date news for dairy farmers and allied industry since March and will continue with new programming throughout the 2020-21 program year.

Hear from leading experts, tour calf-raising farms, and participate in hands-on sessions at on-farm programs. Topics will include strategies to manage the resurgence of diseases, including Bovine Viral Diarrhea and feeding pasteurized whole milk.
Cornerstone Dairy Academy™ – March 16-17, Wisconsin Dells, Wis.
Develop critical leadership and people-development skills in the three-pillar training program designed for dairy farmers and industry professionals. Applications for the class of 2021 are due Jan. 31.
th
annual business conference at the Kalahari Resort and Conventions. Dairy's premier educational event features two days of keynote speakers, breakout sessions and networking opportunities designed to help today's leaders discover and passionately pursue their dreams, ambitions and business goals.
Herdsperson Training exclusively in Spanish focusing on Obstetrics – April 21, 22
This program is designed for experienced Spanish-speaking dairy farm managers who oversee the dairy herd. The one-day program will take their skills to the next level with a focus on obstetrics and newborn calf care.
Details and registration information are available for all programs at
www.pdpw.com
or by calling PDPW at 800-947-7379. Due to the rapidly changing environment in the dairy industry, our program calendar will remain flexible in order to adjust to member needs.
Dairy farmers, students and industry professionals can find, track and record their continuing education and professional development through Dairy Advan
CE
®. The online tool has emerged as dairy's go-to resource for finding accredited professional development offerings. Learn more and register at
dairyadvance.org
.
Professional Dairy Producers (PDPW) is dairy's professional development organization. As the nation's largest dairy producer-led, grassroots organization of its kind, it focuses on education, networking and professional development to share ideas, solutions, resources and experiences that help dairy producers succeed.
###
---