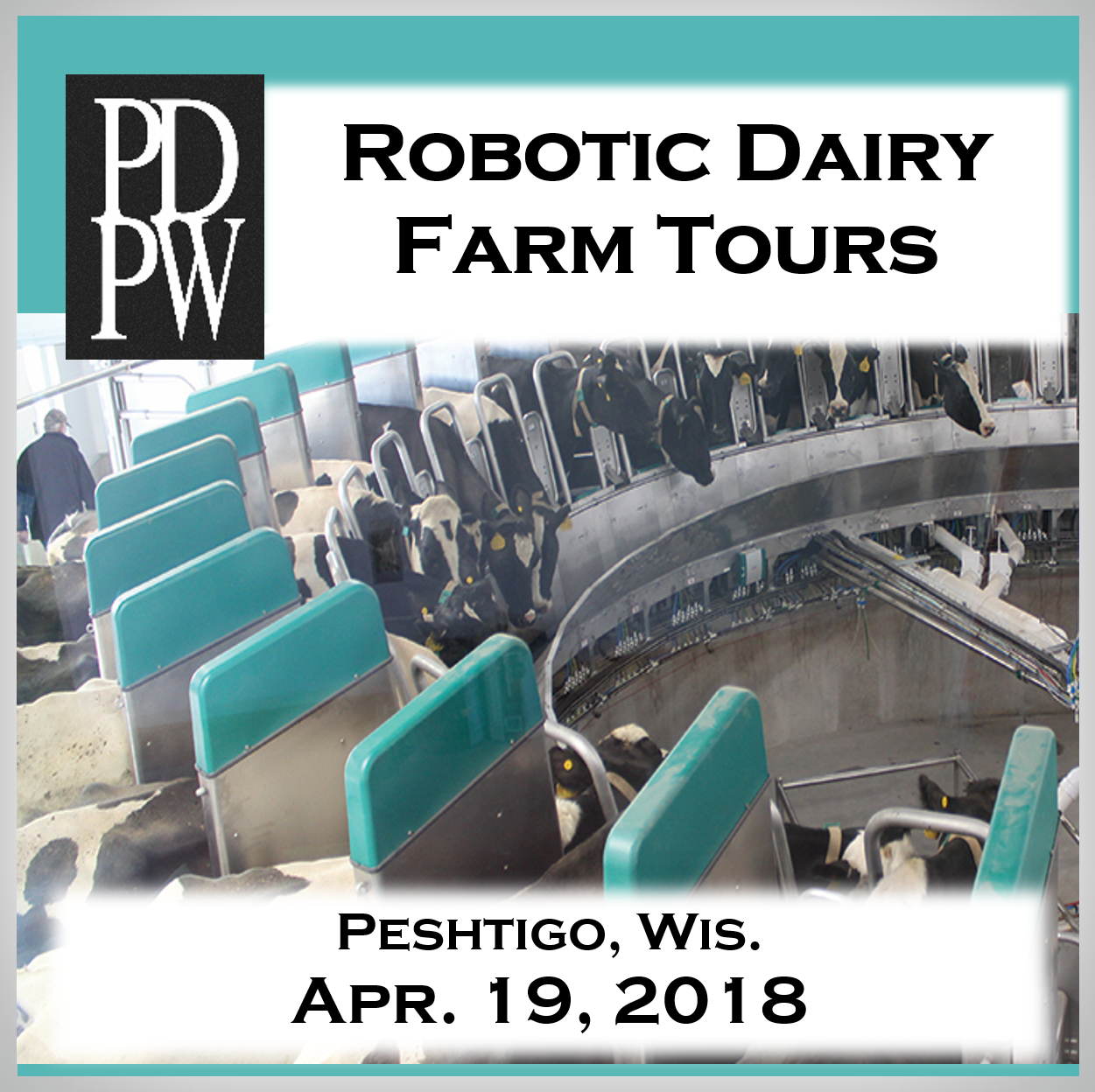 PDPW to Host Tours of Two High-Performing Robotic Dairies on April 19
March 31, 2018
FOR IMMEDIATE RELEASE
Contact: Shelly Mayer
800-947-7379
mail@pdpw.org
Full Media Package is available (i.e. flyer, press release, photos, etc.)
Review Flyer:
Tour
Flyer
Review Press Release:
Tour
Press Release
Photos/Logos:
Tour
Photos/Logos
PDPW to Host Tours of Two High-Performing Robotic Dairies on April 19
Tours and Facilitated Discussions Will Focus on Advancements and Key Learnings on Robotic Systems.
DAIRY NEWS
– Robotic dairy systems offer significant opportunity to dairy producers, but require tremendous research, planning and investment to ensure that the transition will benefit the farm, animal well-being and the bottom line. A one-day chartered bus tour will give dairy farmers a close-up view of robotic systems on two high-performing dairies and feature in-depth facilitated discussions with farmers who have adopted the technologies.
The
PDPW Robotic Dairy Farm Tours
, hosted by Professional Dairy Producers® (PDPW), will be held on Thurs., April 19, with chartered bus transportation leaving from four convenient pick-up locations.
Tour participants will visit two leading-edge robotic dairies:
Hoffman's Happy Holsteins, owned and operated by Kent and Kerwin Hoffman. See the first and only robotic rotary parlor in the United States. The Hoffmans began milking in the 40-stall fully robotic parlor on November 1, 2017. They transitioned their 520 Holstein herd to robotics to reduce labor and provide more consistency to their high producing herd known for averaging 100 pounds of production per day.
Drees Dairy Farm, LLC, owned and operate by Henry, Bill and Dennis Drees. The Drees transitioned from a 60-stall, tie stall barn into a state-of-the-art six-row tunnel ventilated free-stall barn with four robotic milkers three years ago. Learn how they planned for the technology leap, adjusted their rations, and incorporated other tools such as genomics, activity monitors and rumination collars – all while maintaining an average somatic cell score around 50,000 and 90 pounds of production per day in their 245 registered Holstein herd.
The tour will also feature a facilitated Q&A session during lunch where the Hoffmans and the Drees will share more details about their research, planning and preparation for the transition to robotics, as well as their perspective on the successes and challenges of their journey.
Advance registration is required, and all tour participants must ride on one of two chartered buses with four convenient pick-up locations including:
Wausau (Bus A): 8:00 a.m. pick-up, returns at 5:45 p.m. (Northcentral Technical College: 1000 W Campus Dr., Wausau, Wis.)
Appleton (Bus B): 8:30 a.m. pick-up, returns at 5:00 p.m. (Fox Valley Technical College: 1825 N. Bludemound Dr., Appleton, Wis.)
Bonduel (Bus A): 9:00 a.m. pick-up, returns at 4:30 p.m. (WisDOT Park & Ride 58-02: 102 Express Way (next to Kwik Trip): Bonduel, Wis.)
Green Bay (Bus B): 9:00 a.m. pick-up, returns at 4:05 p.m. (Northeast Wisconsin Technical College: 2740 West Mason St., (Park in Lot G), Green Bay, Wis.)
Space is limited, and all participants must ride one of the buses from the noted pick-up/drop-off locations. To learn more about the PDPW Robotic Dairy Farm Tours and
to registe
r, visit www.pdpw.org or contact PDPW at 1-800-947-7379.
Professional Dairy Producers (PDPW) is the nation's largest dairy producer-led organization of its kind, focusing on producer professionalism, stakeholder engagement and unified outreach to share ideas, solutions, resources and experiences that help dairy producers succeed.
###
---