---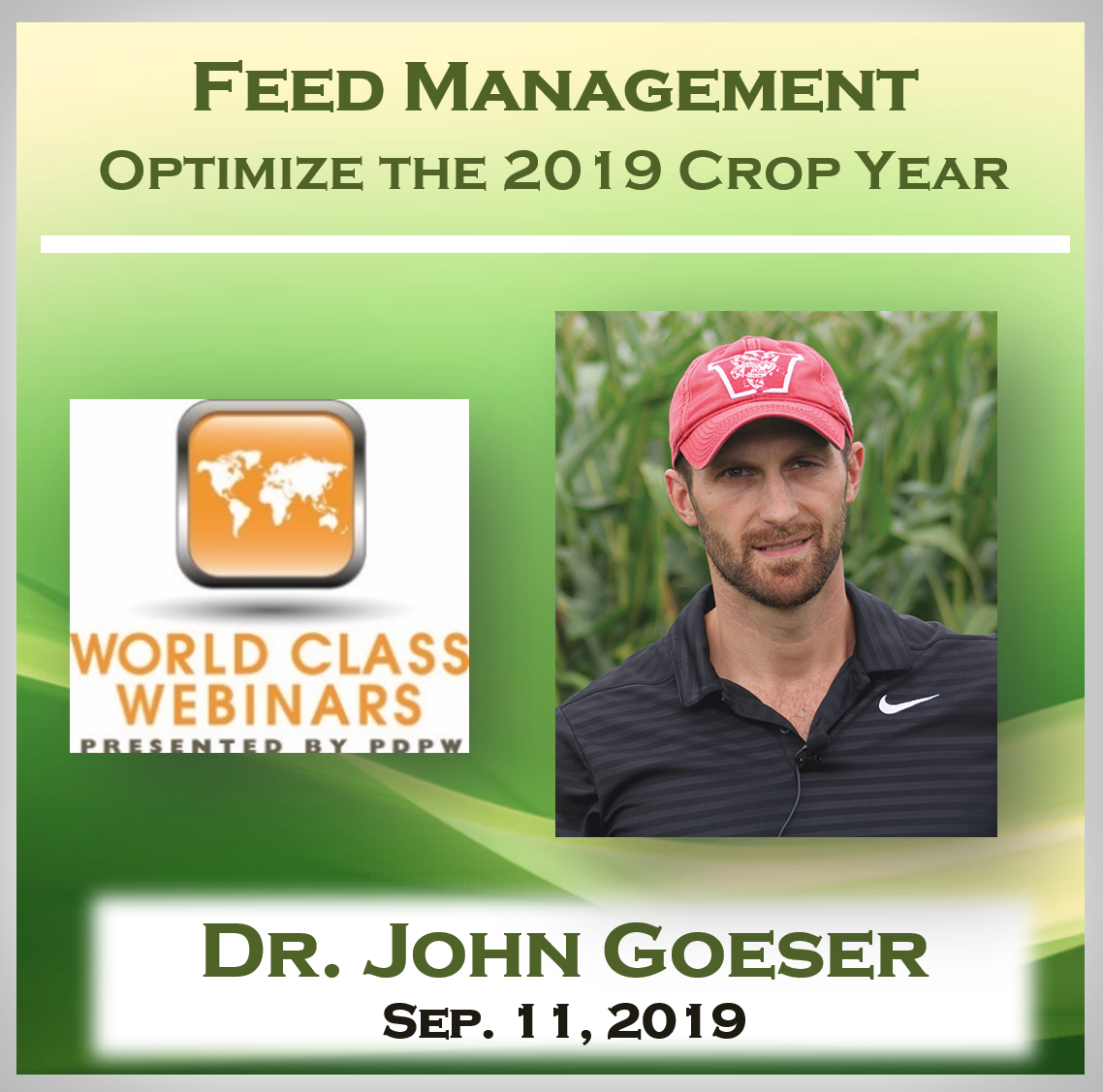 Develop Plan Now to Get the Most of 2019 Corn Silage Harvest
September 9, 2019
FOR IMMEDIATE RELEASE
Contact: Shelly Mayer
800-947-7379
mail@pdpw.org
Full Media Package is available (i.e. flyer, press release, photos, etc.)
Review Flyer:
Training
Flyer
Review Press Release:
Training
Press Release
Photos/Logos:
Training
Photos/Logos
Develop Plan Now to Get the Most of 2019 Corn Silage Harvest
Dr. John Goeser will present PDPW World Class Webinar This Week, Wed., Sept. 11
DAIRY NEWS
– Mother Nature has thrown many challenges at dairy farmers during the 2019 growing season. From winter-killed alfalfa to late planted corn for silage, and now concerns about a possible early frost, it is critical for the dairy farm internal and external teams to work together to ensure a supply of quality feed for cows in the coming year.
The next
PDPW World Class Webinar: Optimize the 2019 Crop Year
presented by Professional Dairy Producers® (PDPW) will focus on practical management tips to get the most out of the 2019 corn silage season and look at alternative forage opportunities. The webinar will be held from 12:00 to 1:00 p.m. CT, Wed., Sept. 11, and features Dr. John Goeser, Director of Nutritional Research & Innovation at Rock River Lab, Inc., and Adjunct Assistant Professor in the Dairy Science Department at University of Wisconsin-Madison.
The entire cow management team – owners, nutritionists and veterinarians – will benefit from the discussion of quality management tips to protect the 2019 silage harvest as well as out-of-the box thinking for alternative forage and nutrition options. Dr. Goeser will also provide strategies to deal with both crop stress and personal stress.
Dr. Goeser oversees animal nutrition, technical support and research on carbohydrate digestion, forage management and trends, and feed hygiene at Rock River Laboratory. He lectures on topics such as carbohydrate digestion, rumen metabolism and forage preservation in his role at UW-Madison.
"Investing time now to develop a plan for silage and dairy nutrition after a challenging growing season will pay dividends in the months ahead," said Shelly Mayer, PDPW executive director and dairy farmer in Slinger, Wis. "Dr. Goeser's insights and experience will benefit the entire dairy team and provide new ideas to ensure a quality nutrition program for the dairy herd."
Registration is open
for the Sept. 11 webinar online by visiting www.pdpw.org or contacting PDPW at 1-800-947-7379. Participants who have registered can watch the sessions live or on demand to watch at their leisure.
All past PDPW World Class Webinars are available on the PDPW Webinar Library. To access the library of resources, visit
https://pdpw.org/webinar-library/
.
Professional Dairy Producers (PDPW) is the nation's largest dairy producer-led organization of its kind, focusing on producer professionalism, stakeholder engagement and unified outreach to share ideas, solutions, resources and experiences that help dairy producers succeed.
###
---