---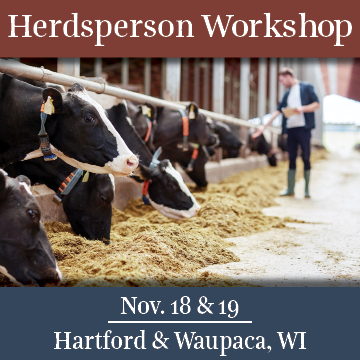 Managing Financials and the Transition Cow Period Topics of Discussion at 2020 PDPW Herdsperson Workshop
October 19, 2020
FOR IMMEDIATE RELEASE
Contact: Shelly Mayer
800-947-7379
mail@pdpw.org
Full Media Package is available (i.e. flyer, press release, photos, etc.)
Review Flyer:
Program Flyer
Review Press Release:
Program
Press Release
Photos/Logos:
Program
Photos/Logos
Managing Financials and the Transition Cow Period
Topics of Discussion at 2020 PDPW Herdsperson Workshop
Producer Panels on Time Management, Technology Also Part of Repeating Workshop, Nov. 18 & 19
DAIRY NEWS
–The
2020 Herdsperson Workshop
will key in on some of the biggest challenges producers face when managing dairy herds. Presented by Professional Dairy Producers® (PDPW), this workshop will dive into transition-cow management, financial tools and options, and offer producer-led panels on time management and on-farm technology.
The Herdsperson Workshop is designed for dairy farmers, herd managers, nutritionists, veterinarians and others making key herd management decisions on dairy farms, and will help sharpen your decision-making skills using a practical approach. This two, one-day program, each starting at 9:30 a.m. and ending at 4:00 p.m., will be held at the following sites:
Nov. 18 – Hartford Town Hall, 3360 Hwy. K, Hartford, Wis.
Nov. 19 – Brooks Farms 1855 LLC, N1757 County Rd. A, Waupaca, Wis.
"We surveyed and talked to dairy producers who are passionate about cow-side care and asked them to share their biggest bottlenecks and 'information wish list.' They requested information ranging from managing task lists, making the cow's transition time smoother and honing in on critical numbers regarding herd performance," said Shelly Mayer, Executive Director of PDPW and dairy farmer from Slinger, Wis.
Workshop trainers include
Dr. Neil Michael
, Manager of Ruminant Field Technical Services with Arm & Hammer Animal Nutrition and
Jay Joy
, commercial banker and founder of Milk Money LLC.
Dr. Michael will hone in on optimizing the transition-cow period, a phase in a cow's life that influences her productive and reproductive performance. Jay Joy will explain why knowing your numbers is vital when making sound business decisions. Attendees will walk away with a better understanding of how inventory of animals, feed and basic farm supplies can affect the bottom line and morale of a team.
A producer-led panel on time management will feature
Jared Feltz
and
Jordan Matthews
. Jared Feltz, a fifth-generation dairy farmer from Stevens Point, Wis., manages his family's 680-cow dairy herd and oversees seven employees.
Jordan Matthews
is a partner at Rosy-Lane Holsteins, LLC, Watertown, Wis., where he focuses on developing people and team members into professionals. This dynamic duo will share how they manage their "to-do" lists while also keeping their team on task.
Another producer-led panel will talk "tech," expounding on the different wearable technologies they've implemented on their farms and how the data they retrieve has impacted important health and economic segments of their businesses. Panel members include:
Alex Neuenschwander is co-owner and fourth-generation dairy farmer at Neu-Hope Dairy near Bluffton, Ind. Alex is the on-site farm manager of this 800-cow dairy and continually strives to improve herd genetics.
Jason Holschbach is farm manager and herdsperson at Cloveredge Farms, LLC, Manitowoc, Wis. They manage 1,200 acres of land and milk 500 cows with eight GEA Monobox robots.
Zoey Nelson is a sixth-generation dairy farmer in her family's dairy in Waupaca. Alongside her father they milk 600 Holsteins and farm 1,600 acres. She leads a team of 13 employees and is responsible for parlor management, herd health, calf and heifer raising and bookwork.
The 2020 PDPW Herdsperson Conference is an accredited training and offers up to 4.5 Dairy Advan
CE
continuing education (CE) credits. To learn more or secure credits, visit
www.DairyAdvance.org
. Up to 3.0 credits are also available to American Registry of Professional Scientists (ARPAS) members.
PDPW will follow the latest CDC guidelines, with adequate distancing offered at both the farm and town hall. Ample supplies of masks and hand sanitizer will also be available.
To learn more about the Herdsperson Workshop and
to register
, visit www.pdpw.org or contact PDPW at 1-800-947-7379.
Professional Dairy Producers (PDPW) is the nation's largest dairy producer-led organization of its kind, focusing on producer professionalism, stakeholder engagement and unified outreach to share ideas, solutions, resources and experiences that help dairy producers succeed.
###
---