---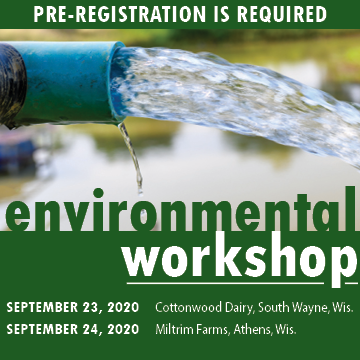 Professional Dairy Producers Environmental Workshops™ Feature Producer-led Panels
Sept 14, 2020
FOR IMMEDIATE RELEASE
Contact: Shelly Mayer
800-947-7379
mail@pdpw.org
Full Media Package is available (i.e. press release, photos, etc.)
Press Release:
Press Release
Photos/Logos:
Photos/Logos
Professional Dairy Producers Environmental Workshops™ Feature Producer-led Panels
Farm Field Tours Also Part of Reoccurring Event
DAIRY NEWS
– Learn first-hand the techniques and technologies dairy producers are incorporating on their farms to help protect Wisconsin's water quality and environment when
Professional Dairy Producers® (PDPW)
, along with the
Wisconsin Towns Association
co-sponsor the
2020 Environmental Workshops
.
The reoccurring workshops - Wednesday, September 23, in South Wayne, Wis. and Thursday, September 24, in Athens, Wis., - will help bridge the gap between dairy farmers and community leaders on the innovative environmental management practices being used on farms. Topics of discussion will key in on manure applications, producer-led watersheds, in-field farm tours and other relevant rural issues.
Both workshops, which kick off at 9:00 a.m. with registration, are geared toward community leaders, local town and county officials, conservation specialists, dairy farmers and area community members. Hosts of the event are:
Sept. 23, Cottonwood Dairy, 9600 County Road D, South Wayne, Wis. - Jim Winn, and partners Brian Larson and Randy Larson
Sept. 24, Miltrim Farms, 115315 Township Road, Athens, Wis. - Tom and Lorene Mueller, along with Kathy Trimner
On the morning agenda is a producer-led panel addressing manure management and applications. Moderated by
Dennis Frame
of Timber Ridge Consulting, farm hosts Jim Winn and Tom Mueller, along with
Scott Maier
, Waunakee, will share diverse methods for transporting and applying manure and nutrients to fields, while keeping water and land resources as their top priority.
In-field farm tours will allow attendees a birds-eye view of varying practices being used to limit their environmental footprint and employ sustainable tillage and manure management methods. Such practices include the use of cover crops that anchor the soil and reduce waste runoff.
During the afternoon producer-led watershed panels, learn how dairy farmers, environmental organizations and community groups are discovering ways to best manage agricultural practices that utilize Wisconsin's natural resources while protecting our state's waters. On the Sept. 23 panel will be Jim Winn,
Steve Carpenter
of Redrock View Farms, Darlington, Wis., and
Mike Berget
of Berget Farms, Darlington, Wis. – all of whom are involved in the Lafayette Ag Stewardship Alliance (LASA).
The Sept. 24 producer-led watershed panel will feature Tom Mueller,
Jay Heeg
of Heeg Brothers Dairy LLC, Colby, Wis., and
Brian Forrest
of Maple Ridge Dairy, Stratford, Wis. – all of which are members of the Eau Pleine Partnership for Integrated Conservation (EPPIC), a community partnership based in Marathon County.
Throughout the day there will be plenty of time to converse on other emerging rural issues such as natural resources, transportation, communication and funding for education. Join in on the discussion with
Representative Todd Novak
and leaders from both the Wisconsin Towns Association and Professional Dairy Producers®, as we explore solutions for moving Wisconsin forward.
"Dairy farmers, environmental organizations and local community groups are working together and discovering ways to best manage agricultural land by utilizing Wisconsin's natural resources and are continuing to find solutions to move our state forward," said Shelly Mayer, Executive Director of PDPW and dairy farmer from Slinger, Wis.
Pre-registration is required. To register for the $30 Environmental Workshop, which includes lunch, click
here
, visit
www.PDPW.org
or contact PDPW at 800-947-7379. Follow along digitally in advance of and during the event by following @dairyPDPW on
Facebook
,
Twitter
,
Instagram
, and
LinkedIn
.
Professional Dairy Producers (PDPW) is the nation's largest dairy producer-led organization of its kind, focusing on producer professionalism, stakeholder engagement and unified outreach to share ideas, solutions, resources, and experiences that help dairy producers succeed.
###
---