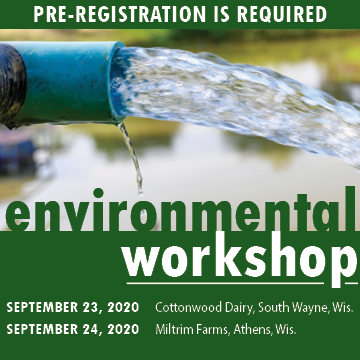 Environmental workshop
Community leaders, dairy farmers and neighbors, come together for a day of learning and discussion for one of two reoccurring Environmental Workshops held in South Wayne and Athens, WI on September 23 & 24.
Date / Time
Wed., Sep. 23 & Thur., Sep. 24 Location
South Wayne & Athens, WIPrice
$30/person
Description
Join community leaders, dairy farmers and neighbors for a day of learning. Dive deeper into the unique and innovative ways dairy farmers are protecting our water, natural resources and farm communities.
The day will include a producer panel with strategies on how to use technology and techniques to move and apply dairy manure while keeping land and water at the top of the priority list.
Enjoy a farm field tour with the opportunity to learn first-hand what some Wisconsin dairy farmers are doing to protect and nurture the land, including the use of cover crops and new innovations.
Join the discussion with the Wisconsin Towns Association (WTA) and Professional Dairy Producers® on the challenges and innovations being used in rural America. From natural resources and transportation to communications and funding for education, no topic is off limits.
You'll also learn how dairy farmers and environmental organizations are coming together to protect Wisconsin's natural resources and protect our state's waters through producer-led watershed projects.
Come to learn, discuss and engage. Join WTA Executive Director Mike Koles and others for an open dialogue about emerging issues affecting the dairy industry and local government environments that must be tackled for success in rural communities. Challenges such as the lack of broadband, deficiencies in fire and emergency medical services and limited water quality and quantity in some areas will prevent prosperity in rural communities unless addressed.
Agenda:
9 am Registration
9:30 Workshop begins
12:30 Lunch
1:00 Sessions resume
3:15 Workshop concludes
$30 registration fee covers workshop, materials and lunch.
For more information, call 800-947-7379.
Meeting Locations
Wednesday, September 23
Cottonwood Dairy
9600 Cty Rd D
South Wayne, WI
Thursday, September 24
Miltrim Farms
115315 Township Road
Athens, WI
---