---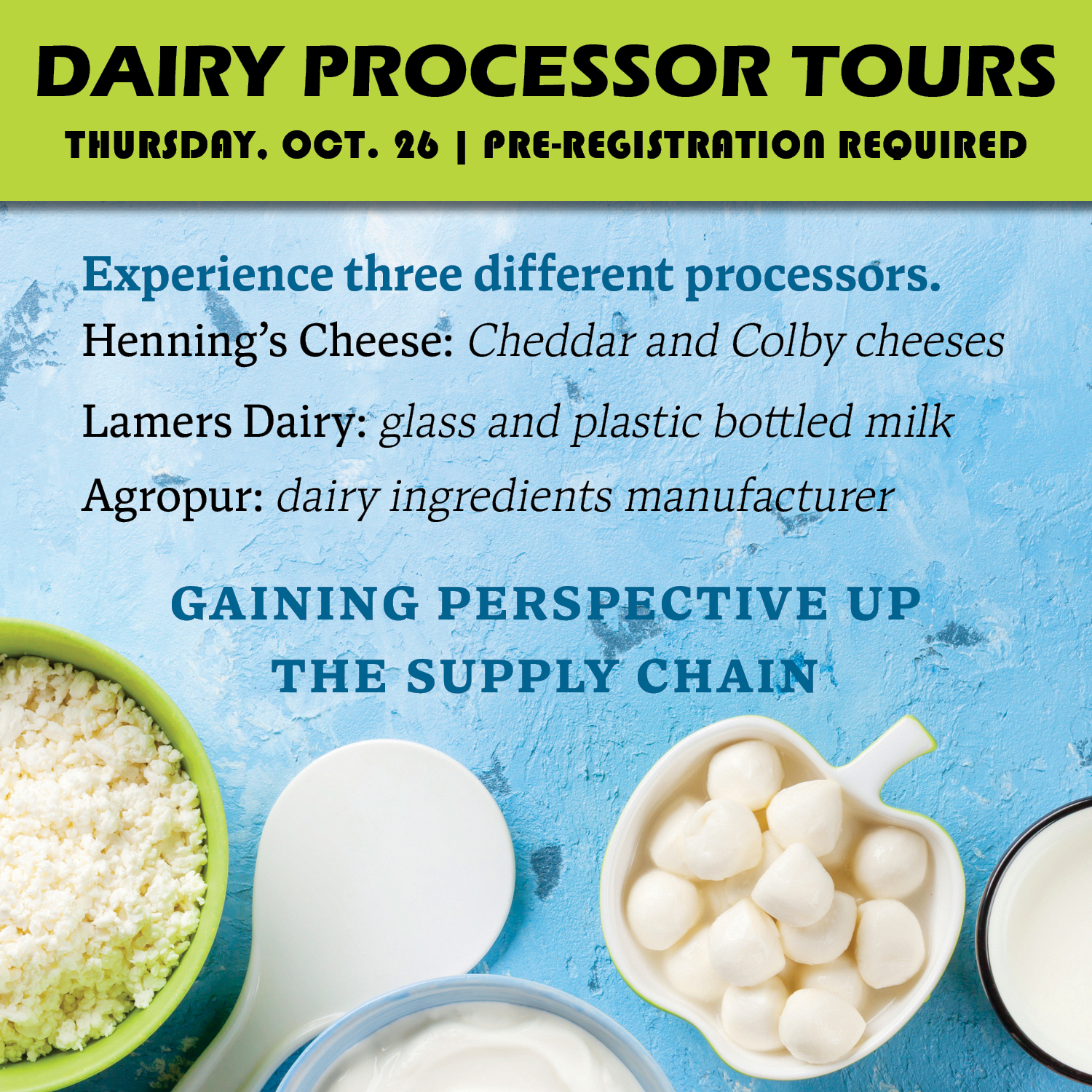 Get Inside Look at Cheese, Milk, Dairy Ingredient Plants on 2023 PDPW Dairy Processor Tours
October 9, 2023
FOR IMMEDIATE RELEASE
Contact: Shelly Mayer
800-947-7379
mail@pdpw.org
Program details
Program flier
Get Inside Look at Cheese, Milk, Dairy Ingredient Plants on 2023 PDPW Dairy Processor Tours
Tour three innovative dairy processors on Thurs., Oct. 26
DAIRY NEWS
– Curious about how the milk that leaves your farm is processed into cheese, bottled milk, dairy ingredients and more? The 2023 Dairy Processor Tour presented by Professional Dairy Producers®(PDPW) will provide a unique opportunity to see and hear from three innovative dairy processors to learn about their most critical needs as they aim to answer demands of consumers around the world.
"Here in Wisconsin, we're fortunate to have a wealth of processors to transform the milk from our farms into a wide variety of healthy, nutritious and delicious food items for consumers in our state, around the country and the world," said Janet Clark, Eldorado, Wis., dairy producer and PDPW board vice president. "The PDPW Dairy Processor tours will give dairy producers an inside look at how the bottled milk, cheese and other dairy products are made while providing insights on the challenges and opportunities for this key segment in our industry."
The Dairy Processor Tours are scheduled for Thursday, Oct. 26, leaving from Fox Valley Tech – Chilton Regional Center in Chilton, Wis., at 8:00 a.m. and returning at 3:45 p.m. Transportation, materials and lunch will be provided. Join dairy producers and industry professionals for a valuable day of tours, conversations and networking.
The tour will feature stops at three processors, each creating different end products from raw milk:
Henning's Cheese in Kiel, Wis., is a fourth-generation cheesemaker that sources milk from dairy farms within a 30-mile radius of the factory and handcrafts each batch of cheese. They produce a variety of award-winning cheddar, Colby, and Monterey Jack cheeses, as well as cheese curds and more.
Lamers Dairy in Appleton, Wis., processes milk in plastic bottles as well as returnable glass bottles. The Lamers Dairy Country Store features their own milk, whipping cream and half-and-half products in addition to a wide selection of Wisconsin cheeses and other products. On-site customers can view the entire process through the store's 30-foot observation window.
Agropur in Luxemburg, Wis., is an 85,000-square-foot facility that receives 3.75 million pounds of milk a day to make cheese and dairy ingredients such as whey-protein isolate, permeate and more. While here, learn about the global reach of U.S. dairy-ingredient products, how they are processed and the important role they play in national dairy exports.
Space is limited and pre-registration is required. Registration and more details are available at
www.pdpw.org
or contact PDPW at 800-947-7379.
Up to 2.25 Continuing Education Units (CEUs) per tour are available from Dairy Advan
CE
®.
Professional Dairy Producers (PDPW) is the nation's largest dairy producer-led organization of its kind, focusing on producer professionalism, stakeholder engagement and unified outreach to share ideas, solutions, resources and experiences that help dairy producers succeed."
###
---