---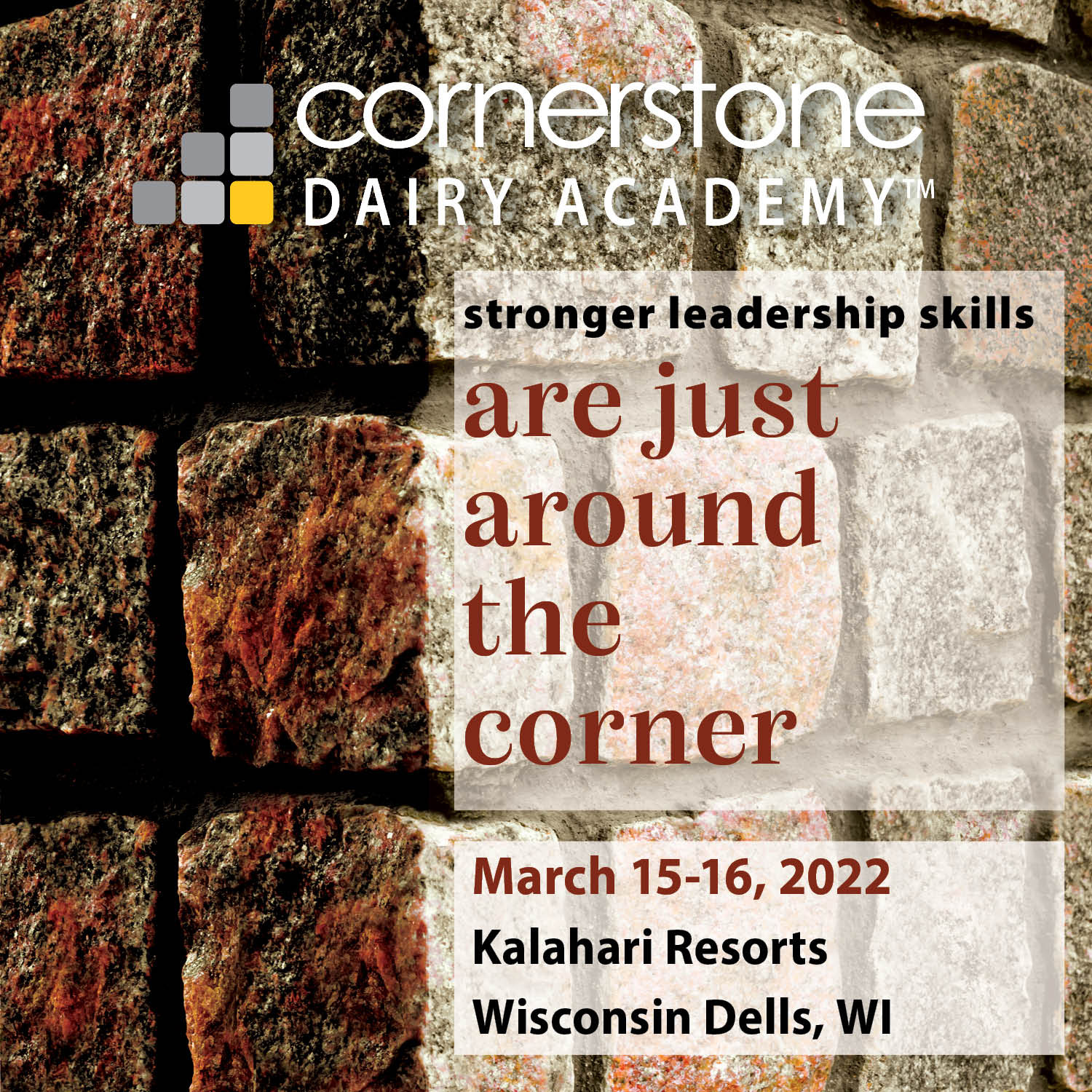 2022 Cornerstone Dairy Academy for Dairy Professionals to be held March 15-16
January 12, 2022
FOR IMMEDIATE RELEASE
Contact: Shelly Mayer
800-947-7379
mail@pdpw.org
Full media package available:
Program flyer
PDPW logo (hi-res)
2022 Cornerstone Dairy Academy for Dairy Professionals to be held March 15-16
Application Deadline for Three-Track Leadership Development Program is January 31
DAIRY NEWS
– Dairy producers and allied industry professionals interested in strengthening their leadership and communications skills are invited to apply for the 2022
PDPW Cornerstone Dairy Academy
™, presented by the Professional Dairy Producers® (PDPW). The three-track leadership-development program is scheduled for Mar. 15-16, 2022, at Kalahari Resorts, Wisconsin Dells, Wis.
PDPW Cornerstone Dairy Academy™ brings together world-class experts to equip college students, recent graduates, dairy producers and industry professionals looking to improve their leadership and communication skills. The program also gives attendees an opportunity to build on networking skills by attending the PDPW Business Conference.
Three learning pillars will be held simultaneously on day one (Mar. 15). Participants select one of three:
Pillar 1: Influential Leaders facilitated by Holly Green, behavioral scientist and experienced business leader; Rachel Wagner, etiquette expert of Rachel Wagner Etiquette and Protocol; and Hank Wagner, dairy producer, author and founder of Wagner Leadership Training.
Pillar 2: Visionary Leaders facilitated by Dr. Richard Kyte, endowed professor at Viterbo University, and Dr. David Kohl, professor emeritus at Virginia Tech.
Pillar 3: Servant Leaders facilitated by Tom Thibodeau, distinguished professor of Servant Leadership at Viterbo University.
On day two (March 16), participants will put their newly honed skills to work at the 2022 PDPW Business Conference, with opportunities to network with key industry influencers and experts from around the globe, explore the latest technologies and learn about the newest dairy industry research alongside fellow dairy professionals.
"As farming becomes more complicated with multigenerational farms and larger teams of managers, vendors and advisors, you're going to come across different areas you might not be ready for," said 2021 Cornerstone attendee Darren Hughes of Sunset Farms, Inc, near Allenton, Wis. "This program teaches you what you need to know to work with people on your dairy, as well as your broader teams of nutritionists, financial advisors and others to make the most of their skills."
Cornerstone Dairy Academy training is application-based to preserve the quality and level of interaction.
Applications are due by Jan. 31, 2022
and available at
https://pdpw.org/programs/2022-Dairy-Academy/details
. Contact PDPW at 1-800-947-7379 with questions.
The PDPW Cornerstone Dairy Academy is an accredited training and offers Dairy AdvanCE and UW-School of Veterinary Medicine (UW-SVM) continuing education units (CEUs). To learn more or secure credits, visit
www.DairyAdvance.org
.
Professional Dairy Producers (PDPW) is the nation's largest dairy producer-led organization of its kind, focusing on producer professionalism, stakeholder engagement and unified outreach to share ideas, solutions, resources and experiences that help dairy producers succeed.
###
---