---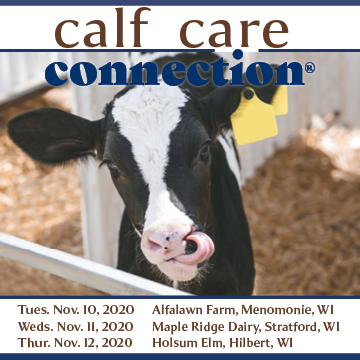 Leading Experts to Share Research on Disease Resurgence; Calf Management Strategies at PDPW Calf Care Connection® Workshops
October 9, 2020
FOR IMMEDIATE RELEASE
Contact: Shelly Mayer
800-947-7379
mail@pdpw.org
Full Media Package is available (i.e. flyer, press release, photos, etc.)
Review Flyer:
Training
Flyer
Review Press Release:
Training
Press Release
Photos/Logos:
Training
Photos/Logos
Leading Experts to Share Research on Disease Resurgence; Calf Management Strategies at PDPW Calf Care Connection® Workshops
Three Repeating Sessions to be held Nov. 10, 11 and 12
DAIRY NEWS
– Raising healthy, high-performing calves are the future and backbone of every dairy operation. Leading experts in calf health, as well as calf raisers, will share the latest research and management tips with calf managers, dairy producers and industry professionals at the
2020 PDPW Calf Care Connection© Workshops
, presented by Professional Dairy Producers® (PDPW).
Topics will include strategies to manage the resurgence of diseases, including Bovine Viral Diarrhea and considerations to make when feeding milk. Three consecutive dates will be held, each starting at 9:30 a.m. and concluding at 4:30 p.m., on the following days:
Tuesday, Nov. 10, Alfalawn Farm, E2859 290th St, Menomonie, Wis.
Wednesday, Nov. 11, Maple Ridge Dairy, 213600 March Rapids Ave., Stratford, Wis.
Thursday, Nov. 12, Brindlewood Barn Venue, W3071 County Road B, Hilbert WI Wis.
Workshop presenters include
Dr. Curt Vlietstra
, Professional Services Veterinarian for the Cattle Division of Boehringer Ingelheim Vetmedica;
Dr. Brent Cousin
, Veterinary/Manager for Holsum Elm, Hilbert, Wis., and
Dr. Vicky Lauer
, Armor Animal Health Professional Services Veterinarian.
Sherry Arnold
, Busse's Barron Acres, Barron, Wis., and
Heather Jauquet
, Synergy Dairy, Pulaski, Wis., will lead a producer panel sharing lessons learned while raising calves. Arnold raises replacement heifer calves for 11 different dairies, until they reach 5 months of age. In 2020, that included 8000 calves. On their 450-cow Registered Holstein Farm, Jauquet specializes in calf care, where she implements protocols that allow for optimum growth and future performance, minimizing mortality and morbidity rates.
Each workshop will feature two general session presentations and two break-out sessions:
What's up with disease resurgence? Lean into the discussion with Dr. Vlietstra as he tackles the complex topic of disease resurgence – giving particular attention to Bovine Viral Diarrhea. Explore the effects of this potentially costly disease and how it can impact the immune systems and growth of young stock.
Producer panel: lessons learned. Sherry Arnold and Heather Jauquet will provide a virtual walk-through of their facilities. They'll share lessons learned, challenges encountered and remedies discovered regarding facilities, nutrition, seasonal changes and other management methods.
Manage milk for consistent nutrition. Dr. Brent Cousin will share the pros and cons of using whole milk balancers and fortifiers, as well as practical ways to evaluate milk consistency on your dairy. Learn how to manage variations on the milk diet and gain experience with refractometers, make critical calculations and better utilize whole-milk balancer and other resources to support calf health and growth.
Calf necropsy: Get under their skin. See for yourself what affects a calf under its hide. In this hands-on lab, Dr. Lauer will clarify proper and improper vaccinating protocols, appropriate drug-injection techniques and correct tubing of calves.
"This year's Calf Care Connection is designed to challenge even the most seasoned calf managers, veterinarians and nutritionists. We've adjusted the format and focus areas of this training program to ensure that they are both relevant and valuable to today's farmers. They are being held in locations where we can best follow CDC health guidelines," said Shelly Mayer, Executive Director of PDPW and dairy farmer from Slinger, Wis.
The PDPW Calf Care Connection Workshop is an accredited training and offers up to 4.5 Dairy Advan
CE
continuing education (CE) credits. To learn more or secure credits, visit
www.DairyAdvance.org
. Up to 5.0 CE credits are also available to American Registry of Professional Scientists (ARPAS) members.
Learn more about Calf Care Connection and register your team by visiting
www.pdpw.org
or contacting PDPW at 1-800-947-7379. Follow along digitally in advance of and during the event by following @dairyPDPW and using #mypdpw on
Facebook
,
Twitter
,
Instagram
, and
LinkedIn
.
Professional Dairy Producers (PDPW) is the nation's largest dairy producer-led organization of its kind, focusing on producer professionalism, stakeholder engagement and unified outreach to share ideas, solutions, resources and experiences that help dairy producers succeed.
###
---