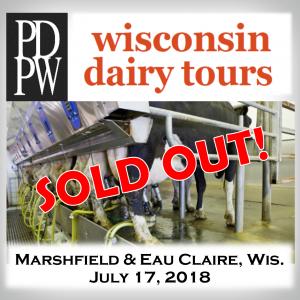 PDPW Wisconsin Dairy Tours
Date / Time
July 17, 2018 Location
Marshfield & Eau Claire, Wis.
Description
The 2018 PDPW Wisconsin Dairy Tours have SOLD OUT. Call PDPW at 800-947-7379 to learn more or join the waiting list.
---
Join the PDPW Wisconsin Dairy Tours on Tues., July 17, 2018 to connect directly with fellow dairy owners and their financial consultants to learn what it takes to make a buck in today's dairy climate.
An in-depth roundtable discussion will be bookended by tours to Son-Bow Farms near Spring Valley and Alfalawn Farm near Menomonie. Financial consultants Dave Becker of Dairy Business Consulting Group, and Steve Bodart with Compeer Financial will discuss key factors all dairies can control to optimize efficiencies.
Come prepared to ask questions and talk with dairy owners, managers and other dairy professionals to identify opportunities to improve productivity and sustainability on your farm.
Those who attend will see Son-Bow's nutrient management system that includes reclaiming water, separating solids and composting sand bedding, and Alfalawn's 60-cow rotary parlor including the strategies they've implemented to prepare for the potential of the next generation stepping in.
All attendees will board the chartered bus from one of two pick-up locations:
Marshfield: 7:45 a.m. pick-up; bus returns at 5:45 p.m. (Park & Ride 70-01, near Kwik Trip, S. Draxler Dr., Marshfield, WI 54449)
Eau Claire: 9:45 a.m. pick-up; bus returns at 3:45 p.m. (WisDOT Park & Ride 18-01, Texaco Dr., Eau Claire, WI 54703)
Registration of $70/attendee includes transportation, guided tours, lunch and refreshments throughout the day and is limited to the first 50 attendees with priority given to dairy farmers.
This training is offered in cooperation with Dairy AdvanCE and has been approved for up to 3.75 continuing education (CE) credits. Dairy AdvanCE is a continuing education accreditation provider for dairy producers and other dairy industry professionals. Learn more.
For more information on the PDPW Dairy Tours, call PDPW at 800-947-7379.
Sponsored by

---