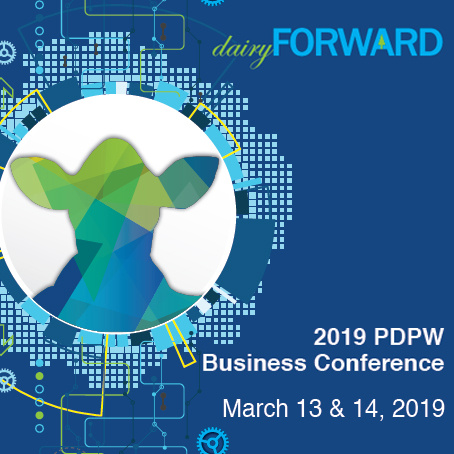 2019 PDPW Business Conference
Mark your calendars for the 2019 PDPW Business Conference: March 13-14 at the Alliant Energy Center in Madison, Wis. Dairy's movers and shakers – producers, experts and industry allies – will gather here for two days of refueling and recharging. It's time to Dairy Forward.
Date / Time
Mar. 13-14, 2019 Location
Madison, Wis.
Description
Dairying today takes focus and the right frame of mind. If your destiny is dairy, you need fresh ideas and innovative solutions to keep your tank full as you dairy forward in today's challenging environment.
Meet us where ideas begin and save the date now for the
2019 PDPW Business Conference
, March 13-14 at the Alliant Energy Center in Madison, Wis. The 2019 Conference's theme is "Dairy Forward" and will feature two days filled with world-renowned speakers presenting dynamic educational sessions and workshops.
The PDPW Business Conference has grown to be the premier educational event for the dairy industry, where active dairy farmers and agribusiness professionals from across the country and globe assemble for the latest in research, innovations and education. Attendees can expect best-in-class keynote speakers and breakout sessions focused on pressing industry topics, as well as dynamic small-group learning lounge sessions, previews of new industry research, and hands-on workshops. Expert speakers from around the world will cover a wide array of topics in the areas of dairy production and health, business and finance, leadership and management, natural resources, human resources, food safety, consumer engagement and more.
Register today.
Meeting Locations
Alliant Energy Center
Exhibition Hall & New Holland Building
Madison, Wis.
---