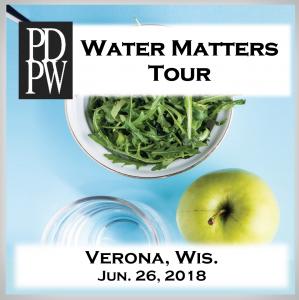 Date / Time
June 26, 2018; 9:30 a.m. - 3: 30 p.m. Location
Verona, Wis.
Description
Join us for the 2018 Water Matters Tour, brought to you in partnership with PDPW and UW Discovery Farms. The chartered bus tour will kick-off at the Verona Park & Ride, Old Co Rd Pb, Verona, WI 53593 on Tue., June 26, 2018, departing at 9:30 a.m. and returning at 3:30 p.m.
Verona Park and Ride - US 18/151 to Verona Exit 81, head south on old PB or eastbound exit 79, head north on Old PB. Park in west side lot (consider exit 77 and follow detour, if exit 79 is closed do to road construction).
Together, with community members, dairy producers, consumers and local elected officials, learn how we work together to keep our water safe and accessible. Join for tours, discussions, solutions and answers to your water quality questions.
Registration cost of $30/person includes bus travel, snacks, refreshments and lunch. Be sure to wear comfortable shoes.
This training is offered in cooperation with Dairy AdvanCE and has been approved for up to 4.5 continuing education (CE) credits each respective day. Dairy AdvanCE is a continuing education accreditation provider for dairy producers and other dairy industry professionals. Learn more.
For additional information or to register, call 800-947-7379 or email mail@pdpw.org.
Sponsored by
---