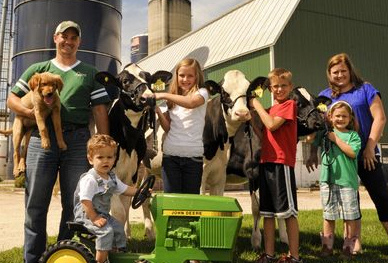 Mark and Angie Ulness
Ragnar Holsteins
Valders, Wisconsin
Ragnar Holsteins began in 1976 when Mark's parents Wally and Ava Ulness bought a neighbor's farm, replaced the Guernseys with Holsteins and began building a registered herd. Wally was killed in a car accident when Mark was still a student at the University of Wisconsin-Madison; the family carried on at the farm while Mark finished college and continued to develop the registered herd.

Mark met Angie at the university and they both graduated from UW-Madison with dairy science degrees. They married in 2002 and bought into Mark's family's farm the same year.

Their 75-cow herd is milked in a stall barn and bedded with straw on mattresses. Milking equipment with portable automatic takeoffs gives them access to milk yield, flow and temperature data and affords them early indicators of illness. "We focus on cow comfort and maintaining healthy cows that will stay around," Mark says. "That gives us the ability to sell extra animals for dairy to other producers."

"We work at harvesting our hay at the right time so we can maximize the best combination of quality and yield. We also work with a custom corn silage harvester so we can get it in quickly when feed value is at its peak," says Mark. "At a PDPW conference we bid on twenty rumination monitor tags in the silent auction and we got it. We've found them to be very helpful."

Mark and Angie focus on capturing premiums from low somatic cell counts and high components. They also pay attention to longevity, cow health and show type so they can sell top-quality milk cows. "We want animals that are sound and trouble-free to fit into any type of dairy operation as well as show-type heifers," says Mark.
The couple agree they'd like to see their children follow in their footsteps but are not pushing it. The children are still young; for now Mark and Angie want to provide them with opportunities to show and learn about dairy and develop a strong work ethic.

Their involvement in PDPW began after winning a membership as one of the awards for being chosen Wisconsin Outstanding Young Farmers in 2016. They attended an annual Business Conference and found it very beneficial.

"While some people believe PDPW programs are geared toward those with larger farms, we learn something from every presentation," Angie says.
Mark agrees, "When we attend PDPW sessions we find that the take-home messages are the same, regardless of how big your farm is."
The couple appreciates the wide range of topics to learn from at PDPW conferences, in addition to the opportunity to mingle with others who enjoy the dairy industry as much as they do.