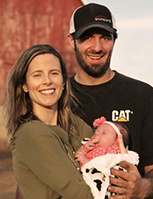 TJ and Katie Roth
Banner Ridge Farms
Platteville, Wisconsin
For the families at Banner Ridge Farms, "faith, family and farming" aren't just words on the farm sign at the end of the driveway. Rather, these sentiments are the very heart of what drives the Shea and Roth families to care for the land and animals on this farm in the rolling hills of southwestern Wisconsin.
John and LuAnn Shea began the farm in the 1970s; they married young and attended UW-Platteville full-time while also farming full-time. They graduated in December of 1977 and welcomed their first child, Jill, nine days later. Sons David, Mark, Steve and Jeffrey followed in the years to come, and each of them played a role on the farm as they grew.
David had the vision of expanding from the 49-cow stanchion barn to an operation that would have the ability to provide for multiple families. In 2003, he and his wife Lori joined the business; two years later a free stall barn was constructed and the first expansion to 200 cows was completed. In 2007, Dave hired UW-Platteville freshman Thomas J Roth. TJ went on to graduate with an Animal Science-dairy emphasis degree.
In 2010, just a few years after TJ was hired, Dave succumbed to a brave fight with a rare form of cancer. Today TJ and his wife Katie are partners with the Shea families, with TJ managing feeding and fieldwork and Katie serving as herdsperson. John and LuAnn continue to stay involved in the business and Jill takes care of the calves. Steve, having returned to the farm in 2013 after earning a degree as a mechanic, keeps busy trucking crops, managing shop work, and taking soil samples.
Both families collaborate on efforts to open their doors to the public. In June, Banner Ridge Farm was the host of the Grant County Dairy Breakfast. The dairy also hosts Farm City Days, an FFA alumni event that welcomes 200 first- and second-graders for an on-farm experience that introduces kids to the inner workings of modern dairying.
"This event is designed to bring the classroom to the farm," Katie explained. "Nine stations are set up so students can get hands-on learning on topics including milking, nutrition, animal health, soil and crops, machinery, dairy products and drones. We also set up an 'ask a farmer' station and a petting zoo."

While Katie's full-time work with Farm Service Agency positions her well to handle the farm finances, she credits PDPW's Financial Literacy for Dairy® program for equipping her with game-changing information. "I knew from my work at FSA that participating in the Financial Literacy program would really help us," Katie said. "I knew the basics before, but now we have our goals in writing."

She focuses on goal-setting, benchmarking and watching return on investments - and she helps the management team understand the financial numbers so they can make decisions toward profitability. Knowing this information also clarifies priorities while managing work and family time - a component they're especially aware of since the birth of their daughter Stella in May.

The Shea and Roth families make up a good deal of the Banner Ridge work force, but Katie and TJ are quick to point out that several other employees share in the work load. "We have great help," TJ said. "We've had the same milking crew for eight years. They love to see this farm prosper and they put their heart and soul into what they do. They'll put in extra hours without a second thought – they are amazing."

Katie agreed, "They're like family. We couldn't do it without them."