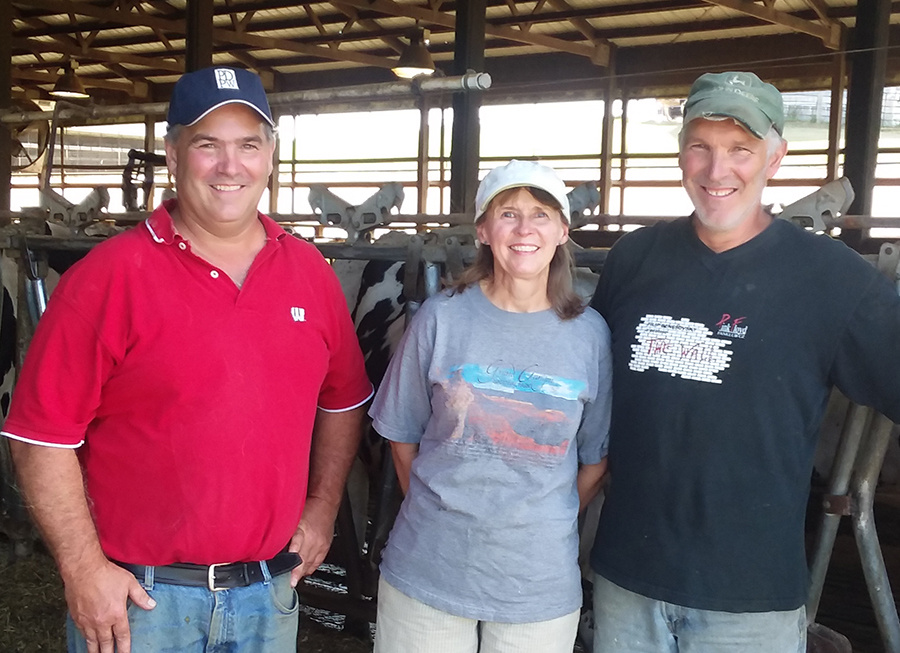 Tim and Sandy Keller and Mark and Kareen Keller
Kellercrest Holsteins
Mt. Horeb, Wisconsin
Cow comfort, breeding for top genetics and practicing sustainability go hand in hand at Kellercrest Registered Holsteins, Mt. Horeb, Wis., home to Tim and Sandy Keller and Mark and Kareen Keller, along with their families.
Kellercrest was formed in the late 1960s when Daniel and Jeanne Keller purchased two registered Holsteins. In 1972, they bought a registered calf for their 10-year-old son Tim. Suzie was the first calf the Kellers purchased from John Hamilton of Verona, Wis. Two years later, Tim purchased another registered calf from John; today, several members of the herd trace back to these early calves.
In 1988, Tim and Sandy became partners in the farm on a 50-50 arrangement with Dan and Jeanne. In 1999, Tim and Sandy chose to buy Dan and Jeanne's portion and form a corporation with Tim's brother Mark, who had 13 years of work in the agronomy field. Mark's wife Kareen works full-time and helps on the farm when she can. Tim and Sandy's son Andy is also a key team member and works part-time at Klondike milk cooperative, the processor that buys the dairy's milk. And 86-year-old Dan is "Waste Management Specialist", joked Tim.
Expanding to a freestall barn in 2000 led to a higher level of cow comfort.
"Cow comfort is so important to us," Mark said. A few years later, construction of a new heifer shed was completed.
In December of 2009 a Cozy Calf Care Center was built for baby calves. Built to house 52 calves, the pens in the calf barn are designed with removable panels between calves so groups can be created within the calf barn. Sandy is their primary care-taker.

Kellercrest opens their doors to the public, sharing their insight on cow comfort, productivity and breeding philosophies. Their dairy office, adorned with awards and pictures, is a true testament of their breeding successes.

Tim believes open dialogue with the neighbors is vital, so hosting an Agricultural Community Engagement® (ACE) On-the-Farm Twilight Meeting in 2018 fit right into their way of thinking. "When we get the neighborhood involved we can let people know what we are up to."

Tim enjoys sharing their breeding philosophy with the public. He said, "We strive to breed cows with good feet and legs, udders and components. We're after high type and high production - and with proper nutrition and proper care, it's totally possible."

Tim and Mark work together in choosing which sires they'll use in their breeding program and which females they'll work with as donor cows for embryos. To date, Kellercrest has sent over 100 bulls to artificial insemination companies.

The driftless region of western Dane County presents challenges for cropping practices, but the Kellers have adopted sustainable techniques to preserve the land and prevent erosion to an exceptional degree. They were awarded the 2017 Innovation Center for U.S. Dairy's Sustainability Award for outstanding achievement in resource stewardship.

They've also hosted many international tours, including those for grocery stores. "We've had just about every major grocery store chain tour here – Safeway, Meijers, Whole Foods," Tim said. "And we want them to see how important cow comfort is to us – and how comfortable cows produce high-quality milk."

Mark says, "There's so much the public hears about farming that simply isn't true. We invite them to come out and see what it's actually like on a farm. We care about our cows and their health. A healthy cow is a happy cow."

Operating a successful dairy in today's unpredictable dairy environment requires business savvy. The PDPW Business Conference is one of the events they invest in. Tim said, "PDPW programs are different than others – you can get down to the nitty gritty because the programs are more in-depth. I believe if you can take one thing out of the Business Conference and use it, the conference pays for itself."