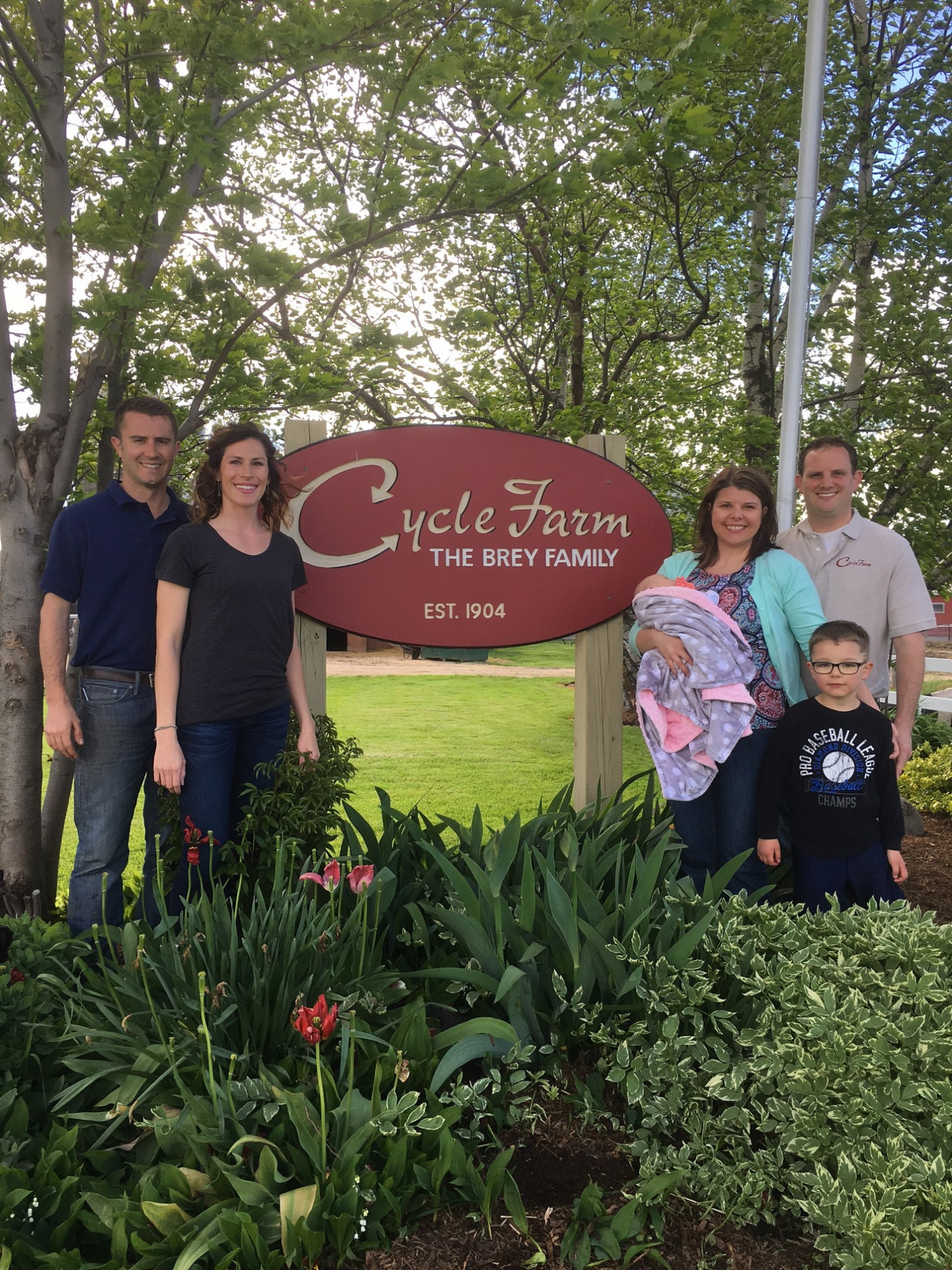 Jacob & Lauren & Tony and Moriah Brey
Brey Cycle Farms
Sturgeon Bay, Wis.
Located near Sturgeon Bay, Wis., Brey Cycle Farm traces its beginnings to 1904 when George Brey, Sr., established the dairy. His grandson Bill Brey, with his wife Clarice, raised their five children on the farm. In July 2016, sons Tony and Jacob took over ownership.
Tony manages the finances with his wife Moriah and handles the herd's feeding program. Jacob takes care of crops and manages the custom-heifer-raising business. The farm includes 460 registered Holstein milking cows, 500 heifers, some beef cattle and 1,200 acres of owned and rented land, on which they raise corn, alfalfa, wheat, sorghum and cover crops. In addition to managing the custom-heifer-raising business they launched in 2016, the Brey families and their employees do the majority of the farm work.
Working together on general herd management decisions, the brothers enjoy the opportunity to sell high-quality genetics and send bulls to artificial insemination companies as well as selling directly to various farms. They also perform all the herd's ultra-sounding, flushing and embryo-transfer work, rather than paying an outside source. "It's nice to have that income stream without the added cost of paying for those services," Moriah said.
Brey Cycle Farms is one of four farms in the Door-Kewaunee Demonstration Farm Network, a partnership between The Wisconsin Department of Agriculture, Trade and Consumer Protection, the USDA-Natural Resources Conservation Service and Peninsula Pride Farms. As a demonstration farm, they test new technologies and share information with others about practices such as low-disturbance manure injection, no-till cropping and planting cover crops.
Jacob sees their approach to responsible stewardship as a piece in the puzzle of showing the public the extent to which modern dairy farmers care for the water, land and air. "Today's farms are continually working to improve in regard to environmental stewardship and animal welfare," he said. "Everything we do on our farm is for the good of the land and animals. If we do the right things to care for our land and our animals, we'll have a successful business - which supports our families, employees, suppliers and the other community businesses we work with."
Tony agrees; "Our goal is to have an impact in our community through our involvement in organizations - agricultural and others. We've continued to learn new things and challenge ourselves to remain open-minded. That's one of the keys to success in this business."
Attending PDPW meetings is one way the Breys continue to learn. "Tony and I have been involved in PDPW since we were college students," Moriah said. "We look forward to the PDPW Annual Business Conference every year; it's a way to learn from speakers and presenters. We also find the networking opportunities and the ability to learn from our peers and mentors in an informal setting is just as valuable. The business conference offers a platform for both."
The Breys also believe in giving back to the community, whether by mentoring and coaching students and local youth or by opening their doors to the public. In 2018, Brey Cycle Farm was a host for the Agricultural Community Engagement® (ACE) On-Farm Twilight Meeting.
"The ACE Twilight Meeting was a valuable event for our farm to host because it brought together people in our community to have a conversation about topics important to all of us," Lauren said. "We appreciated the opportunity to host local legislators, our neighbors and community leaders to share what we do on our farm and discuss how we can all work together to make our local community the best it can be."