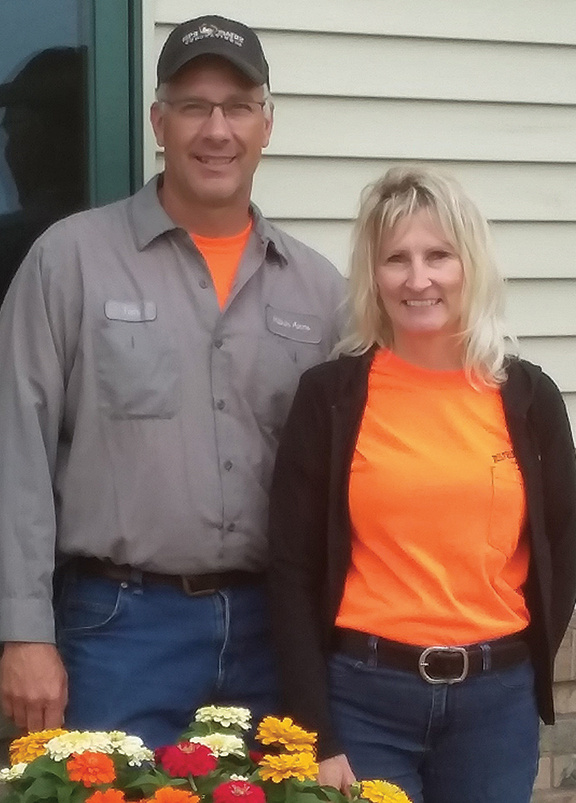 Tom and Lorene Mueller
Miltrim Farms
Athens, Wisconsin
Owned by Tom and Lorene Mueller and Tom's sister Kathy Trimner, Miltrim Farms has seen its share of growth since Tom and Kathy's grandfather, Martin Mueller, started the farm in 1931 with 8 cows and 80 acres of land. Tom, Lorene, Kathy and her husband Scott Trimner incorporated the dairy in 1988, and today 40 full-time employees milk and care for 2000 cows, 2000 heifers, and more than 4800 acres of land.

This Marathon County farm team is dedicated to growing strong partnerships to care for the water, soil and environment on which they farm and growing relationships with their team members and their community. For decades, residents of the county have faced water quality issues; Miltrim Farm plays an active role in the area's goal to turn things around. The dairy is situated in the Eau Pleine watershed in the Central Wisconsin Basin which features several recreational bodies of water, including Eau Pleine Lake, Eau Pleine River and the state's longest river - the Wisconsin. "We are environmentalists and we live here, so we take water quality issues very seriously," Tom said.

The dairy serves as a pilot farm working with Marathon County on phosphorus trading. Given the staggering levels of phosphorus reduction needed to meet Department of Natural Resources requirements and the associated costs, the Muellers recognize the alliance is a win for all involved. In addition to the resulting improvements to soil and water, "The partnership will save both parties a lot of money," Tom said.

Their efforts have made an impact, attracting even the attention of the governor's office. In April, Governor Tony Evers and Lieutenant Governor Mandela Barnes visited the farm to see for themselves how sustainable practices such as using cover crops, no till, and other management protocols is a practical way to help keep Wisconsin's water clean.

Not only is the team fully vested in conservation efforts, they place a high value on continuing education for themselves and all their team members. "We see tremendous value in education," Tom said. "The success of this operation is due to the employees."

In addition to national-level educational programs such as PDPW Business Conference and Managers Academy, several Miltrim coworkers have attended such trainings as Financial Literacy for Dairy, PDPW Herdsperson Workshop, PDPW Dairy Wellbeing, Dairy Robotics Tours and various PDPW webinars.
According to Lorene, "When it comes to signing up employees for educational programs it's not 'Should we send someone?', it's 'Who should we send?' And when they come back, they're expected to share what they learned."

Not only do they value ongoing education for themselves, they believe in educating others. The dairy's Facebook page commonly features posts sharing new technologies they're implementing and upcoming events they're hosting for the public. Videos and pictures give their audience a virtual experience and a forum for dialogue with their team members and their Facebook followers.

Miltrim Farms engages with the public beyond social media, too. Opening their doors for Agricultural Community Engagement On-the-Farm Twilight Meetings and "Books in the Barn" events, their aim is to educate and collaborate with community leaders, local elected officials, dairy producers and community members. Tours of the dairy and open dialogue are key to the influence they have locally and beyond.