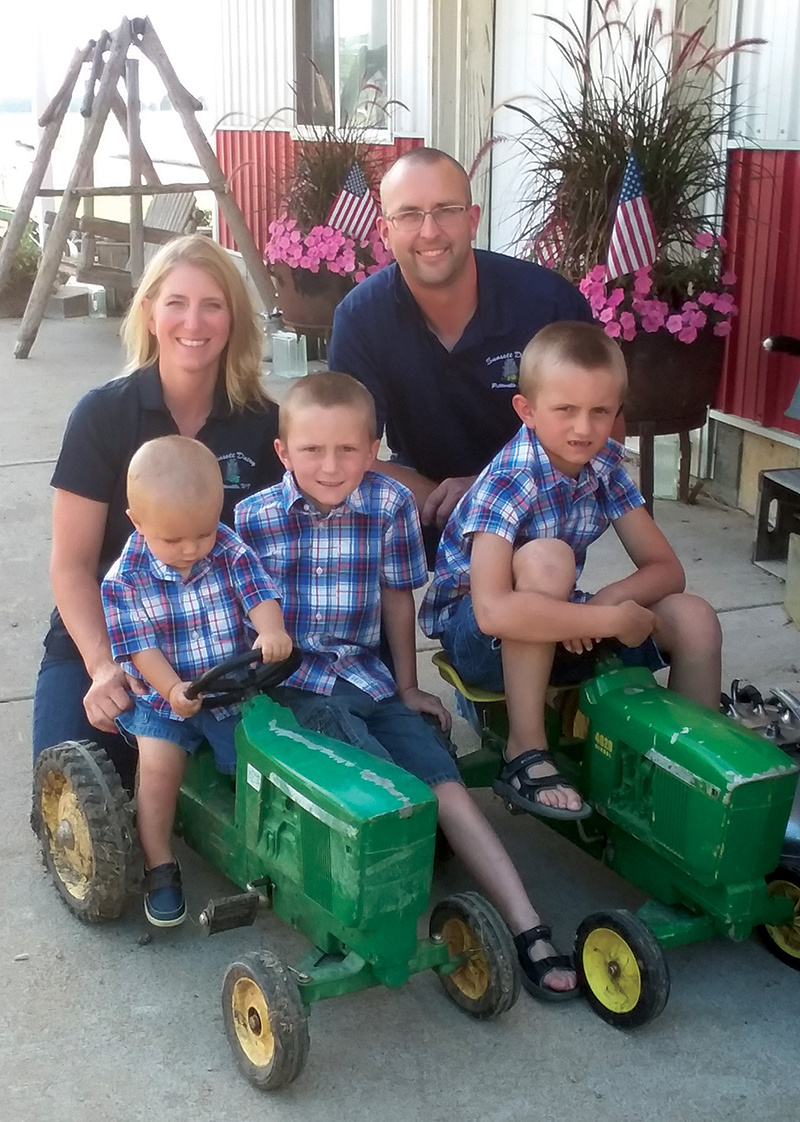 Alan and Stephanie Hughes
Sunsett Dairy
Pittsville, Wis.
ALAN AND STEPHANIE HUGHES of Pittsville, Wis. are proof positive that dairies can be successful in all shapes and sizes. Sunsett Dairy is a rotationally grazed, registered 65-cow herd of Jerseys, Holsteins and Milking Shorthorns. Their farm name was coined in tribute to the name of the road that led to Alan's boyhood farm.

Both grew up on Clark County farms and are graduates of the University of Wisconsin-River Falls; Alan earned a degree in broad-area agriculture with a minor in animal science while Stephanie earned a degree in dairy science with a management option. Her passion for cow pedigrees and genetics led her to a job mating and breeding cows with Genex after graduation. She later worked at Farm Credit Service for 6 years; she considers her work as a loan officer incredibly valuable to owning and operating a dairy today. "It was the best job I could have had to learn about the finances of dairying," Stephanie said.

Alan and Stephanie bought their herd in 2007, and began renting Alan's dad's facilities to begin farming. Not long after, they became parents and in 2015, they purchased the farm they're currently on.

In the midst of managing dairy farming and parenting, Alan was presented an unexpected opportunity to serve in the Air National Guard - a prospect he was excited to pursue. Though basic training would take him away from the family and farm temporarily, Stephanie encouraged him to "go for it." Today, Alan is an F-16 crew chief for the 115th Fighter Wing Unit in Madison and the couple owns Sunsett Aircraft Maintenance, LLC. Alan is employed as an aircraft mechanic at the Wausau Municipal Airport where he works on single-engine, small passenger planes.

Despite his off-farm responsibilities, he's in the barn each morning and most evenings. He feeds, does field work, cleans the barn and fixes whatever breaks. Stephanie manages the breeding program and mating choices for the herd. Their sons Bryce and Gavin enjoy helping where they can. At 8 and 6 years old, they move cows from one paddock to another and help with other jobs as needed. At 22 months old, Derek is still growing into his roles on the farm.

Rotational grazing as a management choice was a natural option for the Hughes. Though Alan was raised on a conventional dairy near Thorp, his dad converted the operation to incorporate rotational grazing while Alan was in high school. Today, with Alan frequently working off the farm, the rotational grazing style makes for a simple, efficient management style for the family. It's also a perfect fit for raising their children. "My passion is to be able to raise our children on the farm," Stephanie said. "Being raised on a farm makes such a difference in their work ethic and experiences they'll gain - and the kind of people they'll become."

The Hughes aren't merely committed to their own family but also to the dairy industry as a whole. They're active on industry committees with PDPW and Farm First Young Cooperators, they mentor youth who are considering careers in dairy, and they're devoted to continuous education.

"Attending educational programs is so important," Stephanie said. "Whether we learn about breeding, feeding or milking procedures, we all have to do these things. It's so important for us to learn from one another."

The Hughes look forward to developing a herd of good quality cattle and to continue to produce high quality milk. And even more, they're eager for a future that allows them to raise their boys on the farm and hopefully pass it on to at least one of them some day.