Advanced Comfort Technology/DCC Waterbeds
Address:
752 Lois Drive
Sun Prairie, WI 53590
Product/Service Special:
Kevin Collins installed DCC Waterbeds for the 5th time in the fall of 2020.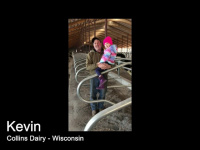 Watch Austin Allred, owner of Royal Dairy, presentation at World Dairy Expo Virtual Farm Tour & Q&A. With 6,500 milking cows, Austin will explain how BioFiltro's worm-powered wastewater system removed 90-99% of the nutrients from his green water, builds soil by generating worm castings and produces 6-8 carbon credits per milking cow. DCC Waterbeds were recently installed in the eight freestall barns to provide cow comfort that is low-maintenance to allow for a cleaner, simpler manure waste stream.

Why did Esser's switch from sand bedding to DCC Waterbeds?
Nathan Kling tells you why he chose DCC Waterbeds for his robotic milking barn
Video link: https://youtu.be/BfyhiDYfDjo

DCC Waterbeds patented dual-chamber design provides invariable, stable cushion for cow descent each and every time she lies down. The water suspends the cow's pressure points. The bed gently moves with her skin, providing maximum cow comfort.