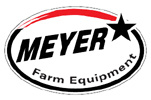 Meyer Manufacturing Corporation
Address:
674 West Business County Road A
Dorchester, WI 54425
Meyer Manufacturing Corporation is a leading producer of equipment dedicated to dairy and livestock based operations primarily in the United States and Canada. Our product lines consist of forage boxes, live floor trailers, manure spreaders, vertical TMR mixers, flat racks, running gears and Rocky mineral feeders. Meyer prides itself on producing quality products at competitive prices. Customer satisfaction is the most important measure of our achievement. Our market leadership depends upon customer's success using our products. Check out our website meyermfg.com for additional details or contact a Meyer Farm Equipment dealer nearest you - see why Farm Equipment Buyers Trust the Name Meyer!