---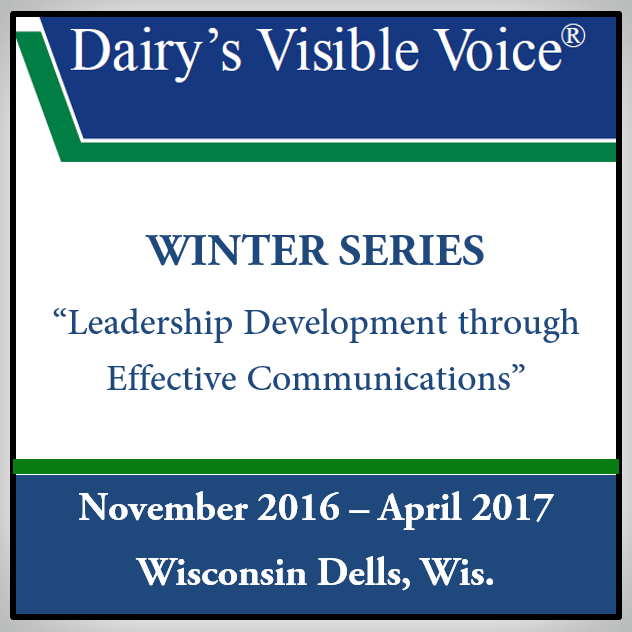 PDPW Dairy's Visible Voice – Social Media Strategy, Coming in December
November 16, 2016
FOR IMMEDIATE RELEASE
Contact: Shelly Mayer
800-947-7379
mail@pdpw.org
Full Media Package is available (i.e. flyer, press release, photos, etc.)
PDPW Dairy's Visible Voice – Social Media Strategy, Coming in December
DAIRY NEWS
– Professional Dairy Producers® (PDPW) bring
Dairy's Visible Voice®, Social Media Strategy
– leadership through effective communication training to dairy farmers Thur., Dec. 1 from 8:30 a.m. to 5 p.m. at Foremost Farms USA in Baraboo, Wis.
The Dairy's Visible Voice curriculum is designed to enhance dairy farmers' leadership skill through improved traditional and digital communication techniques and best practices. Over 3.4 billion people have access to the internet and connecting with the non-agriculture sector through social media platforms can positively affect dairy farms and the industry. While it is not necessary to be a social media expert, developing the digital skills to promote the dairy industry and amplify its value in the local community and beyond is critical in this digital era.
In this Social Media Strategy session, dairy farmers will explore the value of an online farm presence, engage digital consumers, learn the pros and cons of social media, time-saving digital management tricks, address tough questions and create strategic digital content.
This Dairy's Visible Voice curriculum and future leadership sessions will each bring attendees the comprehensive elements to manage their business proactively and in time of crisis. This series is key to developing and implementing a vital plan to protect the individual farm and our collective brand - Milk.
Upcoming Dairy's Visible Voice sessions include:
Thur., Dec. 1 – Social Media Strategy
Thur., Jan. 12 – Crisis Management
Thur., Feb. 16 – Effective Leadership
Thur., Apr. 6 – Proactive Communication
All sessions will be held from 8:30 a.m. to 5 p.m. at Foremost Farms USA, E10889 Penny Ln, Baraboo, Wis. Upon request, these sessions can also be tailored to fit individual company needs for larger groups of producers or industry leaders involved in the dairy business. Interested parties are encouraged to take advantage of the peer-group oriented leadership training. To
register
, visit
www.pdpw.org
or contact PDPW at 1-800-947-7379.
Professional Dairy Producers (PDPW) is the nation's largest dairy producer-led, grassroots organization of its kind, focusing on education, networking and professional development to shares ideas, solutions, resources and experiences that help dairy producers succeed.
###
---