---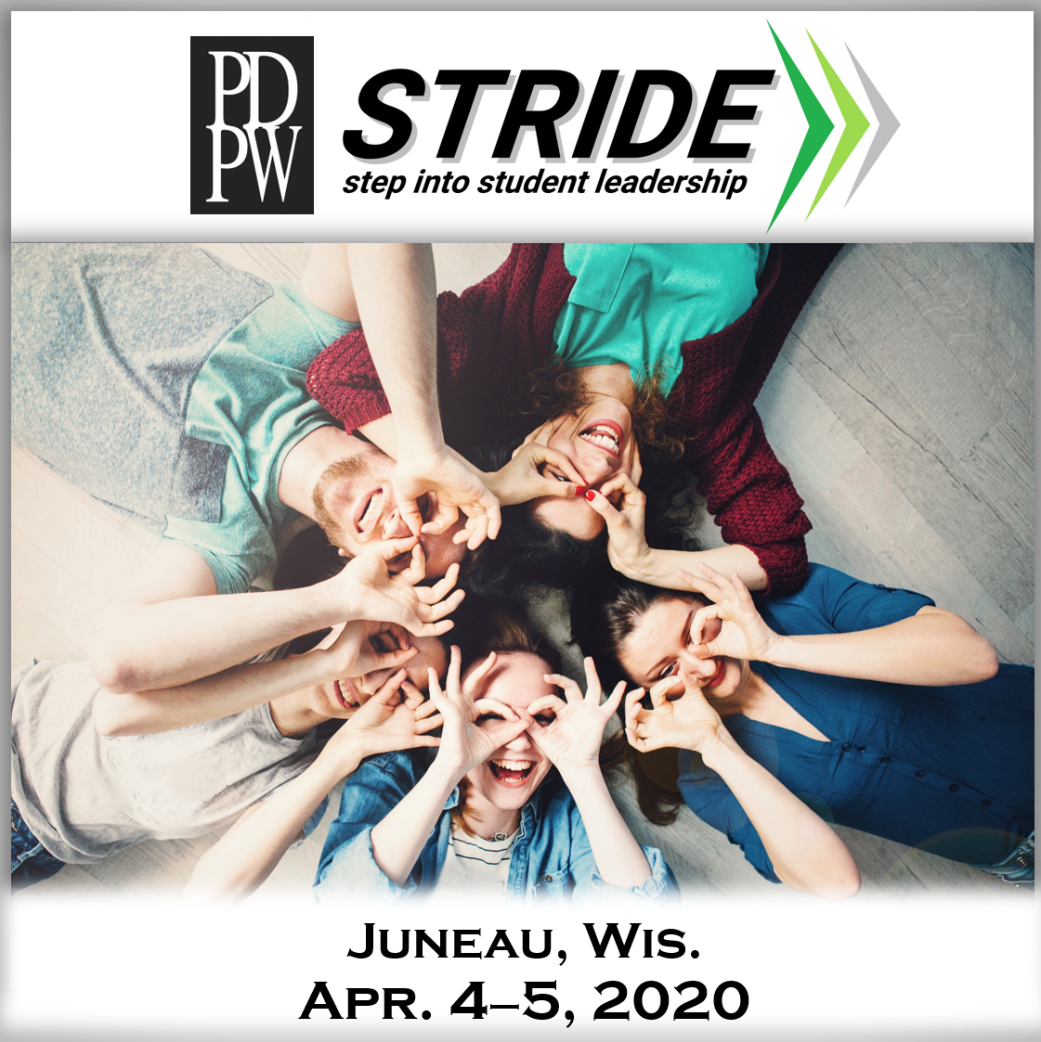 2020 PDPW Stride™ Youth Leadership Conference, Step into Student Leadership
Feb. 24, 2020
FOR IMMEDIATE RELEASE
Contact: Shelly Mayer
800-947-7379
mail@pdpw.org
Full Media Package is available (i.e. flyer, press release, photos, etc.)
Review Flyer:
Program Flyer
Review Press Release:
Program
Press Release
Photos/Logos:
Program
Photos/Logos
2020 PDPW Stride™ Youth Leadership Conference, Step into Student Leadership
Overnight Lock-in Program Developed for High School Students, April 4-5 in Juneau, Wis.
DAIRY NEWS
- Presented by Professional Dairy Producers® (PDPW), high school students ages 15 to 18 can expect an engaging experience at the newly launched
PDPW Stride™ Youth Leadership Conference
. The two-day overnight program is held Saturday and Sunday, April 4-5, 2020 at the Dodgeland High School in Juneau, Wis.
Designed to develop leadership traits, communication skills and career-planning strategies through a variety of interactive activities, PDPW Stride will help attendees identify their leadership and personality styles. The two-day Conference is overflowing with team exercises and group challenges that equip attendees with techniques to develop their abilities, expand their role as a leader and learn distinctive ways to negotiate through difficult situations.
Amongst other activities, students will participate in hands-on workshops, make personal contacts during a career fair, and network with mentors, presenters and other high school students from around the state.
The event's trainer will be
Ed Tilley
, of Adventure Associates, a coach who leads by example and has facilitated professional development programs driving teamwork and enriching relationships for over 25 years. With a thirst for adventure, he thoughtfully guides participants through profound learning experiences as unforgettable as they are fun. His strategies reflect a burning dedication to help every student
win
with skills and tools that are practical and sustainable.
Students will also learn the value of taking advantage of opportunities to make a difference when they hear
Edward Henning's
compelling story about serving hard time after a decision forever altered his life. While serving time, he made a commitment to use his failure and adversity as a launching pad to teach youth how to make the right decision. Hennings is a Milwaukee-based award-winning author, entrepreneur, motivational speaker, life coach/mentor and policy reform advocate.
"We all agree that it is the dairy industry's duty to recruit, develop and encourage the next generation of leaders who will be dairy farmers, allied industry supporters, and all the support stakeholders that it takes to have a vibrant dairy sector," said Shelly Mayer, dairy farmer in Slinger, Wis. and Executive Director of PDPW. "Whether we are talking about the next generation of lawyers who will represent dairy, doctors who will understand our needs, teachers who shape the way everyone thinks about their food and planet, or the researchers who will make the bold discoveries that answer tomorrow's needs, PDPW Stride is positioned to bring together and lift up the next generation of leaders on our farms, in our communities and at the helm of our country."
To learn more and
to register
for the PDPW Stride Youth Leadership Conference, view the upcoming programs at www.pdpw.org or call PDPW at 800-947-7379. Pre-registration is required, along with a parental waiver and medical form for each participant.
Follow along digitally in advance of and during the event by using #PDPWStride on Facebook, Twitter, Instagram, and LinkedIn.
Professional Dairy Producers (PDPW) is the nation's largest dairy producer-led organization of its kind, focusing on producer professionalism, stakeholder engagement and unified outreach to share ideas, solutions, resources and experiences that help dairy producers succeed.
###
---