---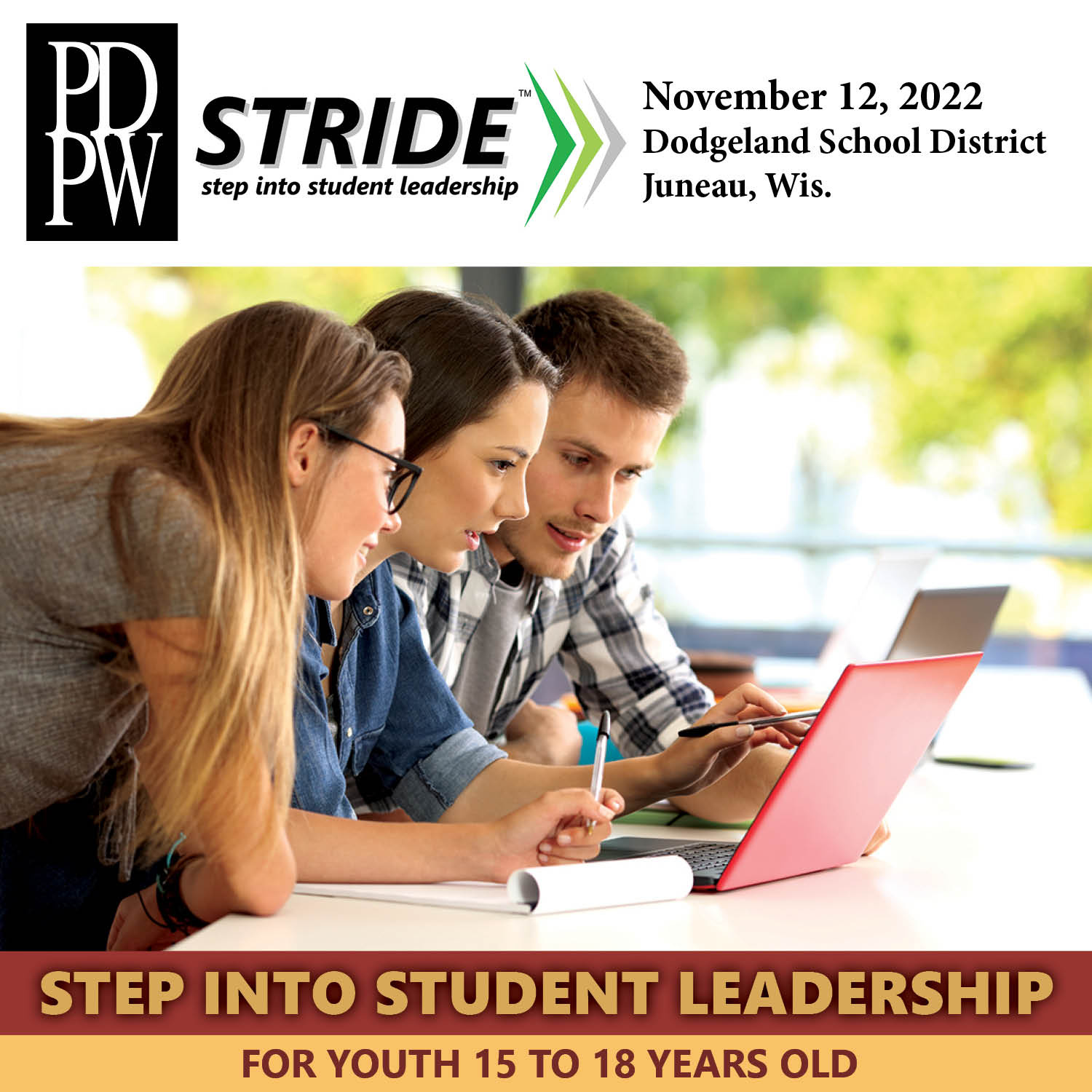 Can't-miss leadership program for 15- to 18-year olds coming soon
October 10, 2022
FOR IMMEDIATE RELEASE
Contact: Shelly Mayer
800-947-7379
mail@pdpw.org
Program Flyer
PDPW Stride™ Youth Leadership Conference Provides Exciting Opportunities for High School Students
On-Farm Tours and Labs, Mini-Career Fair, Leadership Training Set for Nov. 12
DAIRY NEWS
– High school students ages 15 to 18 are invited to attend the Stride Youth Leadership Conference presented by Professional Dairy Producers® (PDPW), to discover opportunities in the dairy and agriculture sector and build leadership skills. The fast-paced, one-day workshop will be held from 9:00 a.m. to 6:00 p.m. Saturday, November 12, 2022, at the Dodgeland School District in Juneau, Wis.
"We are excited to bring so many opportunities together in one day for high school students to discover opportunities in dairy and agriculture," said Cassandra Strupp, PDPW Program Manager. "On-farm tours and hands-on workshops, a mini-career fair and lots of interactive challenges and activities will keep students engaged all day."
The morning sessions will feature two high-energy coaches leading students through team challenges and group activities to bring out the leader in each. Students will uncover and build on their social and communications skills and learn techniques to collaborate with others no matter the personality type. They'll also learn how effective communications turns intentional listening into opportunities to better engage with others and more clearly articulate their own thoughts.
In the afternoon, students will hit the road for on-farm tour and hands-on labs at an area dairy farm.
"Getting on the farm is a highlight for the students, even if they don't see themselves pursuing a career in dairy," said Strupp, "and the lessons they learn in the hands-on labs will tie into the sessions on communications and the career fair."
A mini-career fair will introduce students to a variety of new technologies and career options while connecting them with people currently working in fields such as finance, medicine, food, marketing, precision data, regulation and more.
The interactive conference is designed for students ages 15 to 18, with registration limited to 100 participants. Students will be chaperoned at all times. To learn more and to register, visit
www.PDPW.org
or contact PDPW at 800-947-7379. Follow along digitally in advance of and during the event by following @dairyPDPW on
Facebook
,
Twitter
,
Instagram
, and
LinkedIn
.
Professional Dairy Producers (PDPW) is the nation's largest dairy producer-led organization of its kind, focusing on producer professionalism, stakeholder engagement and unified outreach to share ideas, solutions, resources and experiences that help dairy producers succeed.
###
---