---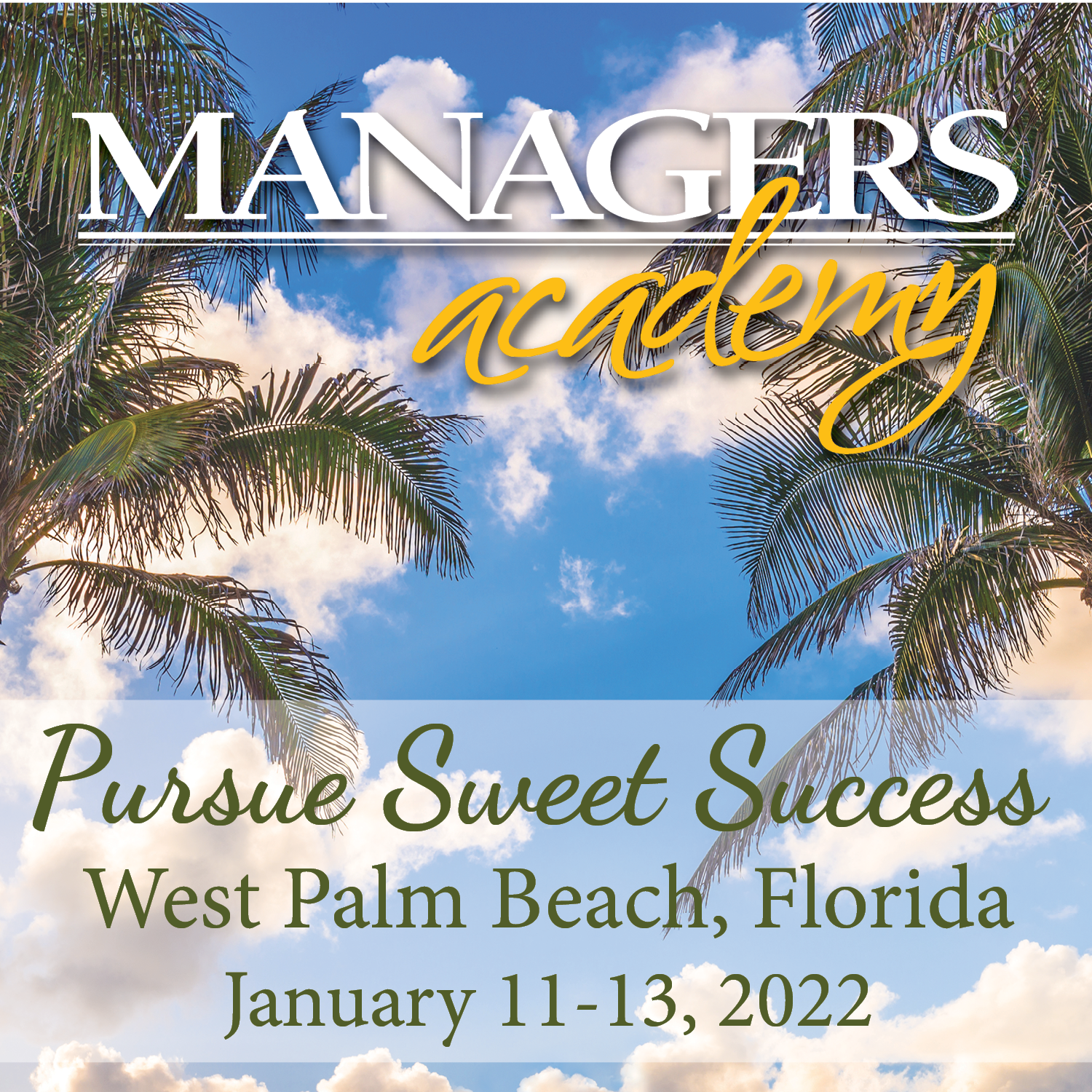 Three Days of Executive Level Training, Tours and Speakers at PDPW Managers Academy
December 13, 2021
FOR IMMEDIATE RELEASE
Contact: Shelly Mayer
800-947-7379
mail@pdpw.org
Full media package available
Managers Academy program flier
Managers Academy program logo
Three Days of Executive Level Training, Tours and Speakers at PDPW Managers Academy
Program for Dairy Managers and Leaders Set for Jan. 11-13 in West Palm Beach, Florida
DAIRY NEWS
– The 2022 PDPW Managers Academy for Dairy Professionals™, presented by Professional Dairy Producers® (PDPW), features three days of executive-level training designed to equip dairy managers and industry professionals with the strategies and skills to succeed in today's unpredictable business environment.
The 2022 program will be held Jan. 11-13 in West Palm Beach, Florida, with a rich schedule of speakers, tours and networking opportunities designed to challenge and grow dairy owners and managers, CEOs, industry directors, processors, marketers, distributors and more. Program features include:
Building resilient dairy businesses. On day one of the program, executives will assess the financial resilience of their operations, identify vulnerabilities and build strategies for handling market and industry fluctuations in a session facilitated by Michael Gunderson, director and head of agricultural research and strategy at MetLife Investment Management. Building on those concepts, Dan Basse, president of AgResource Company, and Mary Ledman, global dairy strategist with RaboResearch, will lead in-depth discussions of global financial conditions, marketing trends, and outlooks for trade, export and currency that will have the most impact on dairy.
Capturing insights from honeybee and sugarcane industry leaders. Two out-of-industry tours will bring to life the principles established during day one of the program. Attendees will learn firsthand how two food-production operations manage through parallel challenges to those in dairy. At Palm Beach Creamed Honey, participants will observe honey collection and learn the logistics of shipping bees around the country to pollinate fruit, vegetable and legume crops. They'll also explore strategies to mitigate uncooperative weather and vacillating consumer perceptions as well as market pressures and labor challenges.
A tour of will provide an inside look at sugarcane field trials and panel discussions with researchers, farmers and industry professionals to showcase how the labor-intensive industry is adopting sustainability practices and boosting productivity with improved genetics alongside weed- and insect-management strategies. They'll also shed light on how farmers are using regenerative practices to rebuild sensitive soils.
Negotiating with confidence. Day three will hone in on skills that have the potential to profoundly benefit every aspect of dairy operations: negotiations. Author and professional speaker Linda Swindling, JD, CSP, will share tactics and strategies for both seasoned and budding negotiators. She'll review several styles of negotiating and provide insights as to the circumstances that call for a specific approach. The learnings will equip attendees to adeptly meet their goals with employees, vendors, partners and collaborators while nurturing important relationships.
"The networking time with attendees from all around the country is incredible," said multi-year Managers Academy attendee and dairy producer Will Gladstone of Newmont Farm in Bradford, Vermont. "There's nothing like spending time with others to learn from their experiences and mistakes to discover what works best for them."
Registration for the program is currently open and a special discounted hotel rate is available through Dec. 25, 2021. Visit
www.pdpw.org/programs/
or contact PDPW at 800-947-7379 for those and other details.
Follow along digitally in advance of and during the event by following @dairyPDPW and using #mypdpw on
Facebook
,
Twitter
,
Instagram
, and
LinkedIn
.
Professional Dairy Producers (PDPW) is the nation's largest dairy producer-led organization of its kind, focusing on producer professionalism, stakeholder engagement and unified outreach to share ideas, solutions, resources and experiences that help dairy producers succeed.
###
---