---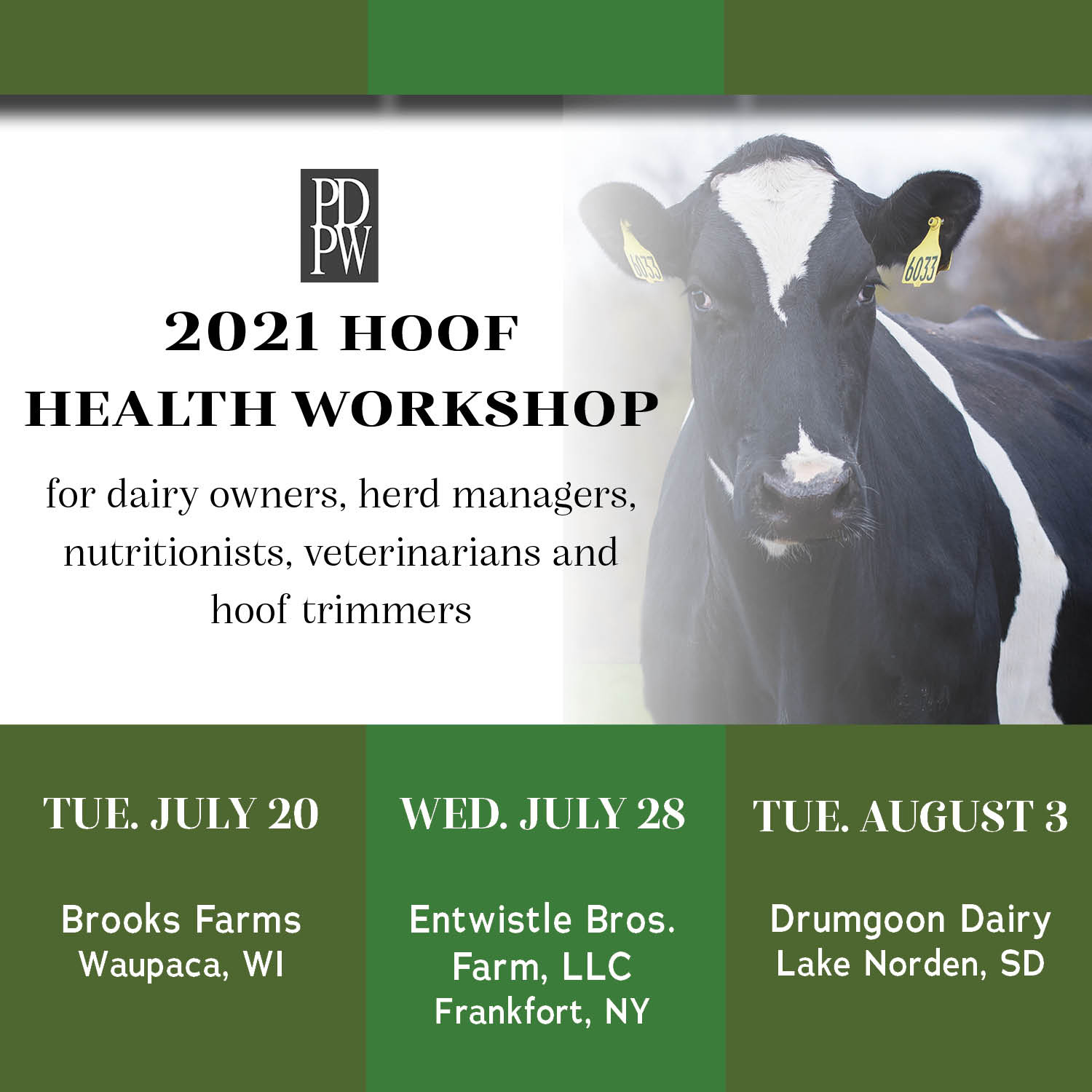 2021 PDPW Hoof Health Workshop Offered In Three Locations
July 7, 2021
FOR IMMEDIATE RELEASE
Contact: Shelly Mayer
800-947-7379
mail@pdpw.org
Full Media Package is available (i.e. flyer, press releases, photos, etc.)
Program Flyer
Press Release
Photos/Logos
2021 PDPW Hoof Health Workshop Offered In Three Locations
Interactive On-Farm Program to Offer Information on Combatting Lameness
DAIRY NEWS
– Dairy producers eager for more information on combatting lameness have an opportunity to attend an on-farm workshop hosted in three locations this summer, sponsored by Professional Dairy Producers® (PDPW). The
PDPW Hoof Health Workshop
will be held July 20 at Brooks Farms, N1757 Cty Rd. A, Waupaca, Wis., July 28 at Entwistle Bros. Farm, LLC, 105 Birdseye Rd., Frankfort, New York, and August 3, at Drumgoon Dairy, 19048 U.S. Hwy 81, Lake Norden, South Dakota.
Developed for herd managers, hoof trimmers, veterinarians and nutritionists, the workshop will feature
Dr. Gerard Cramer
, Associate Professor at the University of Minnesota, as well as
Karl Burgi
, hoof trimmer, hoof-care consultant, instructor and founder of Save Cows® Network companies, and
Roger Olson
, dairy account manager with Zinpro Corporation.
The interactive workshop, which begins at 9:30 a.m. and concludes at 3:45 p.m., will present a case study of each farm. Attendees will get to observe the farm's hoof heath records, facility design and potential risk factors and offer practical strategies to address them.
In addition to developing a hoof health program based on the herd's needs, attendees will:
Pinpoint common risk factors from the cow's environment
Identify cow and chute-side prevention, treatment and protocols for chronically challenged cows
Connect the dots between sound hoof health records and the ability to identify trends, manage progress and monitor hoof care programs that ultimately impact the dairy's bottom line
Discuss practices that create continuous improvement in hoof health to reduce the strain lameness places on cows and team members
Step ahead with healthy cows and learn best practices to stop lameness in its track
"Healthy cows are productive and profitable and lameness has a major impact on a cow's ability to perform well in a herd. This workshop will help identify common risk factors and strategies to counteract them," said Cassandra Strupp, Program Manager for PDPW.
The registration fee of $100 with $75 for each additional attendee, covers workshop materials and lunch. The 2021 PDPW Hoof Health Workshop is an accredited training and offers up to 4.75 Dairy Advan
CE
continuing education (CE) credits. To learn more or secure credits, visit
www.DairyAdvance.org
.
To reserve
your spot on the 2021 PDPW Hoof Health Workshop, contact PDPW at 1-800-947-7379. Learn more at
pdpw.org/programs
.
Professional Dairy Producers (PDPW) is the nation's largest dairy producer-led organization of its kind, focusing on producer professionalism, stakeholder engagement and unified outreach to share ideas, solutions, resources and experiences that help dairy producers succeed.
###
---