---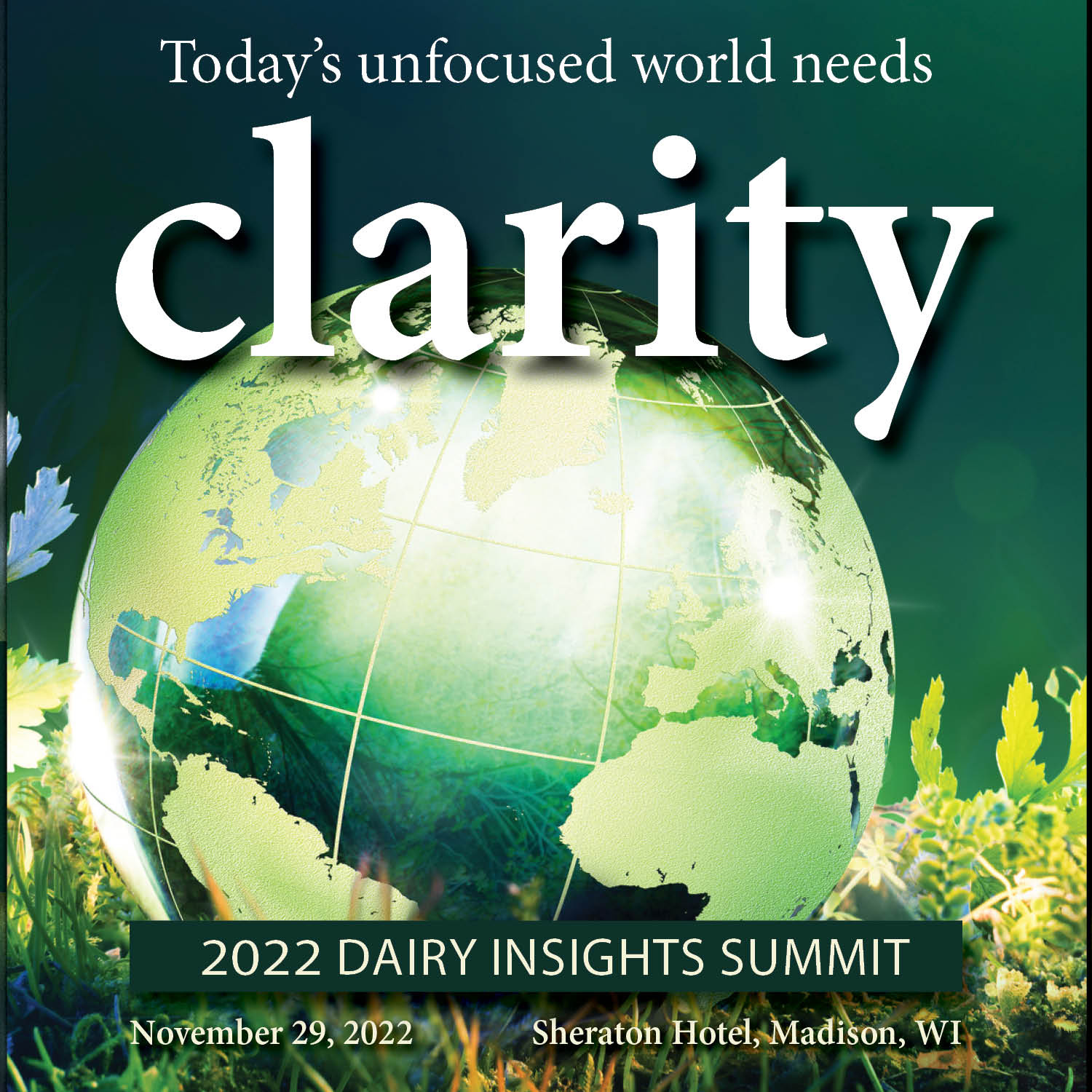 PDPW Dairy Insights Summit: Global Politics, Potato Lessons, Water Facts and Food-System Safety
October 18, 2022
FOR IMMEDIATE RELEASE
Contact: Shelly Mayer
800-947-7379
mail@pdpw.org
Program flyer
PDPW Dairy Insights Summit: Global Politics, Potato Lessons, Water Facts and Food-System Safety
Nov. 29 Program to Bring Together Dairy, Food and Policy Leaders
DAIRY NEWS
– Leaders from across the entire food and agriculture chain as well as educators, policy makers and regulators will come together for a discussion on opportunities and challenges in view for the dairy industry and food system. The 2022 PDPW Dairy Insights Summit presented by Professional Dairy Producers® (PDPW) will feature a slate of thought-provoking speakers to compel, inform and motivate attendees. The summit will begin at 9:00 a.m. and end 4:45 p.m. Tue., Nov. 29, 2022, at the Sheraton Hotel in Madison, Wis.
"In times of relentless change, we all need a point of focus and a targeted vision for the future," said Katy Schultz, Fox Lake, Wis., dairy producer and PDPW board president. "The collaborative discussions at the 2022 PDPW Dairy Insights Summit will highlight the risks and shared challenges across the food system and bring clarity to opportunities available to us."
Interactive presentations and panel discussions will take a deep dive into some of the most pressing topics facing today's farmers and industry leaders:
"What in the world? Global politics and evolving markets" will feature Jacob Shapiro, partner and director of Geopolitical Analysis for Cognitive Investments (CI), and Dan Basse, economist and president of AgResource Company. Together they'll identify key geopolitical forces expected to shape the next five years in the realm of trade, conflicts and worldwide macro developments.
"Hot potato," presented by Tamas Houlihan, executive director of the Wisconsin Potato & Vegetable Growers Association, will share insights on how the Wisconsin potato industry has navigated labor and water challenges as well as issues with human and food safety, and draw parallels across agricultural sectors.
"Water: what's it worth?" will be presented by Dr. Maureen Muldoon, PhD, hydrogeologist at the Wisconsin Geological and Natural History Survey, and Brian Richter, president of Sustainable Waters. Respectively, they'll lead a dialogue about the value of the Midwest's groundwater and how today's water shortages are constraining economic productivity and impacting ecosystem health globally.
"Protecting our food system," presented by FBI special agents Scott Mahloch and Byron Franz, will highlight how we can protect our farms and food, while educating attendees about threats ranging from cyber intrusion and ransomware to biologicals.
Dairy's Foundation (Professional Dairy Producers Foundation) is the event sponsor for the 2022 PDPW Dairy Insights Summit.
Learn more about the 2022 PDPW Dairy Insights Summit, including speaker information and available continuing-education units, and register your team today by visiting
www.pdpw.org
or contacting PDPW at 800-947-7379. A special government rate is available for those in the legislative sector and government agencies. Follow along digitally in advance of and during the event by following @dairyPDPW and using #mypdpw on
Facebook
,
Twitter
,
Instagram
, and
LinkedIn
.
Professional Dairy Producers (PDPW) is the nation's largest dairy producer-led organization of its kind, focusing on producer professionalism, stakeholder engagement and unified outreach to share ideas, solutions, resources and experiences that help dairy producers succeed.
###
---