---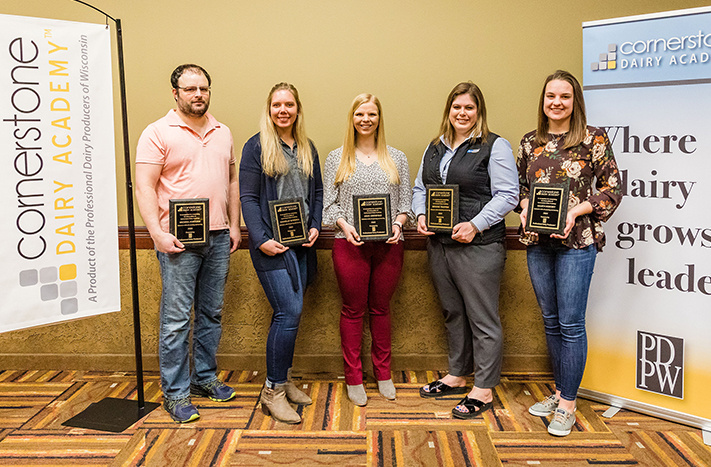 Five Graduate from PDPW Cornerstone Dairy Academy
March 16, 2022
FOR IMMEDIATE RELEASE
Contact: Shelly Mayer
800-947-7379
mail@pdpw.org
Photo of graduates
(caption below)
Cornerstone logo
Five Graduate from PDPW Cornerstone Dairy Academy
DAIRY NEWS
– Five dairy farmers and allied industry professionals received recognition for completing all three pillars of leadership training in PDPW's Cornerstone Dairy Academy™. The application-based professional-development program is designed to build the skills of dairy producers and industry professionals who want to expand their skills to lead with purpose, character and integrity.
Presented by the Professional Dairy Producers® (PDPW), the 2-day program focuses on enhancing the skills of communication, visionary thinking, ethical leadership, servant-oriented leadership and professional etiquette. The presenters also equip attendees with tools to work through workplace challenges caused by generational differences and varying types of emotional intelligence.
The 2022 Cornerstone Dairy Academy began on Tuesday, March 15 and was held in conjunction with the PDPW Business Conference being held at the Kalahari Resorts and Convention Center in Wisconsin Dells, Wis., March 16-17.
"We appreciate the dedication and commitment of this year's Cornerstone Dairy Academy graduates for investing time in their personal development and the future of the dairy industry," said Cassandra Strupp, PDPW Program Manager. "We look forward to seeing them take on greater roles in their farms, businesses and across our dairy community."
The Cornerstone Dairy Academy graduates who have completed all three pillars – Influential, Visionary and Servant Leadership – include Sara Griswold, Beaver Dam, Wis.; Kalista Hodorff, Eden, Wis.; Michael Kortuem, Marshfield, Wis.; Brooke Trustem, Evansville, Wis.; and Danielle Warmka, Fox Lake, Wis.
The PDPW Cornerstone Dairy Academy is funded in part by a grant from the Professional Dairy Producers Foundation. To learn more, visit
www.PDPW.org
or contact PDPW at 800-947-7379.
Professional Dairy Producers (PDPW) is the nation's largest dairy producer-led organization of its kind, focusing on producer professionalism, stakeholder engagement and unified outreach to share ideas, solutions, resources and experiences that help dairy producers succeed.
###
PHOTO CAPTION:
Five dairy producers and allied industry professionals recently graduated from PDPW Cornerstone Dairy Academy™ after having completed all three pillars of the program. From left to right: Michael Kortuem, Danielle Warmka, Sara Griswold, Brooke Trustem and Kalista Hodorff.
---