---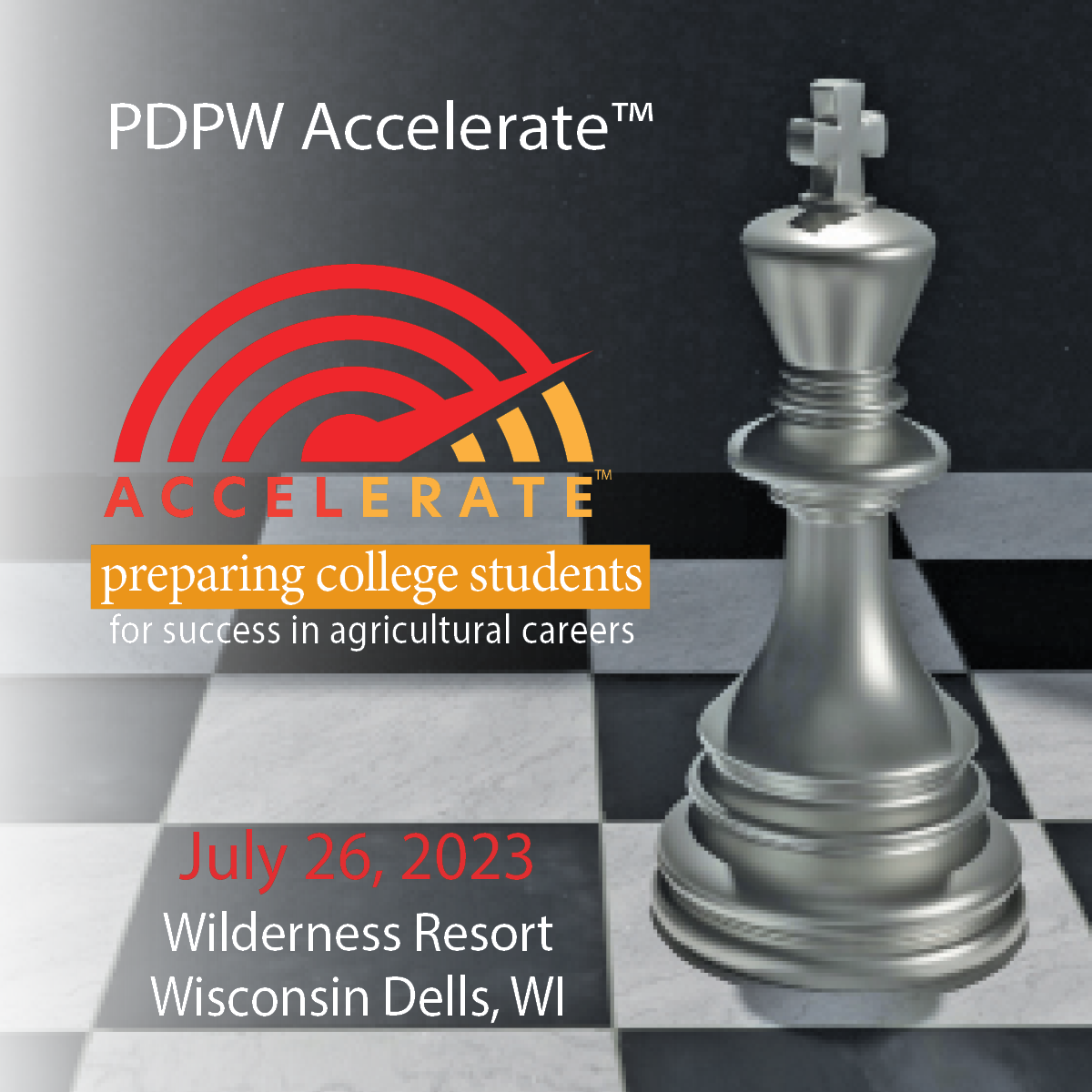 Interns and employers: PDPW Accelerate™ is designed to boost the internship and beyond
May 2, 2023
FOR IMMEDIATE RELEASE
Contact: Shelly Mayer
800-947-7379
mail@pdpw.org
Program Flier
PDPW Accelerate Provides Opportunity for Enhanced Internships, Careers
New interactive program set for July 26 in Wisconsin Dells, Wis.
DAIRY NEWS
– Internships have become an essential element for many college students as they prepare themselves for the career opportunities that await after graduation.
PDPW Accelerate
™, a new program presented by Professional Dairy Producers® (PDPW), is designed to help interns get the most of their internship experience and build on the skills that will set them apart from others entering the workforce at the same time.
PDPW Accelerate also serves to support employers of student interns to create added value and attract quality candidates. The one-day program is scheduled for Wed., July 26, 2023, at the Wilderness Resort in Wisconsin Dells, Wis. Registration will begin at 9:00 a.m. with the program ending at 5:00 p.m.
"It's so important to invest in the next generation, particularly as more and more of them are coming to us from non-farm backgrounds," said John Haag, Dane, Wis., dairy producer and PDPW board president. "PDPW Accelerate is also a great way for intern employers to promote the value their businesses bring to the next generation of dairy industry professionals."
Michael Hoffman, founder and owner of Dallas-based Igniting Performance, will engage attendees with a focus on group activities and conversations to help participants hone their skills for internship and career success, including:
Starting a conversation, building rapport and connecting with others
Employing confident body language and becoming more "hireable"
Understanding varying personalities and being a strong team player
Setting others up for success and becoming a person of influence
Conveying and receiving meaningful feedback
Continuing education credits are available through PDPW's Dairy AdVanCE (DACE), enabling students to sustain the habit of lifelong learning. To learn more and to register, visit
www.PDPW.org
or contact PDPW at 800-947-7379. Follow along digitally in advance of and during the event by following @dairyPDPW on
Facebook
,
Twitter
,
Instagram
, and
LinkedIn
.
Professional Dairy Producers (PDPW) is the nation's largest dairy producer-led organization of its kind, focusing on producer professionalism, stakeholder engagement and unified outreach to share ideas, solutions, resources and experiences that help dairy producers succeed.
###
---