---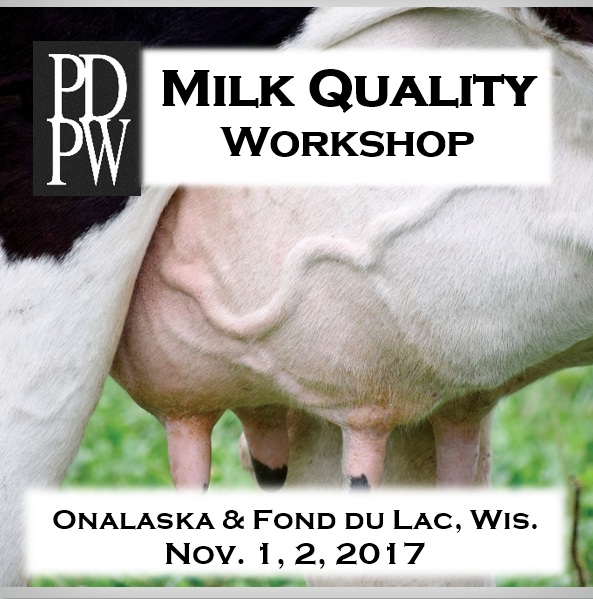 Managing Cows and Making Decisions to Improve Milk Quality
October 22, 2017
FOR IMMEDIATE RELEASE
Contact: Shelly Mayer
800-947-7379
mail@pdpw.org
Full Media Package is available (i.e. flyer, press release, photos, etc.)
Review Flyer:
Training Flyer
Review Press Release:
Training
Press Release
Photos/Logos:
Training
Photos/Logos
Managing Cows and Making Decisions to Improve Milk Quality
One-day PDPW Milk Quality Workshops to be Held Nov. 1, and repeated Nov. 2
DAIRY NEWS
– A focus on milk quality and management practices can help dairy farmers boost production and improve their bottom line, which is even more important than ever in today's volatile dairy environment.
The
PDPW Milk Quality Workshop
, presented by Professional Dairy Producers® (PDPW), will feature top speakers focused on managing mastitis and spotting herd-health trends to boost quality and production. The one-day workshops will be held on Wed., Nov. 1 at Stoney Creek Hotel & Conference Center in Onalaska, Wis., and repeating on Thu., Nov. 2 at the Holiday Inn in Fond du Lac, Wis., from 9:30 a.m. to 3:45 p.m., each day.
Workshop presenters will include:
Dr. Pamela Ruegg, DVM, MPVM, Professor and Extension Milk Quality Specialist in the Dairy Science Department at the UW-Madison. Dr. Ruegg will provide a detailed review of management practices that influence the risk of mastitis and lead a discussion on making decisions on economical antibiotic use.
Dr. Katie Mrdutt, Program Manager with the Food Armor® Foundation, and Dr. David Rhoda, veterinarian, will join to show attendees how to use management resources to identify trends and problem cows, and manage their herd effectively.
Dairy farm owners, managers, veterinarians, and other key on-farm resources, will come away with practical tips and insights to detect, manage and treat mastitis, and take steps to improve herd health and milk quality.
To learn more about the program and
to register
, visit www.pdpw.org or contact PDPW at 1-800-947-7379, or to follow on social media, use #MilkQuality2017.
The Milk Quality Workshop is an accredited training and offers up to 4.75 Dairy Advan
CE
continuing education units (CEUs). To learn more or secure credits, visit
www.DairyAdvance.org
. Up to 5.6 CEUs are available to UW-School of Veterinary Medicine (UW-SVM), and up to 5.0 CEUs are available to the American Registry of Professional Scientists (ARPAS) members.
Professional Dairy Producers (PDPW) is the nation's largest dairy producer-led organization of its kind, focusing on producer professionalism, stakeholder engagement and unified outreach to share ideas, solutions, resources and experiences that help dairy producers succeed."
###
---