---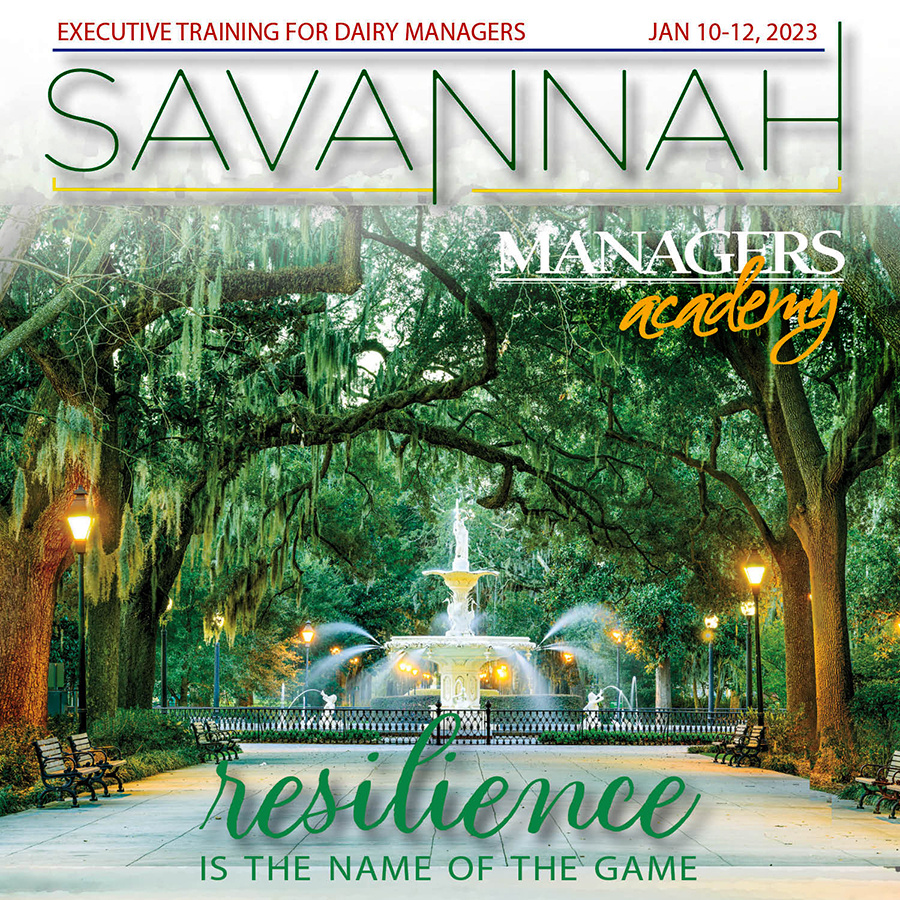 Executive-Level Training, Out-of-Industry Tours featured at PDPW Managers Academy
November 14, 2022
FOR IMMEDIATE RELEASE
Contact: Shelly Mayer
800-947-7379
mail@pdpw.org
Program Flier
Speakers
Dr. Allan Gray
Dr. David Kohl
Dr. Ed Seifried
Executive-Level Training, Out-of-Industry Tours featured at PDPW Managers Academy
Registration open for three-day program in Savannah, Georgia, Jan. 10-12, 2023
DAIRY NEWS
– Managing and leading in today's dairy industry requires an entirely new skill set from even just a few years ago. Understanding the financials, production and people management of a business remain key, but the ability to innovate and think strategically amid constant changes in economic, political and societal pressures are taking center stage. Top-tier dairy executives need these skills to improve global and local dairy communities for competitive, collaborative advantages in a changing world.
The 2023 PDPW Managers Academy for Dairy Professionals™ presented by Professional Dairy Producers® (PDPW) is an executive-level program for dairy owners, managers, CEOs, industry directors, processors, marketers and distributors. The program will be held Jan. 10-12, 2023, in Savannah, Georgia, featuring world-class training, a day of touring and learning from executives outside of dairy, and networking opportunities. The theme "resilience" captures the agenda's intent to build more resilient, innovative leaders who will lead the dairy industry through whatever obstacles may lie ahead.
Registration for the 2023 academy is currently open, with a special discounted hotel rate at The Westin Savannah Harbor Golf Resort & Spa available through Dec. 12, 2022.
The program will be facilitated by three renowned economic and business experts.
Dr. Allan Gray
, executive director for Purdue University's Center for Food and Agricultural Business and Digital Innovation in Agri-Food Systems Laboratory, will lead interactive discussions to determine objectives and advantages to help attendees leverage their dairy's advantages while staying resilient and flexible.
Dr. David Kohl
, professor emeritus of Agricultural Finance and Small Business Management and Entrepreneurship at Virginia Tech University, and
Dr. Ed Seifried
, professor emeritus of Economic and Business at Lafayette College, will tag team on day three to tie together the first two days of the program. Together they'll identify global market, financial, economic and banking trends to guide executives to build more innovative, competitive businesses.
Three executive-level tours will take the learning outside the classroom for a study of resilience in action. The
Georgia Ports Authority
, a crucial American gateway to supply chains around the world, will give participants a first-hand look at how the largest and fastest-growing container terminal in America has handled rapid growth while serving U.S. consumers and manufacturers quickly and efficiently.
JCB
is a global force in manufacturing, with 22 plants on six continents and 2,400 dealers around the world. Representatives from JCB will share how they are pivoting amid global unrest to manage labor, regulatory, competition and pricing challenges. Finally, the charm and history of Savannah and a consistent focus on customer service and quality come together at
Old Savannah Tours
, the longest-running trolley line in the city and the only one created, owned and operated by locals. Participants will go behind the scenes to hear how the company attracts and retains energetic team members, ensures consistency and accuracy and supports the city's tourism efforts.
Learn more about the 2023 Managers Academy for Dairy Professionals, including speaker bios, daily itineraries, available continuing-education units, and register at
www.PDPW.org
or contact PDPW at 800-947-7379. Follow along digitally in advance of and during the event by following @dairyPDPW on
Facebook
,
Twitter
,
Instagram
, and
LinkedIn
.
Professional Dairy Producers (PDPW) is the nation's largest dairy producer-led organization of its kind, focusing on producer professionalism, stakeholder engagement and unified outreach to share ideas, solutions, resources and experiences that help dairy producers succeed.
###
---