---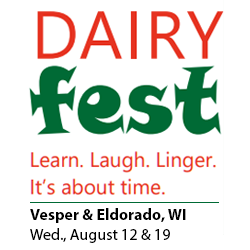 Dairy Fest™ to offer educational resources, networking, entertainment
July 27, 2020
FOR IMMEDIATE RELEASE
Contact: Shelly Mayer
800-947-7379
mail@pdpw.org
Full Media Package is available (i.e. flyer, press release, photos, etc.)
Review Flyer:
Event
Flyer
Review Press Release:
Tour
Press Release
Photos/Logos:
Tour
Photos/Logos
Dairy Fest™ to offer educational resources, networking, entertainment
Celebrate dairy with a night on the farm, Aug. 12 and Aug. 19
DAIRY NEWS
– Dairy farmers who are looking for safe, affordable, and meaningful dialogue, look no further: Professional Dairy Producers® (PDPW), has just the event for you -
Dairy Fest
™.
In light of Covid-19, PDPW surveyed its producer membership to determine if they were ready for an outside educational event and the response was an overwhelming "Yes!"
Mark your calendars for the first-ever Dairy Fest, Wednesday, August 12, and Wednesday, August 19. Farmers, community members and allied industry will gather together to learn, laugh and network, along with the opportunity to visit with premier dairy suppliers and PDPW sponsors throughout the evening.
The event kicks off at 4:30 p.m. with registration, followed by a Risk Management Panel featuring
Tim Swenson
, Senior Business Consultant at Compeer Financial and
Carl Babler
, Principal, Atten Babler Commodities. Facilitating the panel is
Jim Moriarty
, Director of Dairy at Compeer Financial.
Attendees will also hear from the "Voice of the Packers",
Wayne Larrivee
, a WTMJ radio broadcaster and farmer-comedian Royal Boehlke.
Hosting Aug. 12 will be Marti Farms -
Travis and Melissa Marti
and family, 6603 Grant Road, Vesper, Wis. and Aug. 19,
Vision-Aire Farms, LLC
– Roger and Sandy Grade, Travis and Janet Clark and David and Torrie Grade, W8676 State Road 23, Eldorado, Wis.
Farming is a family affair for Travis and Melissa Marti and their four children - Alli, Jake, Ryan, and Chloe. At Marti Farms, 400 cows are milked 3 times a day in a double-10 parlor and housed in a 4-row sand-bedded tunnel-ventilated barn. All calves are raised on site in a refurbished stanchion barn. The Martis recognize the value of social media and set up a
Facebook page
to showcase their farm. It's been an effective tool for reaching and educating consumers far and wide. Attendees will have the opportunity to tour the Marti farm from 4:00-4:45 p.m.
Vision-Aire Farms, LLC, is operated by Roger and Sandy Grade, who are in the process of transitioning ownership to family members Janet and Travis Clark, and David and Torrie Grade. The dairy consists of 140 milking Holsteins and 1,200 acres of owned and rented land. Vision-Aire also does custom baling and harvesting for neighboring farms. The farm was awarded the National Milk Quality award from
Hoard's Dairymen
in 2015 and 2016.
At this event, our first priority is your safety. A large tent will be set up on each farm with ample room for social distancing. Food trucks will be on site, and PDPW will provide bottled milk and water. PDPW will also have masks available and plenty of hand sanitizer located throughout the event.
Cost of the event is $20 per person, which includes the meal. To register on line, visit:
https://pdpw.org/programs/Dairy-Fest/details
or call PDPW at 800-947-7379.
"It's been a summer like no other. Come join us for a night filled with educational resources to set your business up for success in the future while enjoying a night away from the farm – let's learn and connect together, but most importantly let's laugh together," said
Katy Schultz
, President of the PDPW Board of Directors and dairy farmer from Fox Lake, Wis.
PDPW continues to provide programming through resources like the new Dairy Signal, ACE events, Dairy's Bottom Line, Managers Memo, leadership trainings, youth programming, industry action work and other educational programs such as Financial Literacy for Dairy™.
Professional Dairy Producers (PDPW) is the nation's largest dairy producer-led organization of its kind, focusing on producer professionalism, stakeholder engagement and unified outreach to share ideas, solutions, resources, and experiences that help dairy producers succeed.
###
---