---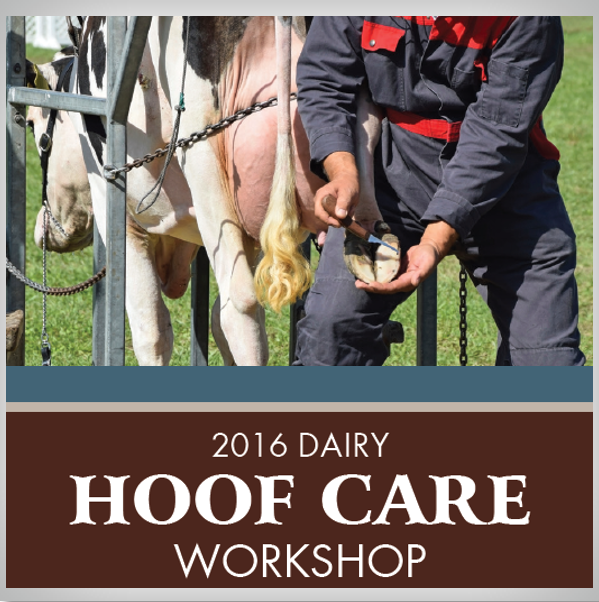 PDPW Presents Interactive Hoof Care Workshop in April
March 22, 2016
FOR IMMEDIATE RELEASE
Contact: Shelly Mayer
800-947-7379 or
mail@pdpw.org
PDPW Presents Interactive Hoof Care Workshop in April
DAIRY NEWS – Healthy cows are productive and profitable and lameness can have a major impact on a cow's ability to perform well in a herd. For this reason, the Professional Dairy Producers® (PDPW) will be offering a highly interactive hoof care workshop geared towards helping astute cow gurus identify common on-farm hoof health issues and develop the best treatment protocols to address them.
These workshops will be held on three days in three locations around Wisconsin beginning at 9:30 a.m. and concluding at 3:30 p.m. The dates and locations include:
Tuesday, April 12 – Wilderness Resort – Glacier Canyon Lodge, Wisconsin Dells, Wis.
Wednesday, April 13 – Holiday Inn Eau Claire South, Eau Claire, Wis.
Thursday, April 14 – La Sure's Hall, Oshkosh, Wis.
The training will be led by industry experts, Dr. Nigel Cook, DVM, Chair of the Department of Medical Sciences at the University of Wisconsin-Madison School of Veterinary Medicine and the pioneer behind the Dairyland Initiative and Dr. Gerard Cramer, DVM, DVSc, an Associate Professor from the University of Minnesota, College of Veterinary Medicine. Attendees will study foot lesion treatment protocols and hone their abilities to identify lameness with locomotion scoring.
Dr. Cook and Dr. Gerard will also share three recent herd case studies with the group. Each group will examine these real on-farm case studies and develop a hoof health program based on herd needs. More specifically, the case studies will enable group learning through assessing farm hoof health and developing a plan to improve it. During the group interaction, participants will explore the potential of better hoof care records, proper footbath design and maintenance and the role that flooring and proper animal movement and handling can play in reducing lameness.
This workshop offers the opportunity to learn from the best, while sharing knowledge and experiences that will improve a herd's overall hoof health and bottom line. It is open to dairy owners, herdsmen, nutritionists and veterinarians and pre-registration is required. To learn more about the April PDPW hoof care workshop, visit
www.pdpw.org
or contact PDPW at 1-800-947-7379.
Professional Dairy Producers of Wisconsin is a dairy-producer founded organization that provides educational programs and services to fellow dairy producers. PDPW's mission is "to share ideas, solutions, resources, and experiences that help dairy producers succeed."
###
---