---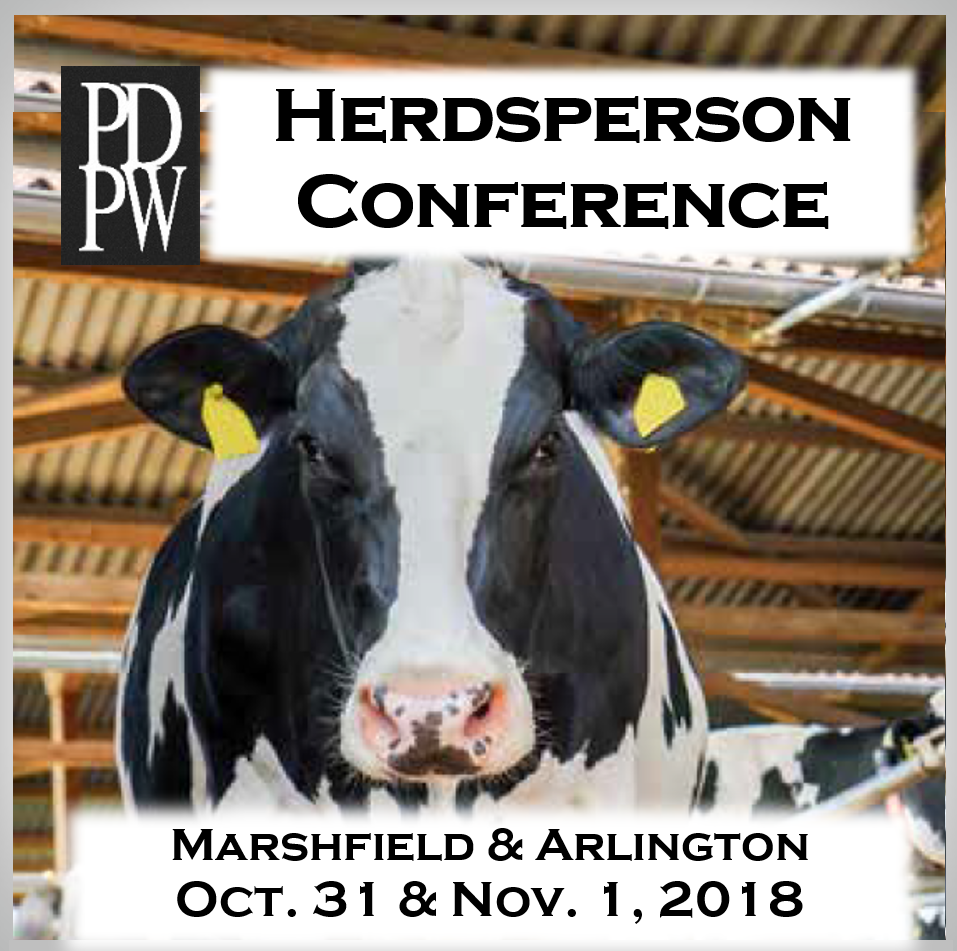 PDPW Herdsperson Conference Set for Oct. 31 and Nov. 1 with Top Herd Health Experts
October 15, 2018
FOR IMMEDIATE RELEASE
Contact: Shelly Mayer
800-947-7379
mail@pdpw.org
Full Media Package is available (i.e. flyer, press release, photos, etc.)
Review Flyer:
Program Flyer
Review Press Release:
Program
Press Release
Photos/Logos:
Photos/Logos

PDPW Herdsperson Conference Set for Oct. 31 and Nov. 1 with Top Herd Health Experts
Day-long workshops to focus on reproduction,
transition cow management and cow behavior topics
DAIRY NEWS
– Reproductive efficiency, transition cow management and animal welfare are at the top of the herd health priority lists for dairy farmers. The
PDPW Herdsperson Conference
presented by Professional Dairy Producers® (PDPW) is in step with these priorities featuring presentations from leading experts in each of these fields, along with opportunities to network with fellow farmers and herd managers.
The
PDPW Herdsperson Conference
is designed for dairy farmers, herd managers, nutritionists, veterinarians and others making key herd health and management decisions on dairy farms. Two repeating sessions of the conference will be held, each starting at 9:00 a.m. and ending at 3:45 p.m. p.m., on:
Wed., Oct. 31, at Marshfield Ag Research Station, 2611 Yellowstone Dr., Marshfield, Wis.
Thu., Nov. 1, at Arlington Ag Research Station, Public Events Bldg., N695 Hopkins Rd., Arlington, Wis.
Conference trainers include
Paul Fricke
, PhD, professor of Dairy Science at the University of Wisconsin-Madison;
Thomas Overton
, PhD, professor and director of PRO-DAIRY at Cornell University;
Trevor DeVries
, PhD, professor and Canada research chair in dairy cattle behavior and welfare at the University of Guelph; and
Hank Wagner
, dairy producer and founder of Wagner Leadership Training.
Each workshop will feature four general session presentations including:
Maximize Reproductive Efficiency. Dr. Fricke will share practical, on-farm reproductive strategies that can be implemented quickly to boost performance.
10 Steps to a Healthier Transition. Dr. Overton will present a 10-point checklist for managing transition cow facilities, rations and protocols to ensure a strong start for fresh cows.
Understand your #1 Customer: The Dairy Cow. Dr. Devries will share the research that shows what cows have been trying to tell us, including why cows respond differently to the same situations or rations.
Keep the Light On. Hank Wagner will lead a lunch discussion with humor and helpful hints on staying motivated while keeping up with the needs of your cows, employees, family and business.
Attendees may choose two of three break-out sessions, including:
Trouble-shooting Reproduction. Dr. Fricke will walk through several case studies to pinpoint key factors that affect fertility and resolve reproductive bottlenecks.
Optimize Transition Nutrition. Dr. Overton will provide details on research and practical delivery of nutrition for transition cows, from energy to metabolizable protein levels, mineral balancing and more.
Optimizing Cow Behavior for Success. Dr. DeVries will share his knowledge of cow behavior to optimize nutrition, management and housing and boost profitability.
To learn more about the Herdsperson Conference and
to register
, visit www.pdpw.org or contact PDPW at 800-947-7379. Follow along digitally in advance of and during the event by following @dairyPDPW and using #Herdsperson2018 on
Facebook
,
Twitter
,
Instagram
, and
LinkedIn
.
Herdsperson Conference is an accredited training and offers up to 5 Dairy Advan
CE
continuing education units (CEUs) for each day. To learn more or secure credits, visit
www.DairyAdvance.org
. Up to 6 CEU Credits are available to UW-School of Veterinary Medicine (UW-SVM) up to 7 CEU Credits are available to the American Registry of Professional Scientists (ARPAS) members.
Professional Dairy Producers (PDPW) is the nation's largest dairy producer-led organization of its kind, focusing on producer professionalism, stakeholder engagement and unified outreach to share ideas, solutions, resources and experiences that help dairy producers succeed."
###
---