---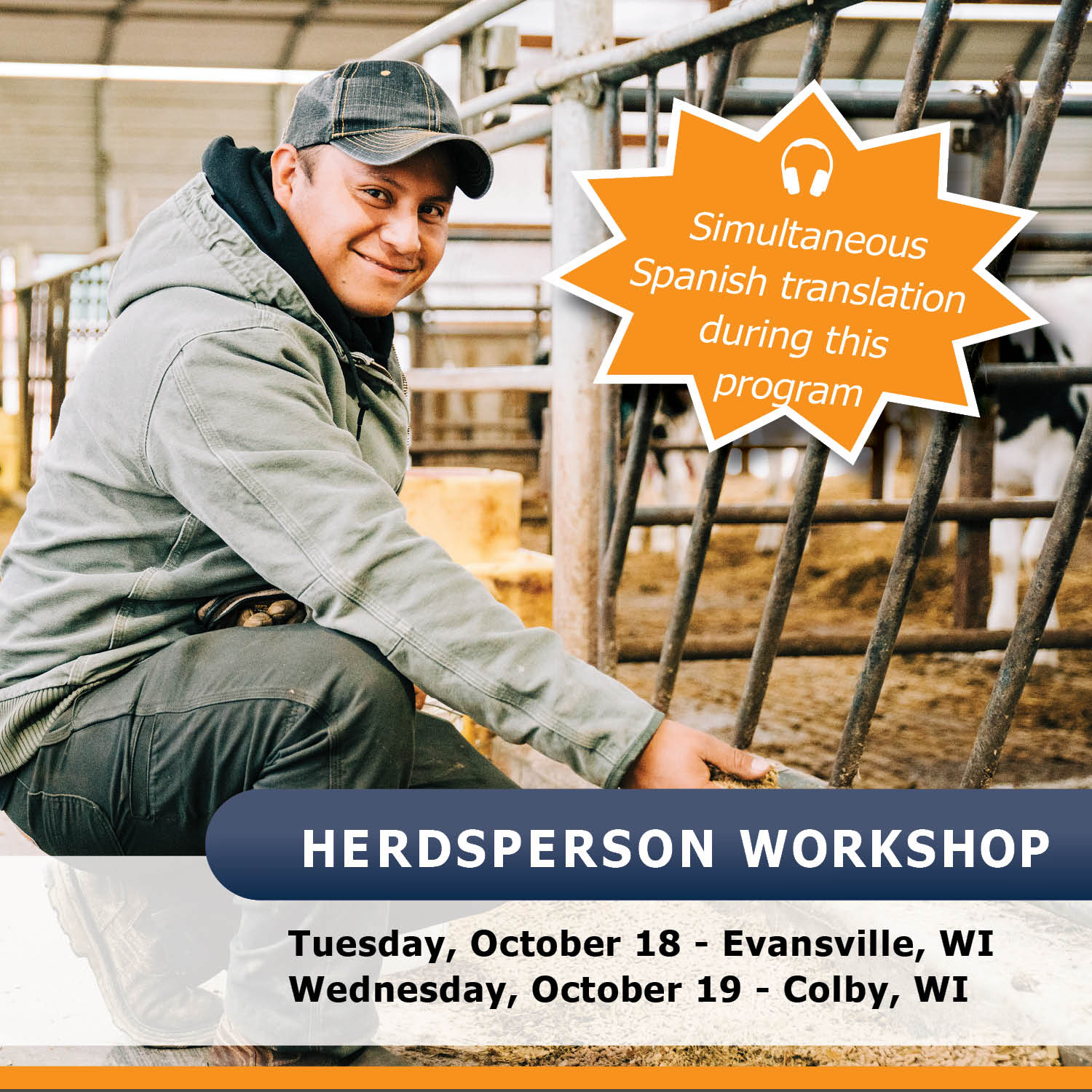 2022 PDPW Herdsperson Workshops to Focus on Transition Cows, Obstetrics and Cow Necropsies
September 22, 2022
FOR IMMEDIATE RELEASE
Contact: Shelly Mayer
800-947-7379
mail@pdpw.org
Program flier
2022 PDPW Herdsperson Workshops to Focus on Transition Cows, Obstetrics and Cow Necropsies
Two One-Day Workshops offered in
English and Spanish to be held Oct. 18, 19
DAIRY NEWS
– Take a deep dive into some of the most challenging cow care topics, including transition cow care, obstetrics and calving difficulties at the 2022 Herdsperson Workshops presented by Professional Dairy Producers® (PDPW). English and Spanish-speaking herdsmen and women, dairy managers, nutritionists and veterinarians will take away new insights from the hands-on, on-farm sessions presented by industry experts.
Two one-day sessions are scheduled for Tuesday, Oct. 18, at Larson Acres in Evansville, Wis., and Wednesday, Oct. 19, at Heeg Brothers Dairy in Colby, Wis. Registration each day will begin at 9:00 a.m., with the program concluding at 4:30 p.m. The workshops will be presented in English with simultaneous Spanish translation and have been approved for continuing education (CE) credits through Dairy Advan
CE
(DACE) and by the American Registry of Professional Scientists (ARPAS).
"The on-farm, hands-on format of the PDPW Herdsperson Workshop is so valuable to learn about the latest research and practices, and to see them in action," said Katy Schultz, Fox Lake, Wis. dairy producer and PDPW board president. "Even the most experienced herdsperson will come away with new ideas thanks to interaction with world-class
presenters
and the fellow dairy producers, managers, nutritionists and veterinarians who attend."
The workshop will start with a fast-moving "Power Round" session during which all three presenters will share the latest information, findings and research for transition cow care and calving difficulties. The session will focus on key herd management practices and protocols that herdsmen and women can take home and implement immediately.
The afternoon breakout sessions will feature three hands-on sessions:
Dr. Ryan Breuer, DVM, diagnostic case and outreach coordinator at the Wisconsin Veterinary Diagnostic Laboratory and clinical assistant professor of large animal internal medicine at UW-Madison School of Veterinary Medicine, will lead the "Obstetrics" breakout, sharing practical insights for managing close-up and maternity pens. The hands-on training will address signs to watch for before, during and after delivery, indications of distress, protocols for healthy calf deliveries and determining when assistance is needed, and safe handling practices for both cows and handlers.
Dr. Franklyn Garry, DVM, extension specialist and veterinarian with the College of Veterinary Medicine and Biomedical Sciences, Department of Clinical Sciences, Colorado State University, will facilitate the "Cow Necropsy" session. He will lead participants through a full cow necropsy to discover the physiology of abomasum ulcers, hemorrhagic bowel, fatty liver and other silent thieves. He will also highlight when euthanasia is appropriate and review proper methods for welfare of animals and people.
Dr. Julia Hamann, DVM, ruminant field technical specialist for Diamond V, will lead the "Transition Cow" session, taking an in-depth look at the metabolic changes during the three weeks before and after calving. She will zero in on ways that cows' needs have previously been mismanaged or misdiagnosed in the past and outline ways to improve the health, safety and longevity of every cow in the herd.
Learn more about the Herdsperson Workshop and register your team by visiting
www.pdpw.org
or contacting PDPW at 1-800-947-7379. Follow along digitally in advance of and during the event by following @dairyPDPW and using #CCC2019 and #mypdpw on
Facebook
,
Twitter
,
Instagram
, and
LinkedIn
.
Herdsperson Workshop is an accredited training and offers up to 5.5 Dairy Advan
CE
continuing education units (CEUs) for each day. To learn more or secure credits, visit
www.DairyAdvance.org
. Up to 6.0 CEU credits are available to American Registry of Professional Scientists (ARPAS) members.
Professional Dairy Producers® (PDPW) is the nation's largest dairy producer-led organization of its kind, focusing on producer professionalism, stakeholder engagement and unified outreach to share ideas, solutions, resources and experiences that help dairy producers succeed.
###
---