---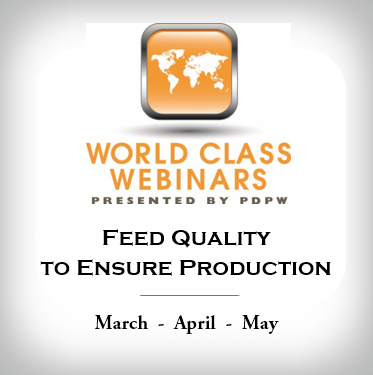 PDPW Announces World Class Webinars on Feed Quality
April 4, 2016
FOR IMMEDIATE RELEASE
Contact: Shelly Mayer
800-947-7379
mail@pdpw.org
*Media Release Package (speaker headshot, program flyer, press release, etc.)
PDPW Announces World Class Webinars on Feed Quality

DAIRY NEWS –
The Professional Dairy Producers® (PDPW) brings ideas and solutions to the table to help dairy farmers manage their businesses with success. Developed by dairy farmers for dairy farmers, the current PDPW World Class Webinars' series targets "Feed Quality to Ensure Production."
The April session, "Feed Additives on Tight Margins", held
Wednesday, April 20, from noon to 1 p.m. CDT online,
is the second session of a three-part series on feed quality. This session, led by Dr. Mike Hutjens, dives into feed additive considerations on tight margins, specifically exploring direct feed microbes, new research on yeast products, organic chromium and futuristic products such as enzymes and essential oils.
Pre-registration is required
by April 13 to receive your activation link. Attendees can choose this session of the webinar series individually, or register for the entire three-part series. The last session of this series will be led by Dr. Randy Shaver and analyze feed inventory strategies on Wednesday, May 18, 2016 from noon to 1 p.m. CDT.
The PDPW World Class Webinars are open to the public, including all dairy farmers and industry professionals. Participants can watch the webinar live on the designated date and time, or register to receive the recorded session at their convenience. To learn more about this PDPW World Class Webinar series, "Feed Quality to Ensure Production", and to register, visit
www.pdpw.org
or contact PDPW at 1-800-947-7379.
To review a full collection of PDPW World Class Webinars over the past five years, covering a wide array of topics including: business and dairy markets, calf care, feed and nutrition, human resources and milk quality, visit
http://pdpw.smediahost.net/programs_and_events.php#event_link_231
and click on the "PDPW World Class Webinars Library" program.
Professional Dairy Producers (PDPW) is the nation's largest dairy producer-led, grassroots organization of its kind, focusing on education, networking and professional development to shares ideas, solutions, resources and experiences that help dairy producers succeed.
###
---