---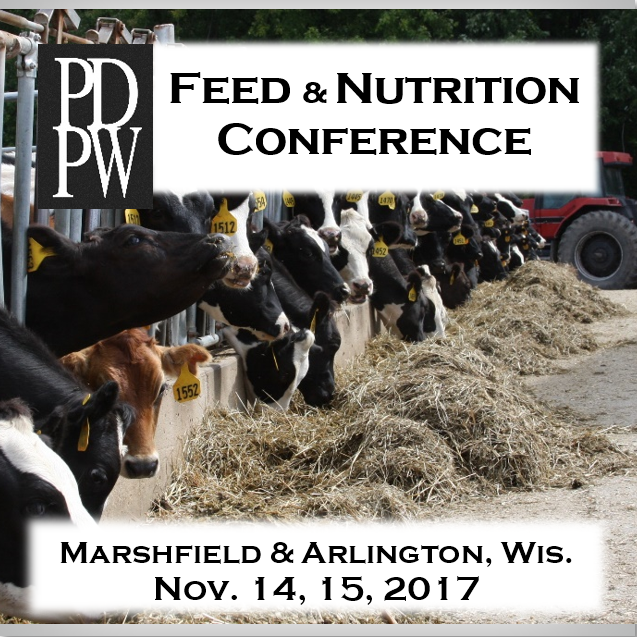 Leading Dairy Nutrition Experts Share Latest in Research and Management
November 6, 2017
FOR IMMEDIATE RELEASE
Contact: Shelly Mayer
800-947-7379
mail@pdpw.org
Full Media Package is available (i.e. flyer, press release, photos, etc.)
Review Flyer:
Conference
Flyer
Review Press Release:
Conference
Press Release
Photos/Logos:
Tour
Photos/Logos
Leading Dairy Nutrition Experts Share Latest in Research and Management
PDPW Feed & Nutrition Conference, repeating Nov. 14 in Marshfield, and Nov. 15 in Arlington, Wis.
DAIRY NEWS
– Hundreds of dairy owners, feed managers and other industry professionals will come together to learn the latest in dairy nutrition research and best management practices at the
2017 PDPW Feed & Nutrition Conference
, presented by Professional Dairy Producers® (PDPW).
The repeating one-day Conference will be held on Tues., Nov. 14 in Marshfield, Wis., and Wed., Nov. 15, in Arlington, Wis., from 9 a.m. to 3:45 p.m.
The workshop presenters include leading nutrition and dairy science experts:
Dr. John Goeser, Director of Nutritional Research and Innovation at Rock River Laboratory in Watertown, Wis. He will share information about protecting feed supplies from yeast, molds, mycotoxins and other toxins in the dairy cow diet.
Dr. David Combs, Professor in the Department of Dairy Science at UW-Madison. He will share the latest developments in new genetic forage varieties and how to unlock potential in today's dairy cows.
Dr. Paul Kononoff, Associate Professor of Dairy Nutrition at the University of Nebraska-Lincoln, will highlight ways to get the most from feed byproducts in dairy farm rations.
Workshop participants will also work through real-world case studies and leave with practical ideas they can put to work on their farms immediately.
To learn more about the PDPW Feed & Nutrition Conference and
to register
, visit www.pdpw.org or contact PDPW at 1-800-947-7379 or follow on social media with #FeedandNutrition2017.
The PDPW Feed & Nutrition Conference is an accredited training and offers up to 4.5 Dairy Advan
CE
continuing education units (CEUs). To learn more or secure credits, visit
www.DairyAdvance.org
. Up to 5.9 CEUs are available to UW-School of Veterinary Medicine (UW-SVM), and up to 5.0 CEUs are available to the American Registry of Professional Scientists (ARPAS) members.
Professional Dairy Producers (PDPW) is the nation's largest dairy producer-led organization of its kind, focusing on producer professionalism, stakeholder engagement and unified outreach to share ideas, solutions, resources and experiences that help dairy producers succeed."
###
---