---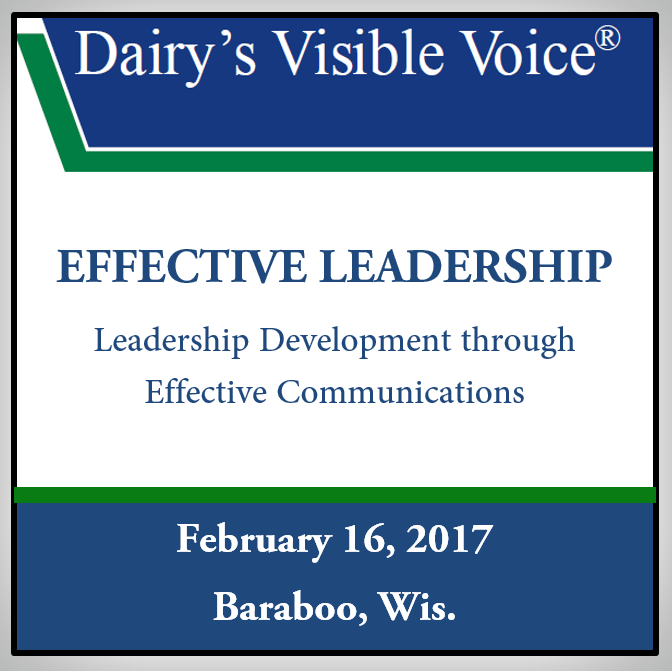 Dairy's Visible Voice to Develop Effective Leadership Skills
January 30, 2017
FOR IMMEDIATE RELEASE
Contact: Shelly Mayer
800-947-7379
mail@pdpw.org
Full Media Package is available (i.e. flyer, press release, photos, etc.)
Review Flyer:
Dairy's Visible Voice Flyer
Review Press Release:
Dairy's Visible Voice Press Release
Access & Download Photos/Logos:
Dairy's Visible Voice Photos/Logos
Dairy's Visible Voice to Develop Effective Leadership Skills
DAIRY NEWS
– The Professional Dairy Producers® (PDPW) Dairy's Visible Voice,
Effective Leadership
training is slated for February 16, 2017 from 9 a.m. to 4 p.m. at Foremost Farms, USA in Baraboo, Wis. Exclusive to dairy farmers, this training is focused on building dairy farmers' leadership and management skills.
Attendees will hone in on interpersonal communication, active listening, and conflict management skills. They will benefit greatly in their leadership roles on the farm and utilize their new leadership skills during team meetings, negotiating with farm suppliers, and in their personal interactions and beyond.
The "Effective Leadership" trainer, Renea Heinrich, is and skilled Counselor at MorganMyers, a strategic communications firm that builds, protects and promotes great brands. With a mission to serve agriculture, Renea brings a great deal of expertise. As part of her work, Renea leads the Illinois Farm Families account team in managing a farmer image-building campaign targeted at Chicago consumers.
Key trainings points:
effective communication principles
asking verse telling
power of a conversation opener
uncovering real motivations
effectively handling questions
conflict management
Leaving the training, attendees will have the effective leadership and communication skills needed to engage and understand others, a skill valuable in every conversation.
To attend the Dairy's Visible Voice, Effective Leadership training,
register
online by visiting www.pdpw.org or contact PDPW at 1-800-947-7379.
Professional Dairy Producers (PDPW) is the nation's largest dairy producer-led, grassroots organization of its kind, focusing on education, networking and professional development to shares ideas, solutions, resources and experiences that help dairy producers succeed.
###
---