---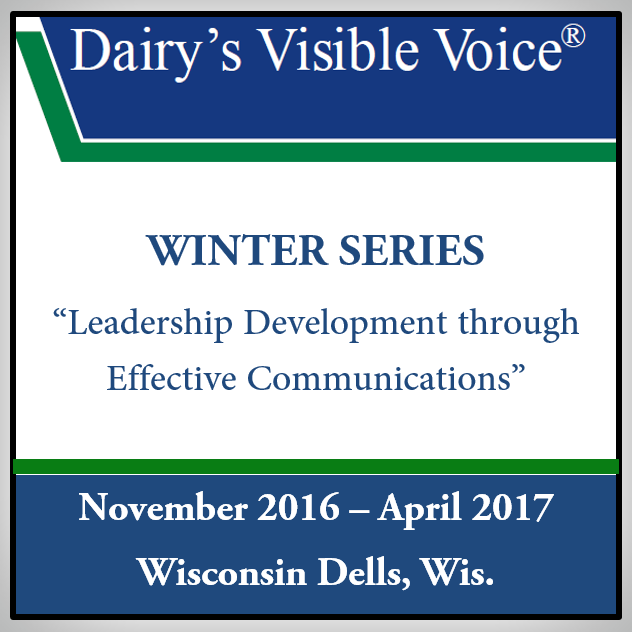 PDPW Announces Crisis Management Training for Dairy Farmers
December 21, 2016
FOR IMMEDIATE RELEASE
Contact: Shelly Mayer
800-947-7379
mail@pdpw.org
Full Media Package is available (i.e. flyer, press release, photos, etc.)
PDPW Announces Crisis Management Training for Dairy Farmers
DAIRY NEWS
– The Professional Dairy Producers® (PDPW)
Dairy's Visible Voice® session "Crisis Management"
is set for Thur., January 26 from 9 a.m. to 4 p.m. This training is held exclusively for active dairy farm owners, managers or other key farm team members that would manage the farms' crisis plan. The training will be held at Foremost Farms USA in Baraboo, Wis.
Led by Jane Dukes, Director of Food & Consumer Communications at MorganMyers, this Crisis Management training will equip dairy farmers with the business and management strategies needed to enhance a farm's response and interaction with the community and media in time of a farm crisis. Having a crisis communications plan in place is key to business sustainability, brand protection, and vital to successfully overcoming challenges with an on-farm incident.
The training is devoted to helping farmers prepare for a crisis before it happens. To be both proactive and prepared as a farm business, attendees will:
Identify and rank potential crises and lay a foundation or a crisis preparedness plan
Consider and identify the farm's crisis response team
Prepare and anticipate a multitude of decisions that must be made immediately by the farm
Learn "what" and "how" information should be communicated during crisis
Prepare and practice key messages around potential crises scenarios
Understand what you can do as a farm owner or manager to mitigate or avoid future farm crises
By the end of the training, attendees will have a plan in place to guide them through an on-farm crisis and identify best management practices when they return home to the farm.
As a former broadcast journalist and veteran of McDonald's, your Crisis Management expert, Jane Dukes, is well-versed in hands-on crises management throughout the food system. Jane has first-hand experience through management of food tampering issues, a lawsuit brought against McDonald's for "hot" coffee, a listeria outbreak and subsequent product recalls, and several on-farm dairy animal welfare crises.
If interested in the Crisis Management session or future Dairy's Visible Voice sessions and
to register
, visit www.pdpw.org or contact PDPW at 1-800-947-7379.
Professional Dairy Producers (PDPW) is the nation's largest dairy producer-led, grassroots organization of its kind, focusing on education, networking and professional development to shares ideas, solutions, resources and experiences that help dairy producers succeed.
###

---