---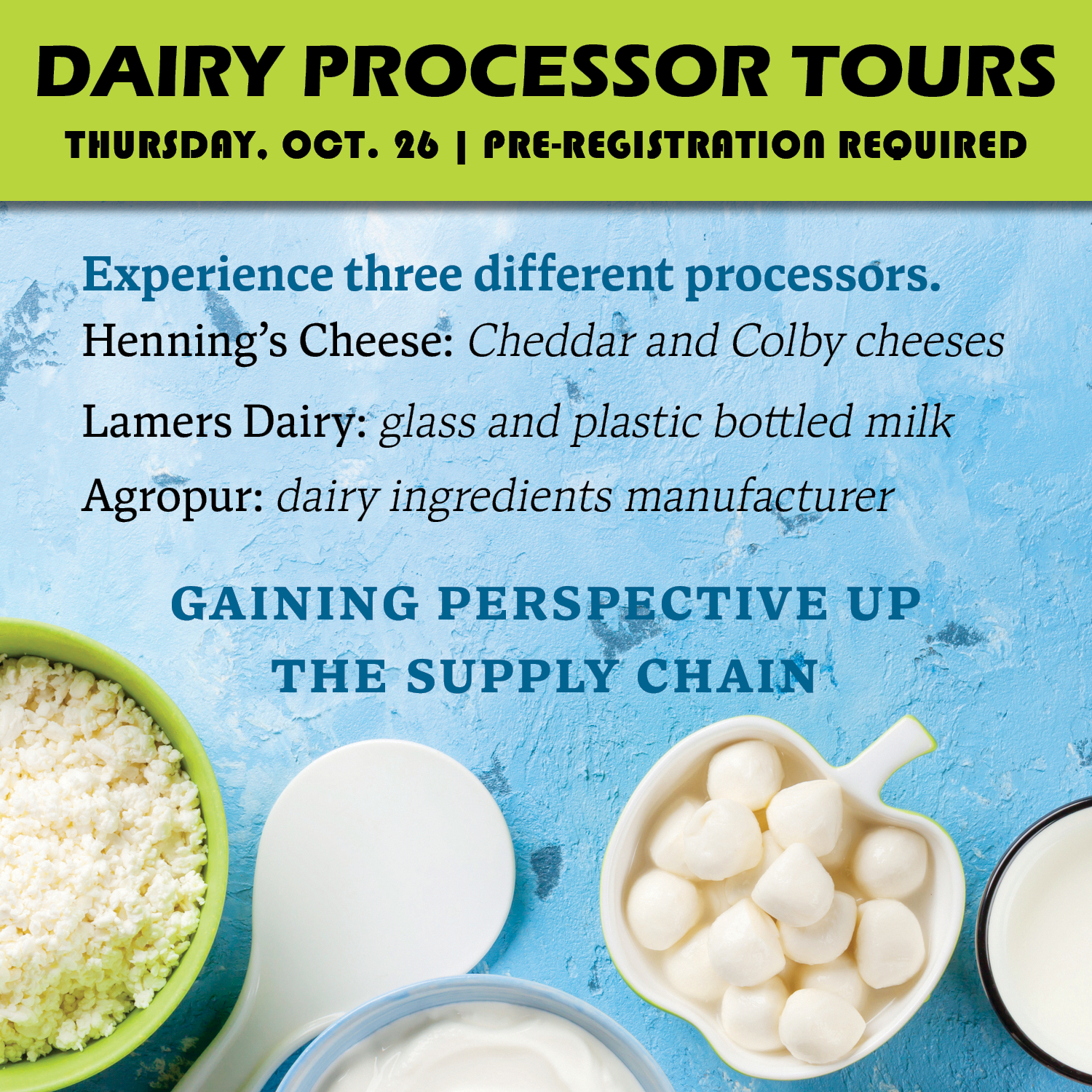 PDPW's Dairy Insights Summit to Address Food Waste and Market Access Challenges
October 25, 2023
FOR IMMEDIATE RELEASE
Contact: Shelly Mayer
800-947-7379
mail@pdpw.org
Program flier
PDPW's Dairy Insights Summit to Address Food Waste and Market Access Challenges
One-day event on Nov. 28 features global market experts, perspectives
DAIRY NEWS
– While dairy farmers are focused on increasing the efficiency, quality and quantity of milk produced at the farm level, the unfortunate truth is that not all that product is consumed. In fact, one-third of the world's food is thrown out each year. The 2023 Dairy Insights Summit presented by Professional Dairy Producers® (PDPW) will bring together industry experts, researchers and farmers to look for creative ways to reduce food waste and better utilize limited resources.
The one-day event will feature leading food industry and supply chain experts and include networking and discussion opportunities. Registration will begin at 9:30 a.m. with the program running from 10:00 a.m. to 4:30 p.m. at the Sheraton Hotel, 706 John Nolan Drive, Madison, Wis.
"In 2021, the U.S. saw 38 percent of our 241-million-ton food supply go unsold or uneaten," said John Haag, PDPW Board President and Dane, Wis., dairy producer. "Overall, it's estimated that 33 percent of the 80 million tons of food produced in the U.S. goes straight to landfill, incineration, down the drain, or is left in the fields to rot. That's nearly 27 million tons of food that farmers invested time, energy and resources into producing, to say nothing of the costs required to transport, cool, cook or otherwise prepare that food."
"The good news is there's also a lot of progress being made," Haag continued. "Dairy Insights Summit will offer a full-spectrum view of what's going on currently and also give us the tools to start making improvements in our everyday routines."
The summit will feature three sessions for all participants:
"Writing the rules to the market-access game," panel discussion featuring James McVitty, vice president of trade strategy, sustainability and stakeholder affairs for Fonterra; Martin Bates, president, global relations and marketing for Dairy Farmers of America; and Ryan Baraniuk, vice president of marketing for Arla Foods Canada. Chad Vincent, CEO of Dairy Farmers of Wisconsin, will facilitate the discussion focused on market access challenges and the obstacles and opportunities ahead for processors and dairy producers as we shift to global regionalization.
"Food surplus vs. food waste: let's talk sustainability," will feature Tara McNerney, business support manager for Food Loss and Waste, taking a deep dive into the issues and logistics around food surplus and food waste, as well as projects underway to improve management practices across the production and supply chain.
"Pioneering innovation and change," panel discussion including Travis Blomberg, campus resource coordinator for University of Wisconsin-Madison Office of Sustainability, and Brandon Scholz, president and CEO of Wisconsin Grocers Association, will be facilitated by Shelly Mayer, executive director of PDPW and dairy producer. They will showcase some of the innovations, technologies, processes and creative thinking that is currently underway to limit food waste.
Registration fee includes the workshop materials and lunch.
Learn more about the 2023 Dairy Insights Summit and register by visiting
www.pdpw.org
or contacting PDPW at 800-947-7379. Follow along digitally in advance of and during the event by following @dairyPDPW and using #mypdpw on
Facebook
,
Twitter
,
Instagram
, and
LinkedIn
.
Professional Dairy Producers® (PDPW) is the nation's largest dairy producer-led organization of its kind, focusing on producer professionalism, stakeholder engagement and unified outreach to share ideas, solutions, resources and experiences that help dairy producers succeed.
###
---