---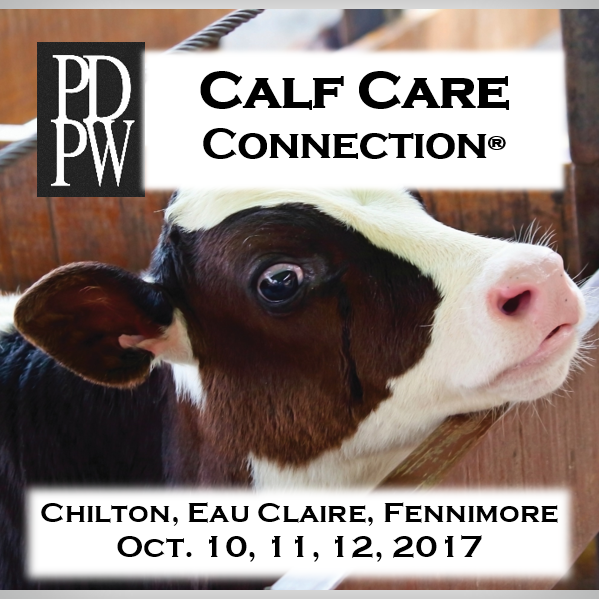 Latest Research and Management Practices the Focus of PDPW Calf Care Connection Workshops
September 24, 2017
FOR IMMEDIATE RELEASE
Contact: Shelly Mayer
800-947-7379
mail@pdpw.org
Full Media Package is available (i.e. flyer, press release, photos, etc.)
Review Flyer:
Program Flyer
Review Press Release:
Program
Press Release
Latest Research and Management Practices the Focus of PDPW Calf Care Connection Workshops
Three leading researchers to present at hands-on workshops Oct. 10, 11 and 12
DAIRY NEWS
– Providing dairy calves with the best possible start is the goal of all dairy farmers, and the foundation of calf care is a set of well-planned, practical protocols and standard operating procedures (SOPs). The 2017
PDPW Calf Care Connection®
workshops presented by Professional Dairy Producers® (PDPW) will share leading edge research and give dairy farmers, herdsman and calf care managers the tools they need to implement best practices on their farms.
Three repeating one-day sessions will be held, from 9:30 a.m. to 3:45 p.m.:
Tue., Oct. 10, Fox Valley Tech College, Chilton, Wis.
Wed., Oct. 11, Best Western Conference Center, Eau Claire, Wis.
Thu., Oct. 12, Southwest Technical College, Fennimore, Wis.
Workshop trainers include
Dr. Theresa Ollivett, DVM,
Assistant Professor at the University of Wisconsin-Madison Department of Medical Sciences specializing in calf respiratory disease;
Dr. Noah Litherland,
Dairy Youngstock Technical Specialist at Vita Plus; and
Dr. Fiona Maunsell,
Clinical Assistant Professor in the Food Animal Reproduction and Medicine Service at the University of Florida.
Each session will feature three general sessions and three hands-on workshops:
Get a Step Ahead on Respiratory Disease for Stronger Growth Rates. Dr. Ollivett will share her latest discoveries on lung function, new disease and how to stay a step ahead through prevention, timely vaccination and targeted treatment.
Take Another Look at Starter Grain Intake. Dr. Litherland will present case studies to demonstrate how top calf growers select starter grain, feed for optimal growth and unlock nutrients for increased calf growth as well as how to maximize milk-feeding strategies.
Amp Up Calf Immunity. Dr. Maunsell will review vaccination strategies, including the timing of vaccination and boosters, and provide practical information to evaluate your own program.
Turning Pneumonia Inside Out. Dr. Ollivett will lead participants through a hands-on workshop to see firsthand the difference between normal and abnormal lung anatomy and the impact of common pathogens and patterns of lung injury.
New Feeding Tips and Tricks. Dr. Litherland will introduce practical measurement and evaluation techniques to optimize starter intake and the impact on calf gastrointestinal tract maturity.
Calf Care Huddle. Dr. Maunsell will lead participants through two challenging case studies, including a respiratory disease outbreak and a situation showcasing calves presented with severe diarrhea, poor body condition and high mortality.
To learn more about Calf Care Connection workshops and
to register
, visit www.pdpw.org or contact PDPW at 1-800-947-7379 or follow on social media with #CCC2017.
Calf Care Connection is an accredited training and offers up to 4.75 Dairy Advan
CE
continuing education units (CEUs) for each day. To learn more or secure credits, visit
DairyAdvance.org
. Up to 5.7 CEUs are available to UW-School of Veterinary Medicine (UW-SVM, and up to 5.0 CEUs are available to the American Registry of Professional Scientists (ARPAS) members.
Professional Dairy Producers (PDPW) is the nation's largest dairy producer-led organization of its kind, focusing on producer professionalism, stakeholder engagement and unified outreach to share ideas, solutions, resources and experiences that help dairy producers succeed."
###
---