---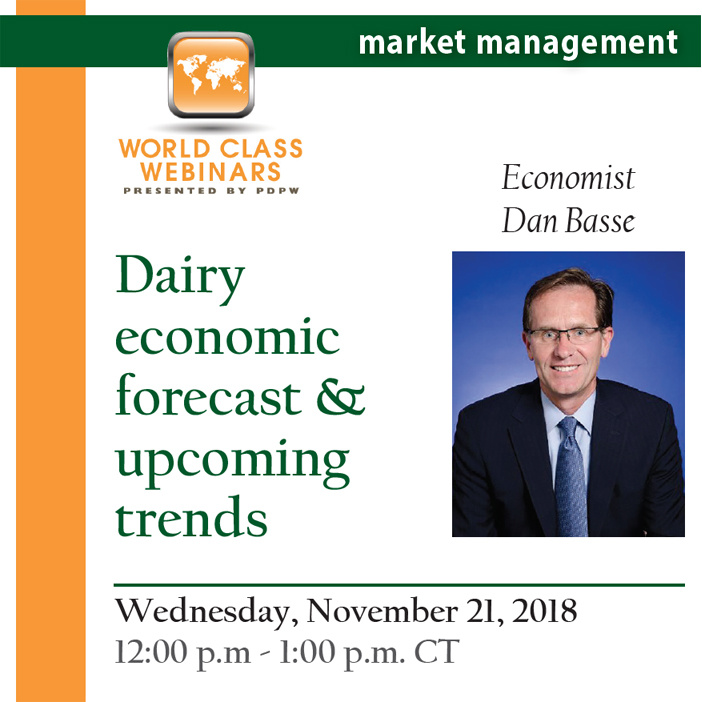 Dairy Economic Forecast and Upcoming Trends on Tap for Nov. 21 PDPW Webinar
November 12, 2018
FOR IMMEDIATE RELEASE
Contact: Shelly Mayer
800-947-7379
mail@pdpw.org
Full Media Package is available (i.e. flyer, press release, photos, etc.)
Review Flyer:
Training
Flyer
Review Press Release:
Training
Press Release
Photos/Logos:
Training
Photos/Logos
Dairy Economic Forecast and Upcoming Trends on Tap for Nov. 21 PDPW Webinar
Dan Basse Will Share U.S. and Global Market Insights in PDPW World Class Webinar
DAIRY NEWS
– What's in store for 2019 dairy markets in the U.S. and around the world? The next
PDPW World Class Webinar – Dairy Economic Forecast & Upcoming Trends
presented by Professional Dairy Producers® (PDPW) on Wed., Nov. 21, will provide insights for dairy farmers and allied industry.
Dan Basse, president of Ag Resource Company, will be the featured speaker in this market management webinar, held 12:00 to 1:00 p.m. CT. Participants who register can watch the session live or will receive a fully recorded version to watch at their leisure.
From trade and tariffs to slaughter projections and milk flows to harvest reports, dairy markets are impacted by a complex array of factors. Basse will bring his experience in dairy economics to provide a perspective on how trends in the U.S. and around the world will impact supplies and ultimately markets for the rest of 2018 and 2019.
"As a dairy producer, it can be challenging to stay up to date on all of the news and events around the world that impact U.S. markets and my farm's bottom line," said Jay Heeg of Heeg Brothers Dairy in Colby, Wis. "Basse will bring together the most important trends and updates in a fast-paced, 60-minute webinar to give our team the insights needed to make good decisions through 2019."
Registration is open
for the Nov. 21 Webinar by visiting www.pdpw.org or contacting PDPW at 1-800-947-7379. Participants who have registered can watch the sessions live or on demand to watch at their leisure.
All past PDPW World Class Webinars are available on the PDPW Webinar Library. To access the library of resources, visit
https://pdpw.org/webinar-library/
.
Professional Dairy Producers (PDPW) is the nation's largest dairy producer-led organization of its kind, focusing on producer professionalism, stakeholder engagement and unified outreach to share ideas, solutions, resources and experiences that help dairy producers succeed."
###
---