---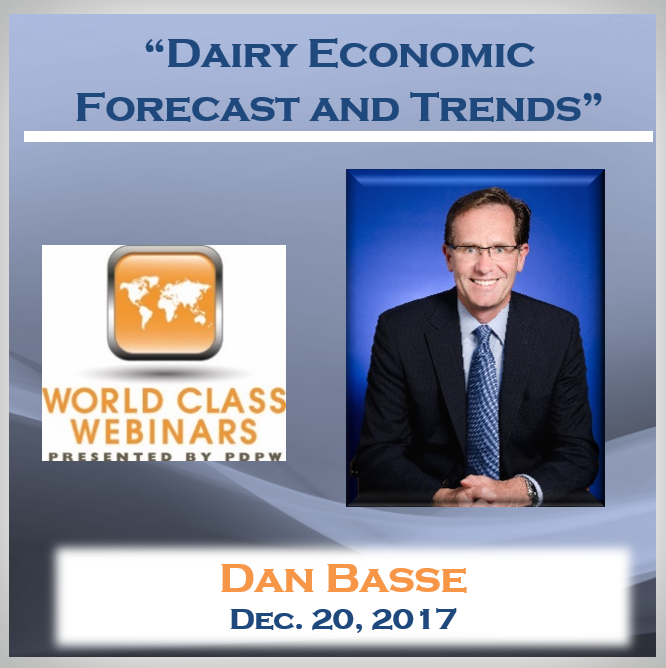 December 20 Webinar to Provide Dairy Market Outlook for 2018
December 11, 2017
FOR IMMEDIATE RELEASE
Contact: Shelly Mayer
800-947-7379
mail@pdpw.org
Full Media Package is available (i.e. flyer, press release, photos, etc.)
Review Flyer:
Webinar Flyer
Review Press Release:
Webinar
Press Release
Photos/Logos:
Webinar
Photos/Logos
December 20 Webinar to Provide Dairy Market Outlook for 2018
Dan Basse to Review Potential for U.S. Milk Market Turnaround in PDPW Webinar
DAIRY NEWS
– As the 2017 calendar year winds down, dairy farmers and industry professionals are looking toward 2018 with many questions about how U.S. and global factors will impact dairy markets. Economist Daniel Basse will examine these factors and answer a number of questions in the
World Class Webinars "A 2018 Outlook: Is a Turnaround Possible in the U.S. Milk Market?"
presented by Professional Dairy Producers®.
On Wed., Dec. 20, Basse will review how the recent growing season impacted domestic and global supplies and sort through projections of what the year ahead holds for dairy producer regarding forage, corn and protein prices. The World Class Webinars session will run from noon to 1 p.m. CT, online.
Basse will apply his many years of experience in the commodity business to sort through agricultural price trends and production forecasts and address issues impacting U.S. markets such as EU milk powder exports, China's participation in the marketplace, and more.
Registration is open
by visiting www.pdpw.org or contacting PDPW at 1-800-947-7379. Participants who have registered can watch the session live or will receive a fully recorded version to watch on demand.
All past PDPW World Class Webinars are available on the PDPW Webinar Library. To access the library of resources, visit: http://pdpw.smediahost.net/programs_and_events.php#event_link_235 and click on the "Webinar Library" link.
Professional Dairy Producers (PDPW) is the nation's largest dairy producer-led organization of its kind, focusing on producer professionalism, stakeholder engagement and unified outreach to share ideas, solutions, resources and experiences that help dairy producers succeed."
###
---