---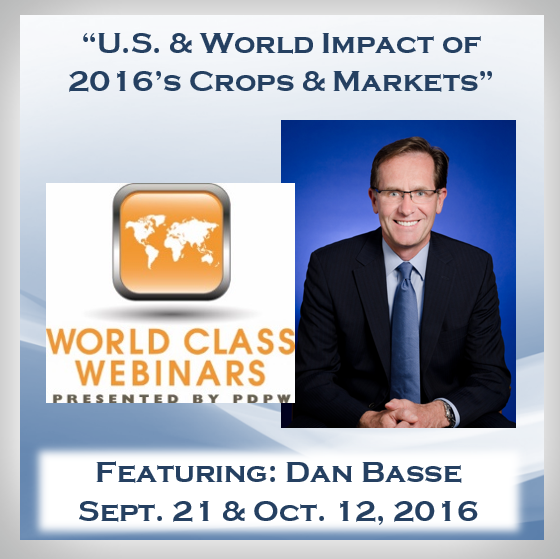 PDPW World Class Webinar Series Focused on Global Markets
September 27, 2016
FOR IMMEDIATE RELEASE
Contact: Shelly Mayer
800-947-7379
mail@pdpw.org
Full Media Package is available (i.e. speaker photo, flyer, press release, etc.)
PDPW World Class Webinar Series Focused on Global Markets
DAIRY NEWS –
The Professional Dairy Producers® (PDPW) will be hosting their next World Class Webinar Series "U.S. and World Impact of 2016's Crops and Markets" on October 12. In this webinar, Economist Daniel Basse will share his knowledge of world dairy markets to assist participants in sorting through agriculture numbers, trends and forecasts.
Specifically, this second webinar in the series, "Global Markets: The Impact", will discuss key influencers and the impact their market trends hold around the world. Basse will analyze the current global market trends in areas such as the European Union, Australia, New Zealand and China and what the future may hold based on these trends.
Basse brings a deep understanding of market trends, having been in the commodity business since 1979, and is currently serving as President of AgResource Company, a domestic and international agriculture research firm in Chicago. AgResource Company provides their research to various sectors of the industry including farmers, elevators, soy, corn, wheat processors and millers, food and trading companies, meat packers, and importers and exporters throughout the world.
This webinar is open to all interested in the impact of commodity market trends, both domestically and globally, including dairy farmers, managers and CEOs, industry professionals and beyond. Participants can watch the webinar live on the designated date and time, or watch the recorded session later.
The first webinar in this series, "2017 Commodity Crop Trends", focused on the most recent crop growing season and its impact on supplies. That webinar and others are currently available in the PDPW Webinar Library, which is accessible for purchase. To access this unmatched library of resources, simply go to:
http://pdpw.smediahost.net/programs_and_events.php#event_link_235
and click on the "Webinar Library" link.
To learn more about the PDPW World Class Webinar series, "U.S. and World Impact of 2016's Crops and Markets", and to register, visit
www.pdpw.org
or contact PDPW at 1-800-947-7379.
Professional Dairy Producers (PDPW) is the nation's largest dairy producer-led, grassroots organization of its kind, focusing on education, networking and professional development to shares ideas, solutions, resources and experiences that help dairy producers succeed.
###
---