---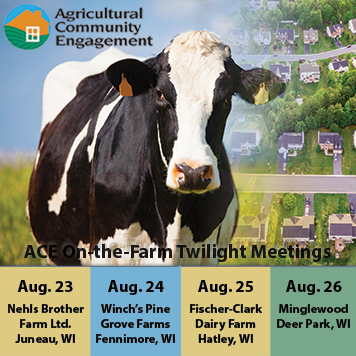 ACE Twilight Meetings to Feature Farm Tours, Ice Cream and Conversations about Rural Priorities
August 11, 2021
FOR IMMEDIATE RELEASE
Contact: Shelly Mayer
800-947-7379
mail@pdpw.org
Full Media Package is available (i.e. flyer, press release, photos, etc.)
Review Flyer:
Flyer
Review Press Release:
Press Release
Photos/Logos:
Photos/Logos
ACE Twilight Meetings to Feature Farm Tours, Ice Cream and Conversations about Rural Priorities
Four dairy farms to open doors to neighbors and community leaders, August 23, 24, 25, 26
DAIRY NEWS
– Broadband internet, water quality, roads and community development are just the start of the long list of topics that are important to both farmers and rural community members. Open conversations about these priorities and common challenges are the heart of the
2021 ACE On-the-Farm Twilight meetings
at four Wisconsin dairy farms August 23, 24, 25 and 26 in Juneau, Fennimore, Hatley, and Deer Park, Wis.
Sponsored by the
Wisconsin Towns Association
,
Wisconsin Counties Association
and
Professional Dairy Producers®
(PDPW), the free, open-to-the-public meetings are an opportunity for community leaders, elected officials, educators, conservation specialists, dairy farmers and area community members to connect, network and learn together.
Each evening, the ACE twilight meetings kick off at 6:00 p.m. with a tour of the host dairy farm that will give attendees a firsthand look at how animals are cared for, housed and fed, as well as the milking facilities, barns and technologies that dairy farm families use each day. Ice cream will be served at 7:00 p.m., with a facilitated discussion focusing on key issues such as water quality, community development, resource management, changes in agriculture and rural communities, roads and transportation, and other critical topics lasting until 8:30 p.m.
"Today's dairy farms have embraced technologies that not only make our farms more efficient, but more importantly, they help us provide better, more targeted care for our animals, protect our soil and water resources, and produce an even safer and healthier product for consumers," said Heidi Fischer, of Fischer-Clark Dairy Farm, Hatley, Wis. "We're excited to open our doors for a tour and to share in conversations with our neighbors and community leaders about what is most important to all of us."
The 2021 ACE On-the-Farm Twilight Meetings will be hosted on:
Mon., Aug. 23, at Nehls Brothers Farm Ltd., N5326 South Grove Rd., Juneau. Siblings Greg and Royce Nehls and Dairy Manager James Van Patter focus on cow comfort and providing best possible care for the 2,350 cows they milk, as well as calves and heifers raised on the farm. They also raise crops on about 4,000 acres.
Tues., Aug. 24, at Winch's Pine Grove Farms, 12676 Brown School Rd. Fennimore. Peter and Christina Winch and their sons Randy, Wesley and Matthew, own and operate the dairy farm. The farm features four robotic milkers and grazing opportunities for the 240 cows and autofeeders in calf barns. The farm delivers milk to Meister Cheese and participates in the company's Cows First animal welfare program.
Wed., Aug. 25, at Fischer-Clark Dairy Farm, 216578 Esker Rd, Hatley. Mike and Susan Fischer and John and Heidi Fischer own and operate the farm that currently milks 900 cows. Attendees will see new or newly-renovated facilities including a milking parlor, calf barn and heifer barn, all built with a focus on efficiency and providing the best care for animals and the land they utilize. The families also raise crops on about 2,600 acres, using GPS and other technologies to make decisions and ensure the most productive and efficient use of seed, fertilizer and other inputs.
Thur., Aug. 26, at Minglewood, Inc., 60 105th St., Deer Park. Kevin and Roxann Solum, Jacob and Kristin Quist, and Ryan Solum own and operate the dairy farm that milks 1,200 cows in a facility that features both traditional milking parlor and robotic milkers. Minglewood Inc participates in the Western Wisconsin Conservation Council that uses research and collaboration to promote practices to keep soil healthy and water clean. The dairy employs 20 people.
"We look forward to great conversations each evening, as Wisconsin farm and non-farm neighbors come together to find ways to partner on the areas that are most important to all of us," said Shelly Mayer, Executive Director of PDPW and dairy farmer from Slinger, Wis.
Bring your questions and be part of the discussion to share ideas and examine important rural issues during the free and open-to-the-public ACE-On-the-Farm Twilight Meetings. To learn more and
to register
, visit
www.PDPW.org
or contact PDPW at 800-947-7379. Follow along digitally in advance of and during the event by following @dairyPDPW on
Facebook
,
Twitter
,
Instagram
, and
LinkedIn
.
Professional Dairy Producers (PDPW) is the nation's largest dairy producer-led organization of its kind, focusing on producer professionalism, stakeholder engagement and unified outreach to share ideas, solutions, resources and experiences that help dairy producers succeed.
###
---