---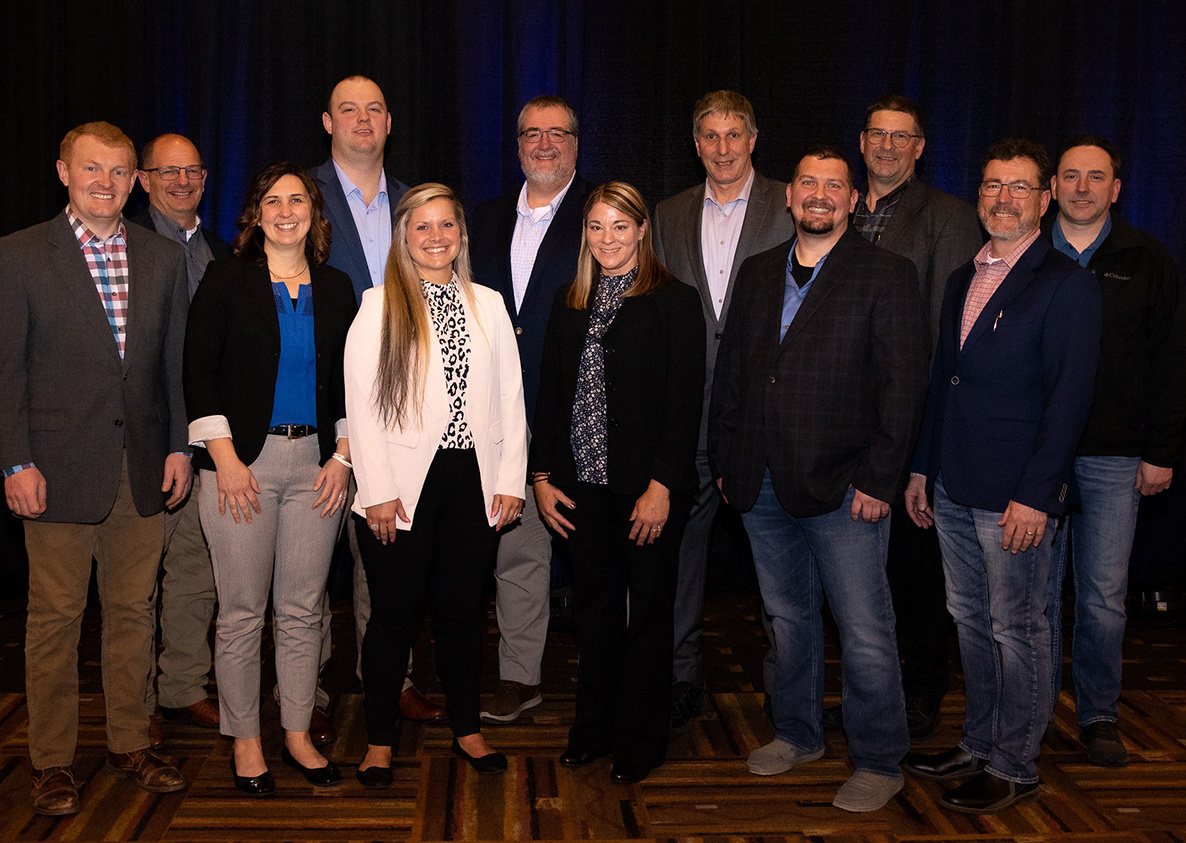 PDPW Board Members Name Officers
April 11, 2023
FOR IMMEDIATE RELEASE
Contact: Shelly Mayer
800-947-7379
mail@pdpw.org
John Haag
Janet Clark
Corey Hodorff
Brady Weiland
PDPW Board Members Name Officers
DAIRY NEWS
– Members of the 2023-2024 Professional Dairy Producers® (PDPW) board of directors recently announced their new officer team. Serving as president is John Haag, Dane, Wis. with Janet Clark, Rosendale, Wis., as vice president, Corey Hodorff of Eden, Wis., as board secretary and Brady Weiland of Columbus, Wis., as treasurer.
John Haag
owns and operates Haag Dairy, LLC, in Dane, Wis., with his son Josh. Haag Dairy raises all their replacements on the 150-cow dairy in addition to selling approximately 50 cows a year to other farmers for their replacements. A proponent of the recent reinstatement of the University of Wisconsin-Farm and Industry Short Course, Haag has served as Lodi FFA alumni president for 12 years and an East Central/Select Sires delegate for nearly a decade. In August of 2018, Haag Dairy began using DeLaval robots in their milking routine. In 2011, they hosted the Dane County Breakfast on the Farm and Haag has been involved with the Dane County Promotion Committee ever since, serving as a director-at-large for the past several years.
Janet Clark
and her husband Travis of Eldorado, Wis., joined her family's dairy, Vision Aire Farms, LLC, in 2010 as employees. Her parents Roger and Sandy Grade are currently transitioning ownership to Janet, Travis and her brother David Grade. Clark manages the financials and calves. The dairy consists of 140 registered milking Holsteins and 1,000 acres of owned and rented land. Vision Aire also does custom baling and harvesting for neighboring farms. The farm was awarded the National Milk Quality award from
Hoard's Dairyman
in 2015 and 2016. Clark received her bachelor's degree in Agri-business management from the UW-Platteville and has served on many other industry boards and committees in leadership positions.
Corey Hodorff
is part of the fourth generation to own and operate his family's century farm with his wife Tammy, brother Clint, and parents Doug and Linda. They milk 1,000 cows and crop 1,200 acres at Second Look Holsteins, LLC, in Eden. In addition to the dairy entity, the family business structure also includes Peniel Acres, Ltd. and Hodorff Seeds and Agronomy. On the farm, Corey oversees the team members and management of dairy operations. He has served as 4-H leader, Fond du Lac County Dairy committee member, Fond du Lac County Junior Holstein advisor, and Fond du Lac County Holstein Association director.
Brady Weiland
owns and operates Weiland Dairy, LLC, along with his parents and brother. The farm is home to 600 milk cows and employs seven additional employees. Brady oversees the daily operation on the farm as the dairy manager. Brady graduated from Madison Area Technical College with a certificate in diesel technology, and furthered his education at the UW-Madison Farm and Industry Short Course where he received a certificate for dairy farm management. He currently is a member of the CentralStar advisory committee and serves as church treasurer as a member of the church council.
Other PDPW board members include Patty Dolph, Dolph Dairy LLC, Lake Mills, Wis.; Ken Feltz, Feltz Family Farms Inc., Stevens Point, Wis.; Paul Lippert, Grass Ridge Farm, Pittsville, Wis.; Laura Raatz, Wagner Farms, Oconto Falls, Wis.; JJ Pagel, Pagel's Ponderosa, Kewaunee, Wis.; and Brady Weiland, Weiland Dairy LLC, Columbus, Wis.
Board members help facilitate the development of programs to bring cutting-edge research, elite training, peer-networking events and hands-on educational opportunities to the dairy industry. Involved in PDPW programs and committees, they also proactively seek leadership opportunities on non-PDPW committees in the dairy and agricultural industries.
Serving as PDPW board advisers to the 2023-24 board are Eric Birschbach of Ag Site Crop Consulting LLC, Curtis Gerrits of Compeer Financial, Josh Mullins of Mullins Cheese and Roger Olson of Zinpro Corporation.
###
---