---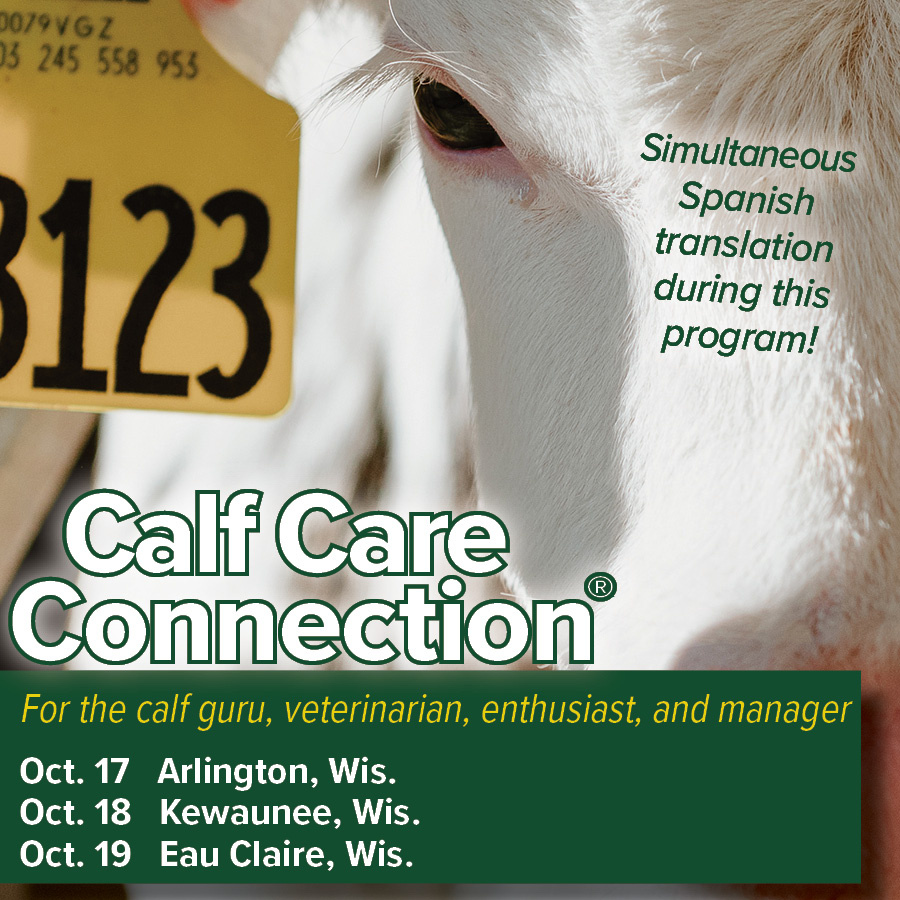 Raising Strong, Healthy Calves, Farm Tours featured at 2023 PDPW Calf Care Connection
September 5, 2023
FOR IMMEDIATE RELEASE
Contact: Shelly Mayer
800-947-7379
mail@pdpw.org
Program flier
Raising Strong, Healthy Calves, Farm Tours featured at 2023 PDPW Calf Care Connection
Each daily program will be simultaneously translated into Spanish
DAIRY NEWS
– Calf care managers, calf feeders and dairy team members will experience the best of both worlds at the 2023 PDPW Calf Care Connection workshops: learning the latest research and management practices for raising robust, healthy calves and seeing those practices in action during behind-the-scenes farm tours.
Three repeating one-day sessions of PDPW's Calf Care Connection® are scheduled from 9:30 a.m. to 4:30 p.m. on October 17, 18, and 19, with simultaneous translation into Spanish offered through the entire program. Each day will feature three breakout sessions facilitated by leading experts, followed by lunch and two farm tours. Locations include:
Tuesday, Oct. 17 – Program held at Arlington Research Station, Arlington, Wis., with afternoon farm tours at Jazzy Jerseys and Blue Star Dairy.
Wednesday, Oct. 18 – Program held at Agricultural Heritage & Resources Farm, Kewaunee, Wis., with afternoon farm tours at Pagels Ponderosa and Hall's Calf Ranch.
Thursday, Oct. 19 – Program held at Chippewa Valley Tech College Energy Education Center, Eau Claire, Wis., with afternoon farm tours at Triple T Farms and Solhawk Dairy, Inc.
"Each session of Calf Care Connection will give attendees the opportunity to tour and talk with calf care managers at two progressive dairies, providing everyone with ideas and inspiration to take back to their own farms," said John Haag, president of PDPW Board of Directors and dairy producer from Dane, Wis. "Simultaneous Spanish translation of the entire program will also ensure that all team members have access to the information and insights that will strengthen their calf care programs."
Morning sessions will focus on using data to optimize calf growth, unleashing the power of colostrum and tools and strategies to make the most of a calf's first 24 hours. Session facilitators will include
Dr. Noah Litherland
, PhD, dairy technical specialist for Vita Plus;
Dr. Sylvia Kehoe
, PhD, professor of dairy science at University of Wisconsin-River Falls; and
Dr. Ryan Breuer
, DVM, DACVIM-LAIM, diagnostic case and outreach coordinator at the Wisconsin Veterinary Diagnostic Laboratory and clinical assistant professor at UW-Madison School of Veterinary Medicine.
Learn more about the Calf Care Connection and register your team by visiting
www.pdpw.org
or contacting PDPW at 800-947-7379. Follow along digitally in advance of and during the event by following @dairyPDPW and using #mypdpw on
Facebook
,
Twitter
,
Instagram
, and
LinkedIn
.
Calf Care Connection is an accredited training and offers up to 4.25 Dairy Advan
CE
continuing education units (CEUs) for each day. To learn more or secure credits, visit
www.DairyAdvance.org
. Up to 5.0 CEU credits are available to American Registry of Professional Scientists (ARPAS) members.
Professional Dairy Producers® (PDPW) is the nation's largest dairy producer-led organization of its kind, focusing on producer professionalism, stakeholder engagement and unified outreach to share ideas, solutions, resources and experiences that help dairy producers succeed.
###
---