---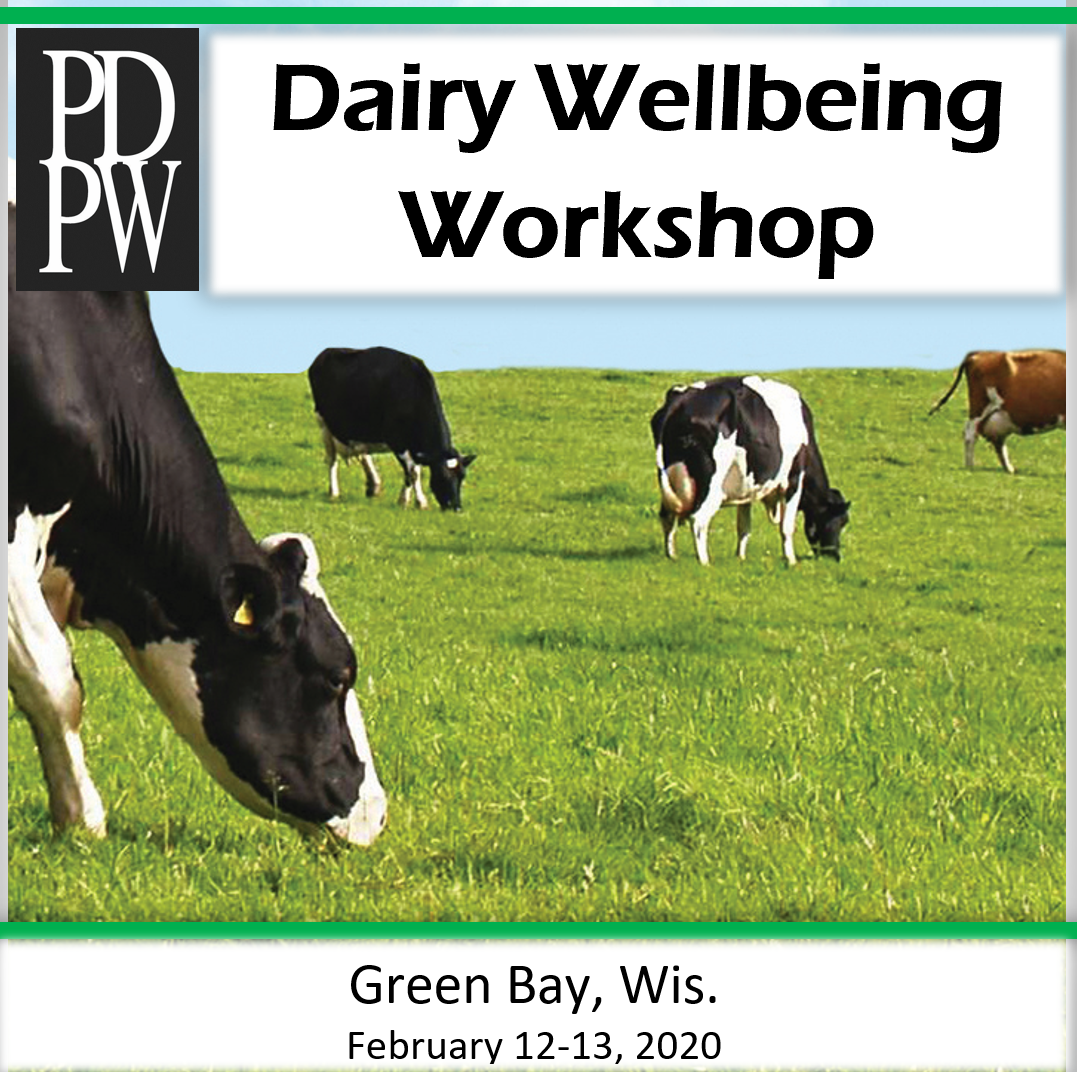 PDPW Dairy Wellbeing Workshop, Feb. 12 & 13 in Green Bay
J
anuary 22, 2020
FOR IMMEDIATE RELEASE
Contact: Shelly Mayer
800-947-7379
mail@pdpw.org
Full Media Package is available (i.e. flyer, press release, photos, etc.)
Review Flyer: Program
Flyer
Review Press Release:
Program
Press Release
Photos/Logos:
Program
Photos/Logos
PDPW Dairy Wellbeing Workshop, Feb. 12 & 13 in Green Bay
Two One-Day Workshops offering tour and training on cow health, handling and processing
DAIRY NEWS
– The
2020 PDPW Dairy Wellbeing Workshop
, presented by Professional Dairy Producers® (PDPW), will be held Feb. 12 and repeating on Feb. 13, from 8:30 a.m. – 3:45 p.m. each day, from at the Tundra Lodge Resort Waterpark & Conference Center in Green Bay, Wis. The Workshop is designed to provide an inside-look at cull-cow management, beef processing, natural behavior of cattle, and insights and solutions for safe and efficient human-to-animal interaction.
Attendees will gain an inside look and guided tour of
American Foods Group,
one of the largest U.S. beef processing companies. Following the on-site tour, beef buyers, market experts, and USDA meat inspectors will share their insights on the management slaughter processing and the impact cull-cow quality.
Training will continue with two breakout sessions, led by
Don Höglund, DVM,
animal behavior lecturer, trainer and author, and
Dr.
Kurt Vogel,
an Associate Professor at University of Wisconsin – River Falls:
Session 1: "We must learn from – and continue to improve – human and animal interaction," presented by Dr. Don Höglund. Attendees will learn how to train on animal handling and housing.
Session 2: "Survey Says? Learn how U.S. dairy stacks up with the rest of the world," presented by Dr. Kurt Vogel. Attendees will explore the relationships between cull-cow quality, animal care and carcass value. Dr. Vogel will also highlight euthanasia protocols and outline safe methods.
Pre-registration is required, and space is limited due to on-site tour capacity. Registration priority will be granted to active dairy farmers. To learn more or to secure your seat and
register online
, visit www.pdpw.org or call PDPW at 1-800-947-7379.
The PDPW Dairy Wellbeing Workshop is an accredited training and offers up to 6.5 non-scientific continuing education (CE) hours from UW-School of Veterinary medicine (UW-SVM), up to 5.0 CE credits from the American Registry of Professional Scientists (ARPAS) members, and up to 5.5 Dairy Advan
CE
CE credits to dairy farmers and agribusiness. To learn more or secure credits, visit
www.DairyAdvance.org
.
Professional Dairy Producers (PDPW) is the nation's largest dairy producer-led organization of its kind, focusing on producer professionalism, stakeholder engagement and unified outreach to share ideas, solutions, resources and experiences that help dairy producers succeed.
###
---