---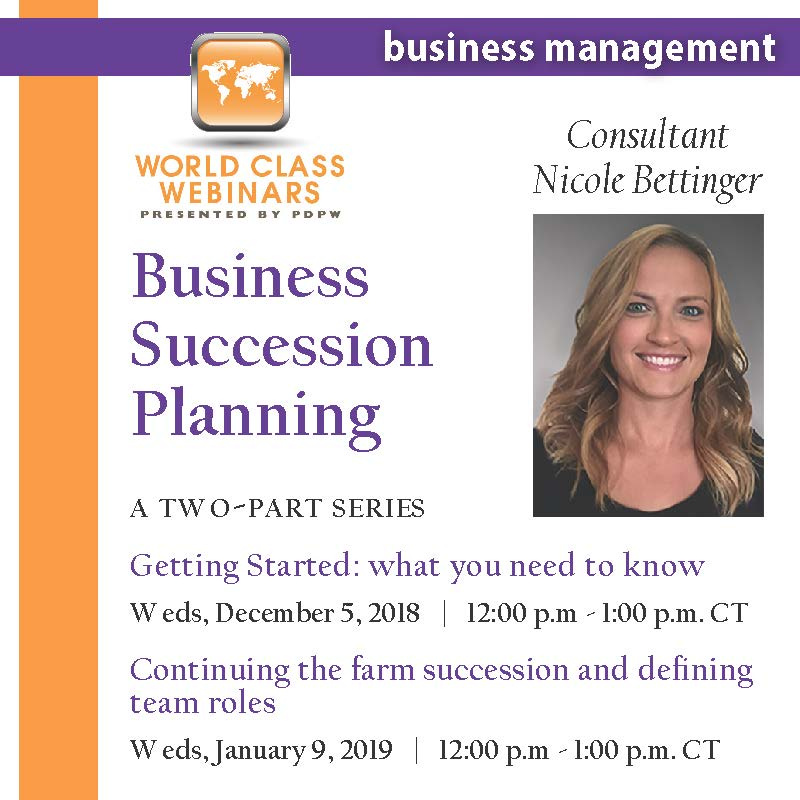 Moving Ahead and Managing Obstacles are Key to Successful Business Transition
January 7, 2019
FOR IMMEDIATE RELEASE
Contact: Shelly Mayer
800-947-7379
mail@pdpw.org
Full Media Package is available (i.e. flyer, press release, photos, etc.)
Review Flyer:
Training
Flyer
Review Press Release:
Training
Press Release
Photos/Logos:
Training
Photos/Logos
Moving Ahead and Managing Obstacles are Key to Successful Business Transition
PDPW World Class Webinars held this week, Wednesday, January 9
DAIRY NEWS
– Even families with the best-planned business transition process will face challenges or hurdles as the plan is implemented. Taking time to work through conflicts and ensure the right people are in the right roles will help keep the transition process moving smoothly.
The next
PDPW World Class Webinar: Business Management & Succession Planning
presented by Professional Dairy Producers® (PDPW) will be held this week from 12:00 to 1:00 p.m. CT, Wed., Jan. 9, and will provide tips and tricks to get dairy business transitions back on track.
The webinar will be led by Nicole Bettinger, consultant with the Family Business Consulting Group. Bettinger specializes in communication, conflict resolution and training next-generation family business owners. She earned degrees from UW-Madison and Roosevelt University and holds a certificate in Family Business Advising form the Family Firm Institute.
The "Continuing the Farm Succession and Defining Team Roles" webinar session is the second in a two-part series focusing on business transition. Bettinger will lead participants through ways to position people in the right roles, motivate and engage future generations, and work through conflicts to navigate common stresses and tensions. Participants who register can watch the session live or will receive a fully recorded version to watch at their leisure.
"Oftentimes a lot of resources are put into initial planning for a transition, but conflicts or challenges can derail the succession plan," said Shelly Mayer, executive director and dairy farmer in Slinger, Wis. "This webinar will help families navigate common obstacles and find solutions to help them stay on track with their transition plan."
Registration is open
for the Jan. 9 "Continuing the farm succession and defining team roles" webinar, and the on demand recording from the Dec. 5 "Getting Started: what you need to know" first webinar in the series are both available online by visiting www.pdpw.org or contacting PDPW at 1-800-947-7379. Participants who have registered can watch the sessions live or on demand to watch at their leisure.
All past PDPW World Class Webinars are available on the PDPW Webinar Library. To access the library of resources, visit
https://pdpw.org/webinar-library/
.
Professional Dairy Producers (PDPW) is the nation's largest dairy producer-led organization of its kind, focusing on producer professionalism, stakeholder engagement and unified outreach to share ideas, solutions, resources and experiences that help dairy producers succeed.
###
---