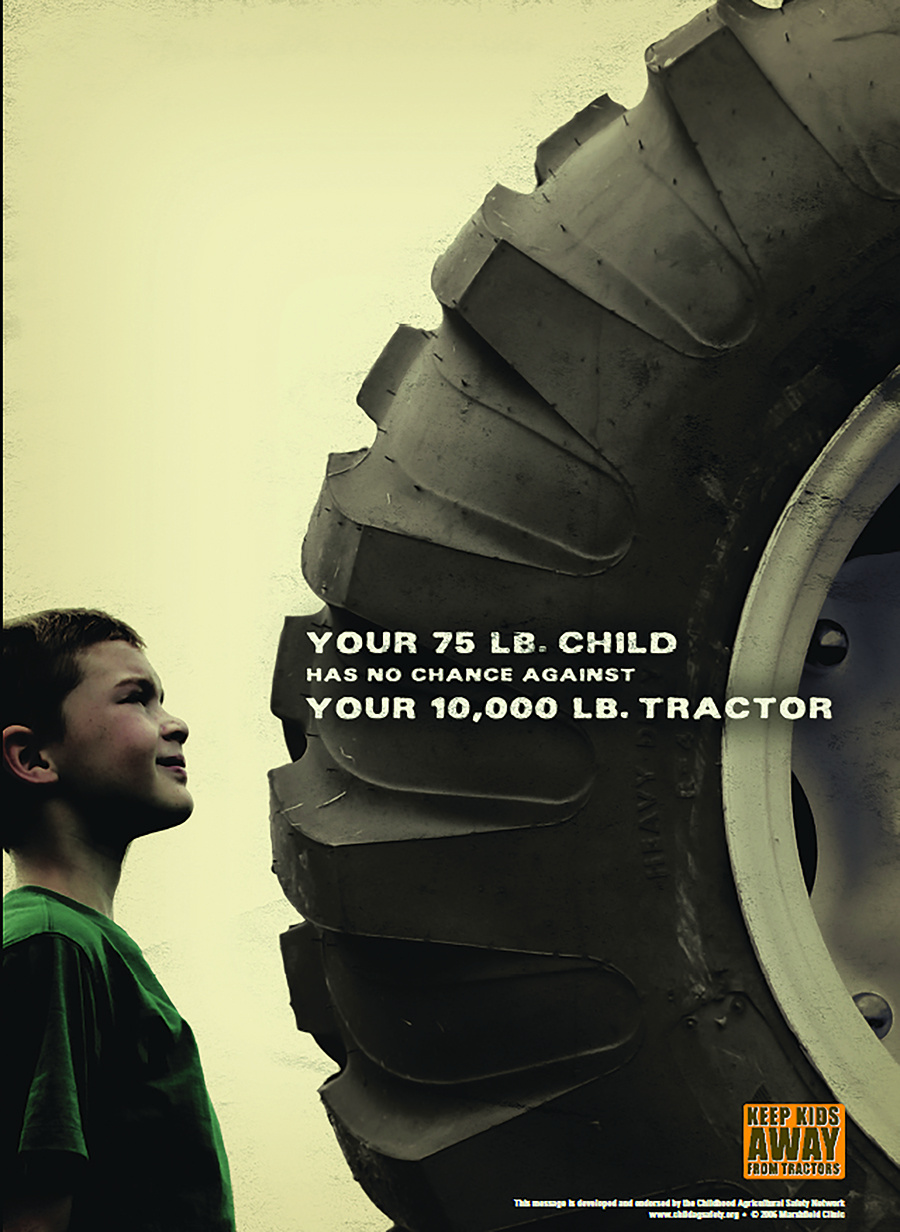 Keep kids safe, away from tractors
Posted November 5, 2018
Living and working on a farm offers many benefits for both children and adults, including the development of a good work ethic and sense of responsibility as well as instilling a love and respect for the land. Unfortunately farm work consistently ranks among the deadliest of occupations in the United States.
On average a child dies from injuries on a farm once every three days. The leading cause of those deaths is the tractor. Though tractors are responsible for more than 40 percent of unintentional farm-injury deaths of children younger than 15, many farm children regularly ride tractors with family members.
No matter the season tractors and heavy equipment pose dangers to children. The danger isn't exclusive to tractor rollovers. Sudden stops,driving over holes, stumps and uneven surfaces, or making a sharp turn can cause the extra rider — or the driver — to be ejected. Not even a tractor cab ensures safety. In cases where children are riding along, the mere presence of a child can be distracting to the operator. In a second a child can fall out and be crushed by a tire or run over by the implement trailing behind.
"We're trying to preserve the best parts of agricultural tradition, but at the same time change social norms so people view unsafe practices for what they are– unacceptable," said Barbara Lee, director of the National Children's Center for Rural and Agricultural Health and Safety in Marshfield, Wisconsin.
The National Farm Medicine Center and the National Children's Center for Rural and Agricultural Health and Safety created a website to provide easy access to agricultural safety information and resources for farmers and employees to make the workplace safer for all.
Visit
www.cultivatesafety.org
for guidelines, videos and resources on a number of topics, including farm-mapping resources that help producers digitally identify and map haz- ards through a birds-eye or aug- mented-reality view. In addition a section on safe agri-tourism provides more than 200 free resources to help agri-tourism operators keep visitors safe.
National Farm Medicine Center focuses on evolving issues in agricultural health and safety. The National Children's Center for Rural and Agricultural Health and Safety within the National Farm Medicine Center is one of eight Centers for Agricultural Disease and Injury Research, Education and Prevention funded by the National Institute for Occupational Safety and Health, Centers for Disease Control and Prevention.